Posted on
BATTLE OF UNBEATENS IS SET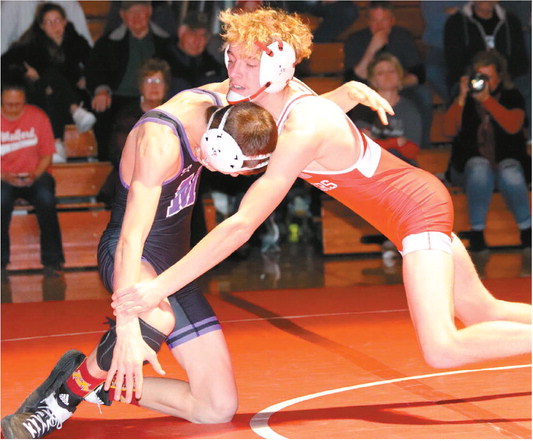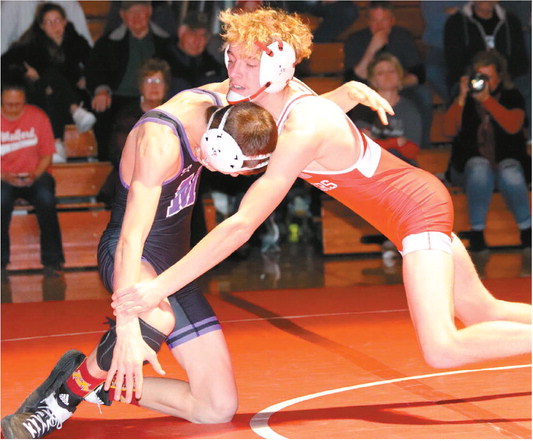 MEDFORD WRESTLING
Raiders win twice to set up key GNC finale
The Medford Raiders took care of business against the Great Northern Conference's winless wrestling squads. Now they're focused squarely on the other unbeaten.
Medford heads to Tomahawk tonight, Thursday, to face the Hatchets in a 7 p.m. dual meet that will determine who will have the end edge in the standings going into the Feb. 8 Great Northern Conference championships in Medford. Both teams have gone 4-0 so far in GNC duals and haven't been challenged in any of those meets.
On Tuesday, Medford handled Mosinee 58-15 on Senior Night at Raider Hall. Medford destroyed Lakeland 60-9 on Thursday to get to 4-0.
"Thursday is huge," Medford head coach Brandon Marcis said. "Conference rivals, Tomahawk and Medford. Tomahawk's always had a good team and the rivalry between us goes further back than as long as I've been here. There's probably a little bit stronger sting from before when I was around. A lot of the community gets into it. I know we're going to travel well. We have a lot of fans that are getting into it. It's going to be exciting. We're going to train hard. We're going to do everything we can to make sure we're at peak performance. We're excited because at the end of the day, it's just a lot of fun. Two undefeated teams going after it. That's why we do it."
On Tuesday, the coaching staff's main message was staying focused on the Indians and Marcis said the Raiders did that.
"Tonight Mosinee was giving up a bunch of forfeits, but I told the kids not to go on cruise control," he said. "We didn't want to go out there and lose half the matches that we wrestle. We want to go out there and get everything that we can. So we focus on what's in front of us and I think we did a good job."
The Raiders won the night's first nine matches to build a 52-0 lead and easily offset three straight matches Mosinee won toward the end.
Dane Higgins, one the seniors who was honored beforehand, wasted no time in the 138-pound match that opened the meet, pinning Cole Coppock in 32 seconds. Senior Zeke Sigmund followed by pinning freshman Tristan Iczkowski in 1:36 and Emett Grunwald and Jake Brunner took forfeits at 152 and 160 pounds for a quick 24-0 lead.
Junior Hayden Johnson got two firstperiod takedowns and turned the second one into a pin at 1:55 over Jaydon Cherek at 170 pounds. Senior Clay Bowe needed just 1:04 to pin Ben Folwarski at 182 pounds. Dalton Krug had to go the distance but he was too strong for TJ Orbremski at 195 pounds, taking a 16-3 major decision. Senior Jake Rau took a forfeit at 220 pounds and, after a double forfeit at 285 pounds, Ty Sova earned a forfeit at 106 pounds.
Mosinee finally got on the board at 113 pounds with Kade Kmosena pinning Matt Gebert in 3:28 in a battle between freshmen. Senior Peyton Cline pinned Raider freshman Blake Schilling in 3:13 in the 120-pound bout.
In one of the best matches of the night, Mosinee's state qualifier from a year ago, Chase Kmosena, got an escape with 1:27 left to beat Raider senior Eric Rehbein 1-0 at 126 pounds. Carson Church took a forfeit at 132 pounds to finish the dual.
The loss dropped Mosinee, coached by Medford alum Steve Kmosena, to 0-4 in the GNC. The Indians finish by hosting 0-4 Lakeland tonight.
The winner of tonight's dual will have eight team points heading into the GNC meet, while the loser will have six. In Medford Feb. 8, the tournament winner will add 12 points to its total, the runnerup will get 10, the third-place team will get eight and so on.
Medford 60, Lakeland 9
The Raiders had no trouble with host Lakeland in Thursday's GNC dual, winning the first 10 contested matches to build a 54-0 lead in a 60-9 win.
Church got the big opening run started with a 10-3 win over Zane Grams at 132 pounds. Church got an early takedown and near fall for a 5-0 lead and didn't look back. Higgins built a 9-1 lead before pinning Jose Retana in 5:33 at 138 pounds and Sigmund broke a scoreless tie going into the third period with a reversal and near fall and wound up beating Jason Hilgart 8-2 at 145 pounds.
From there, Medford went on a pin run. Grunwald beat Jerry Goselin in 1:30 at 152 pounds, Brunner stuck Nick Rybicki in 5:13 at 160 pounds, Johnson got Brady Edwards in 4:37 at 170 pounds, Bowe needed 2:26 to pin Henry Evenhouse at 182 pounds, Krug stuck Joe Martell in 1:09 at 195 pounds and Rau built a 13-1 lead before pinning Landon Saglin in 3:21 at 220.
Following a double forfeit at 285 pounds, Sova got one more pin for Medford at 106 pounds, defeating Sawyer Duir in 3:32. Sova trailed 2-1 going into the second period, but got an escape and takedown to turn the momentum.
Lakeland finally got on the board when Ben Nemcek beat Gebert 10-3 at 113 pounds and Harry Nemcek pinned Schilling in 36 seconds at 120 pounds. Eric Rehbein finished the meet by pinning Lakeland's Brady Abb in 2:35 in the 126-pound bout.