Posted on
Rocket boys maintain hold on second place in ECC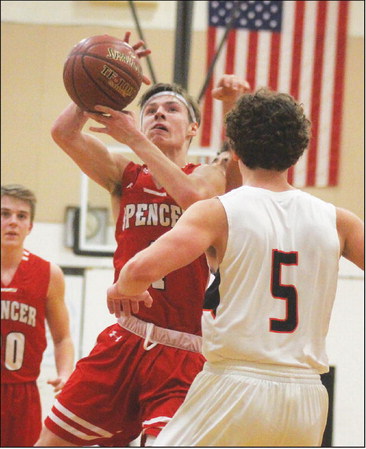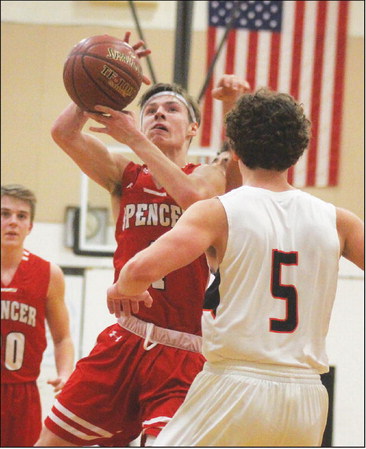 While a Feb. 18 rematch with Neillsville looms large on the Spencer boys' basketball schedule, the Rockets still have to stay focused on other Eastern Cloverbelt Conference opponents to make sure that late-season showdown means a shot at first place. Spencer did that last week, routing winless Granton 81-29 on the road on Jan. 24 to stay within a game of the league lead.
Austin Bacon and Brett Kasch poured in 48 points between them and Spencer won easily despite an uncharacteristically cold night from 3-point range. Spencer was just 3-10 in the game from long range, but an undermanned Granton team could not keep pace. The Bulldogs got 15 points from Noah McConkey and 10 from Brandon Jakobi in the losing effort.
Bacon scored 25 points and pulled down 12 rebounds. He made 10 of his 13 field-goal attempts on the night. Kasch added 23 points and was 11-17 from the floor. Eric Ehlert added 11 points for Spencer and Caleb Rucker had a 10-point game.
Spencer improved to 8-1 in the ECC and is now 9-2 overall as the end of January nears. The Rockets played a non-conference game at Pittsville on Tuesday night, then return to conference action with a Jan. 30 game at Marshfield Columbus and a Feb. 7 home game against Gilman.
Granton next plays at Abbotsford on Jan. 31 and will travel to Marshfield Columbus on Feb. 4.
Loyal 66 Gilman 49
Senior guard Kole Bogdonovich buried six 3-pointers and scored 31 points as Loyal rolled to a 17-point home win on Jan. 24. Bogdonovich also had six rebounds and four steals as the Greyhounds pushed their league mark to 5-4. Daymian Baird added 11 points for Loyal, Trevyn Wilke scored nine and Kaiden Hagen contributed eight. Andrew Hecker had a 26-point night for Gilman. Loyal launched 30 shots from 3-point range, landing 10 of them. The Greyhounds shot 35 percent overall on the night, and went 6-8 at the free-throw line.
Gilman had a more efficient shooting night at 40 percent, but was outscored 30-12 from 3-point range. The Pirates were 4-17 on 3-pointers and 7-10 at the line.
Loyal 67 Owen-Withee 60
Wilke had a big offensive night for Loyal on Jan. 21 at home, pouring in 26 points on 10-19 shooting from the field and 5-9 on 3-pointers.
Loyal led 29-27 at the half and managed to stay ahead the entire second half.
Bogdonovich scored 17 points and Baird added 13.
Loyal shot 39 percent overall as a team and was 7-22 on 3-pointers and 12-21 on free throws.
The Blackhawks shot 38 percent overall and hit five of 17 of their 3-point attempts and 7-11 free throws.
CHEYENNE THOMAS/ STAFF PHOTO