Posted on
Falcons losing stretch now five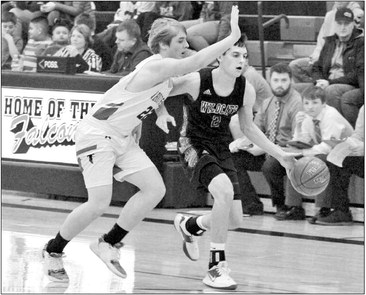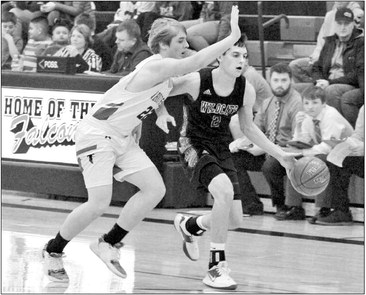 The Falcons have seen their game soar to great heights. It's keeping it there that's been the problem. Abbotsford suffered defeat at the hands of Edgar on Friday and Chequamegon on Tuesday, dropping to 3-13.
Edgar, 68-56
It was North meets South on Friday night as the Abbotsford Falcons welcomed the Edgar Wildcats to town. Each team was coming in off the heels of a loss, with Edgar falling to Stratford and Abby suffering defeat at home to Athens, both on Jan. 17.
Each team was also looking to get back to winning ways as they head into the final leg of the regular season. The Falcons went shot for shot with Edgar in the first half, using threes from Hunter Soyk and drives inside from Cade Faber and Blake Draper to power the offense.
The Falcons pulled to within 21-17 with 5:07 left before halftime, but were bedeviled by fouls and turnovers, and Abby found itself trailing 28-21 at the break.
Abby fell behind by double digits in the second half, but put on a 7-2 run to pull within eight at 40-32 with 12:00 to play. But Edgar slowly pulled away, cashing in on frequent trips to the charity stripe and on buckets inside.
The Falcons continued to fight, but 19 turnovers gave the 'Cats too many possessions, and it was Edgar who earned the momentum building win. Faber gashed Edgar for 28 points and 14 rebounds. Soyk and Blake each scored 11 points. Reiley Schreiber and Bryce Draper added three points apiece.
Chequamegon, 63-48
The Falcons played one of their best games of the season in their first meeting with Chequamegon at home on Dec. 13. In that contest Abby routed the Screaming Eagles 86-72. Perhaps that loss was fresh on Chequamegon's mind because the Screaming Eagles sped to an early 2817 lead after one half of play.
Abbotsford picked up its game in the second half, scoring 31 points, but their defense did not match their offense, and the Screaming Eagles added 35 points to their first half total, handing Abby its 13th loss.
Abby was led by Cade Faber and Blake Draper with 11 apiece. Hunter Soyk added ten and Reiley Schreiber scored seven. Abby's next game will be with the Granton Bulldogs on Friday, Jan. 31 at home. Tip-off will be at 6:30 p.m.