Posted on
Raiders drive past Oredockers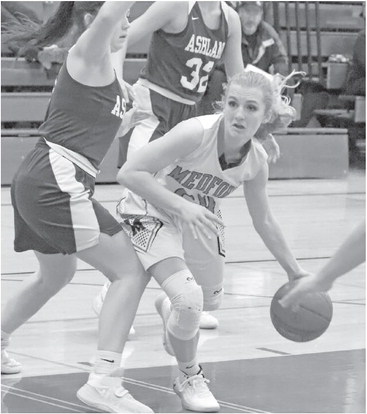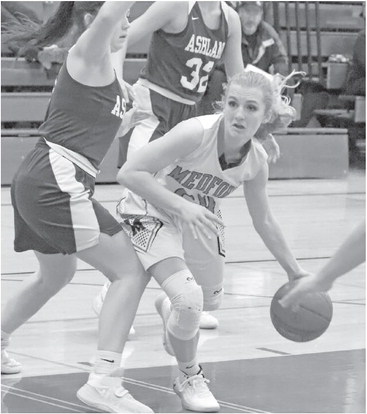 MEDFORD GIRLS BASKETBALL
A 17-0 run turned an early 8-4 deficit into a 21-8 lead and the Medford Raiders weren't seriously threatened after that Tuesday while recording their fifth straight victory, a 58-30 decision over visiting Ashland.
After an unexpected week off due to the postponement of Friday's game at Lakeland, it took the Raiders about six minutes to find their offensive rhythm, but when they did, they aggressively attacked driving lanes when they presented themselves and, for the most part, stayed patient when they didn't in slowly but surely building their lead as the game progressed.
"You could see their pressure start to speed us up a little bit and then our leaders would pull it back out and get us back into what we know we have to do," head coach Jessica Faude said. "We can't force shots. We have more success when we get 10, 11 or 12 passes and work our offense."
Guards Marissa Fronk and Sierra Hanson were the leaders in making those decisions regarding when to attack and when not to. Fronk led all scorers with 19 points, including six makes in eight three attempts, while Hanson had nine points, eight assists and four steals.
"It depends first on how many defenders there are," Fronk said of Medford's press break and transition plan. "If it's a three-on-two or a four-on-three we might want to find the open person and have them attack. But if there's a couple of seconds left or we need to get one of our plays run to get a good shot then we would do that."
Fronk's three-point play gave Medford its first lead at 3-2, but Ashland went on a mini 6-1 run to take its 8-4 lead. A steal by Hanson led to a fast-break bucket for Fronk to kickstart the 17-0 run that changed the game. Ashland was called for nine fouls just over seven minutes into the game, leading to go-ahead free throws by Katie Brehm, Rynn Ruesch and Fronk. Brynn Rau and Autumn Krause sank back-to-back 3s, with Krause's coming off a Hanson assist. Hanson finished the run with a driving layup to give Medford its biggest lead of the half at 13.
"Sierra saw the seams when they were there and finished well and when it wasn't there, she worked the offense," Faude said. "I just felt so comfortable with her handling the ball. It's good. You need someone you can trust with the ball and she did a nice job."
Ashland got back into it mainly with a series of backdoor cuts and got the lead back to down to five at 23-18, but buckets by Rau and Hanson upped the lead back to 27-19 at the break.
"We just lost our awareness a little bit," Faude said of Ashland's backdoor cuts. "We were so focused on help defense that I think we forgot about our girls who were off on the weak side. So it was just about adjusting to make sure that we didn't turn ourselves totally to the ball and still recognize where they are."
Hanson made a free throw, Fronk sank her lone 3-pointer of the night and Krause scored to push Medford's lead to 33-21 in the opening minutes of the second half and the lead never left double digits the rest of the way. Fronk scored nine of her points in the second half and Krause scored six of her nine in the half to help the Raiders pull away.
Rau also scored nine points. The senior has picked up her scoring pace in recent weeks, which Faude is obviously happy to see.
"I think she's taking more opportunities and just finishing a little bit better, taking a little bit better shots, more balanced shots," Faude said. "What's been nice is that we have been getting scoring all-around. Yeah we had Marissa with 19, but we need that balance where we're getting it from everybody. It's good. We need everybody to be able to step up and score."
Brehm returned from a two-game absence and scored six points, Ruesch chipped in with four and Laurissa Klapatauskas scored a breakaway bucket in the second half off a Hanson assist.
Medford had a big advantage in free throws, making 17 of 24 while Ashland was one for eight. Brehm had seven rebounds, Ruesch grabbed six and Rau had five. Krause had four steals.
The Oredockers (8-7) were led by forward Maddy Cabe, who scored eight points, six of which came in the first half. Abbi Moreland scored seven, all of which came in the first half. Ashland was plagued by 36 turnovers.
Now 10-3 overall, the Raiders have a busy week ahead starting with a non-conference game tonight, Thursday, at D.C. Everest as Rib Lake graduates Faude and Matt Bullis match wits for the third straight year as opposing head coaches.
The Raiders get back into Great Northern Conference play Friday at Antigo and then travel to Lakeland Tuesday to make up this past Friday's snowout. Game time at Lakeland is 6 p.m. It will be game one of a varsity girls-boys doubleheader between the Raiders and Thunderbirds.
Medford is currently 4-2 in league play and tied with Lakeland and Mosinee for second place in the GNC standings behind 6-0 Rhinelander.
"We don't even think about that," Faude said of the 10-3 mark. "We just focus on one game at a time and just getting that one game. We don't even start talking about the games up ahead because I don't want to overlook anybody. I don't want to take any game and not make it a growth opportunity. What are we going to work on to get better now with those big games in mind?"