Posted on
Pirates sail to another win, start tough stretch tonight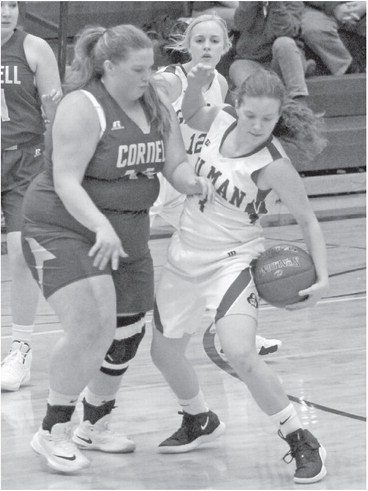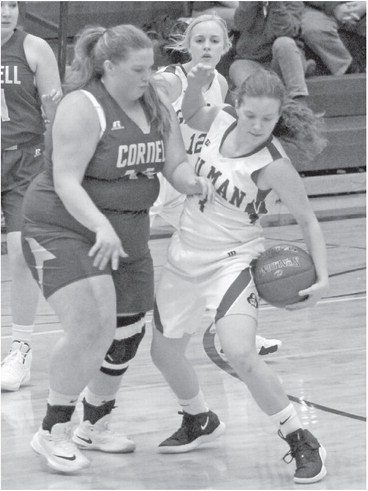 GILMAN GIRLS BASKETBALL
The start to round two of Eastern Cloverbelt Conference play was put on hold due to Friday's snowstorm, but the Gilman girls basketball team did notch another non-conference win Thursday when the Pirates took care of visiting Cornell 58-24.
While improving to 8-3 overall, Gilman withstood an early challenge from the Chiefs but eventually found its groove late in the first half to open up a 29-13 halftime lead and cruised from there to drop their guests to 3-8.
The Pirates put three scorers in double figures, got playing time for 12 girls and limited the Chiefs to just 10 made field goal in 43 attempts. Gilman forced 16 Cornell turnovers and crushed the Chiefs on the boards, outrebounding them 38-17.
"Cornell came out strong, but couldn't hold on," Gilman head coach Tammy Weir said. "We had some nice plays, but we need to continue to work on our defense."
Cornell hung with Gilman through the first 14 minutes, keeping the game as close as 14-9 and 16-11. But in the final four minutes of the half, Gilman went on a 13-2 tear to finally break the game open.
Gilman continued to roll in the first eight minutes of the second half, outscoring Cornell 19-2 to make it 48-15 and put it away.
"It was great to see these girls play well together," Weir said.
Grace Grunseth came into the game with 1,000 career points and ended it with 1,018 after dumping in a game-high 18 points, nine in each half. The senior added six rebounds and four steals. Emma Grunseth had a strong first half with seven points and finished with 12 points. She pulled down six rebounds and made her fifth 3-point basket of the season.
Sophomore Aubrey Syryczuk broke out from a recent quiet stretch and hit six of 14 shots from the field, including a 3-pointer, to score 14 points. She also grabbed five rebounds and had three steals and two assists.
Emma Warner contributed seven points, six rebounds and three steals. Freshman Tatum Weir led Gilman with nine rebounds and three blocked shots. She scored three points and had two steals.
Junior Katelynn Schmitt had one of her most active varsity outings, scoring two points and tying Grace Grunseth for the team lead in steals with four. She had three assists and four rebounds. Madisyn James had a bucket and three rebounds. Hannah Vick had a couple of second-half rebounds.
Erin Crowell hit a couple of 3-pointers and led Cornell with nine points. Bryanna Bonander added seven. Gilman still has a daunting threegame road stretch against the top Eastern Cloverbelt squads ahead of it. The order of games is the only thing that's changed.
That stretch starts tonight, Thursday, at Neillsville, who is currently 7-1 in league play and shares the top spot with Loyal. Gilman handed Neillsville its only conference defeat, 51-50, back on Dec. 5. The Warriors (10-2) will be looking to avenge that loss and trying to get back on track after losing Monday at McDonell Central 53-41.
The Pirates then head to Colby Tuesday to face the defending conference champions, who are on a bit of hot streak as well and sit at 7-2, 9-4. Friday's snowed out game at Loyal will now be played Jan. 30. The Greyhounds sit at 7-1, 10-2 and also are in Gilman's half of the WIAA Division 5 sectional, so a win there would be doubly important.
All three upcoming games tip at 7:15 p.m.