Posted on
Lineup shuffles work to Medford's favor in 60-21 win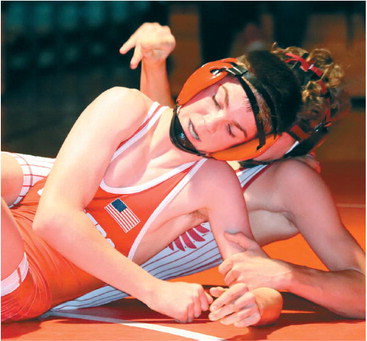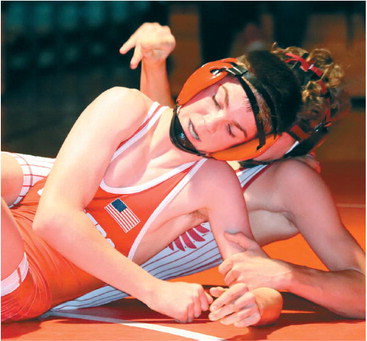 MEDFORD WRESTLING
The Medford Raiders took their second step toward repeating as Great Northern Conference champions on Thursday, using seven pins and three forfeits to bury the visiting Antigo Red Robins 60-21.
Medford's 145-pound standout Zeke Sigmund sat this one out with a minor shoulder injury but they got back 132-pounder Carson Church, who had been out for a month with a knee injury, as well as Jake Rau, who had missed the D.C. Everest Invite five days earlier, to fill out a formidable lineup the Robins couldn't match up with.
Medford moved to 2-0 in GNC duals while Antigo slipped to 2-1.
"It's back to our saying, commitment to what we're trying to do," head coach Brandon Marcis said. "The guys know that if it's for the team that we're going to move guys around and do what we gotta do to get the job done. In the end, 60-21, we'll take that."
The lineup shuffling started immediately. Clay Bowe moved up to 195 pounds in the opening bout and took a forfeit. That moved Dalton Krug up to 220 pounds. The Raider junior lost by pin to one of Antigo's top wrestlers, Nick Roller, in 3:36 as a couple of second-period near falls just before that had started to put it out of reach. Rau bumped up to heavyweight but he certainly handled that well, needing just 42 seconds to pin Talik Bussey.
Thaddeus Sigmund took a forfeit at 106 pounds, bumping Ty Sova back up to 113 pounds. Coming off the 106-pound title at D.C. Everest, Sova kept his recent run going with a pin in 3:02 over Antigo's Chris Mackey, putting Medford ahead 246. Sova established control with a firstperiod takedown and used his second takedown of the match to pin Mackey.
"I think he's getting more comfortable wrestling at the high school level," Marcis said. "He had a really good tournament at Everest and he's kinda riding that momentum. He was all in for wrestling 113. He weighed in at 106 and still bumped up because he knew it was good for the team."
Freshman Blake Schilling lost 5-4 at 120 pounds to Seth Beaber, but his match was one of the best of the night. Down 3-2, Schilling got a go-ahead takedown with about 20 seconds left. As the two battled on the edge of the mat, Beaber got a reversal just before the buzzer sounded to win it.
"Even though he didn't win that was by far Blake's best varsity match that he's had," Marcis said. "He's had some JV wins and we've mixed him up a little bit, but that was an exciting match. He wrestled hard. Just a little bit more experience will get him there. He wants to win. He works hard. He stays after it every day in practice in drills."
Senior Eric Rehbein quickly put the momentum back on Medford's side when he threw Antigo's Connor Dettman to the mat and pinned him at the 1:54 mark of the 126-pound bout.
"Eric went out so physical," Marcis said. "He really wanted to win. That's all part of creating the kind of environment that we want people to come and wrestle in. We've got fans coming, wrestlers wrestling hard. Everybody's screaming.
That's all a part of it. He added to that with the way that he wrestled and the way that he finished."
In his return, Church gave up the first takedown against Logan Edwards, but a reversal and near fall in the second put the Raider junior up 4-3. He finished it with a third-period pin at 4:47.
"We love having him back," Marcis said. "He's a little out of shape from being out for so long. But at the end, he got it back, got the pin, wrestled well. His knee is doing great so we're real happy about that."
Dane Higgins took care of business at 138 pounds, pinning Jaden Schoeneck in 5:35. Higgins led 12-1 after two periods. That gave Medford a 42-9 lead.
Neil Bretl pinned Raider Trevon Drallmeier in 2:54 to win the 145-pound match, but Emett Grunwald answered by easily pinning Antigo freshman Robbie Haggerty in 1:44 at 152 pounds. Josh Huess pinned Raider Jake Brunner in 23 seconds at 160 pounds for Antigo's last win.
Hayden Johnson capped the night with a solid performance for Medford at 170 pounds, building a 5-0 lead before pinning Gideon Sass at 4:36. Wyatt Johnson took a forfeit at 182 pounds to end the meet.
In JV matches, Medford's Dalton Waide and Zack Mottle won with pins while Itsael Medina lost by pin.
Saturday's Freedom Invitational was canceled due to weather concerns.
The next week is a big one for the Raiders. It starts with a GNC dual tonight, Thursday, at Lakeland and continues with Saturday's Arcadia Invitational.
The Raiders host Mosinee on Tuesday at 7 p.m. and then visit Tomahawk Jan. 30 in a meet that will likely determine who takes the lead into the Feb. 8 Great Northern Conference tournament, which Medford will host.