Posted on
GETTING BETTER AND BETTER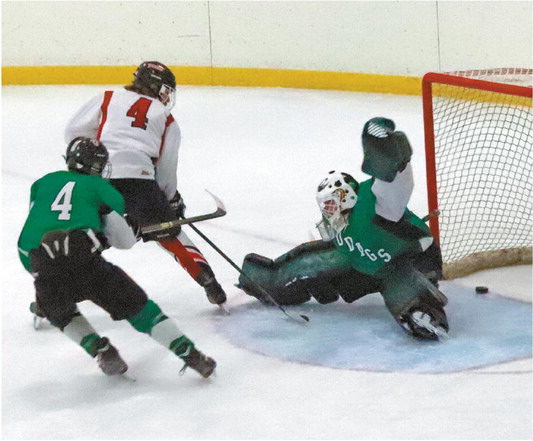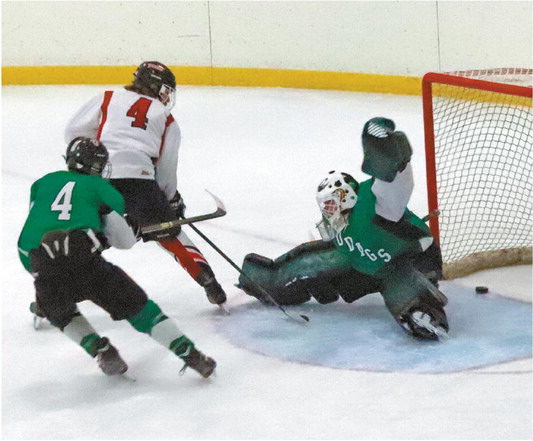 MEDFORD HOCKEY
Raiders push Lakeland, stun Hodags late
The Medford Raiders took their improved 2019-20 season to another level by beating a quality opponent and winning the East-Merrill United tournament in dramatic fashion Saturday and then giving the Great Northern Conference's second-best team all it could handle in a 2-0 defeat Monday.
Monday's loss at Lakeland may have left Medford (9-6-1) with just one win, five losses and a shootout loss as the team completed its round-robin tour through the Great Northern Conference. But with the exception of a 15-0 loss at the league's lone unbeaten, Northland Pines, the Raiders were in every other GNC game in the third period, something Medford hockey hasn't experienced in some time.
"It's nice," senior Austin Waldhart said after he scored the winning goal with 28.7 seconds left in Saturday's 5-4 victory over Rhinelander. "It's been awhile since Medford's been competitive. My freshman year we won nine games and we're at nine games right now and we still got plenty of winnable games yet to come."
"I think we might beat our record for wins," senior AJ Adleman said. "We have the ability and we have the team. I think it's going to happen. The locker room is awesome right now."
Lakeland improved to 12-2 overall and 6-1 in GNC play with Monday's win at the Lakeland Hawks Ice Arena in Minocqua. Goal tender Collin Guelcher picked up his third shutout of the season for the T-Birds, stopping all 23 shots he faced. The Raiders had some chances, especially in the third period when they put 11 shots on net and had two power plays.
But Lakeland, who will be the second seed in February's GNC tournament, was able to keep the Raiders off the scoreboard and win its sixth straight game.
Medford, which had its three-game winning streak broken, got 41 saves from AJ Adleman and successfully killed both of Lakeland's power plays while holding a team that's averaging just under five goals per game to just one in each of the first two periods.
JJ Albee got the first one 8:42 into the first period off a Cody Olson assist. Mike Kosmen's goal 10:33 into the second off assists from River Nicklaus and Albee closed the scoring. Adleman had 13 saves in the first period, 16 in the second and 12 more in the third.
While Lakeland's seed is set for the GNC tourney, which starts Feb. 4, Medford's seed is still undetermined as it waits for Tomahawk and Antigo to complete its conference games. The seventh seed is likely unless Tomahawk upsets both Antigo and Waupaca in road games Friday and Saturday.
If that's the case, Medford would visit Lakeland again to start the tournament.
In the meantime, Medford will focus on a pair of non-conference games. First, the Raiders are in Park Falls tonight, Thursday, to face the Chequamegon Coop in a 7 p.m. face-off. The Raiders are back home Saturday to meet the Grantsburg- based Blizzard Co-op at 3 p.m. at the Simek Recreation Center.
Medford 5, Rhinelander 4
Down 4-3 throughout the third period of Saturday's tournament championship game in Merrill, the Raiders finally got two late scoring chances and didn't miss either one and pulled off a 5-4 thriller over GNC nemesis Rhinelander.
What had been a bit of a shootout through two periods turned defensive in the third until Medford's top scoring line made a push with 1:50 left in the game with Carter Pernsteiner and Connor Gowey getting shots on Hodag goalie Seth Stafford before Colton Gowey finally pushed the puck off Stafford's stick and over the goal line to tie the game at 4-4.
Overtime, however, was not in the Raiders' plans. Not long after Adleman made a big save on a two-on-one, the Raiders intercepted a Hodag pass and Waldhart got the winning breakaway goal with 28.7 seconds left, sealing Medford's first title in this tournament since 2017. Waldhart said it was the first late game-winning goal he's had at any level. Blaine Seidl was credited with an assist.
"It was crazy," he said. "I just read his pass, I picked it off and tipped it out to center ice. I raced (Danny Zuiker) to the puck and I beat him and I beat the goalie, went five-hole. I was able to catch him moving."
Waldhart has been on a scoring tear, particularly for a defenseman, scoring nine goals in an eight-game stretch.
"He goes forward the most of all the defensemen," head coach Galen Searles "He's the most offensive-minded. It's not that he's goal hungry. That's just how he plays."
The two late goals helped Medford cap a 7-1-1 stretch in its last nine games with Rhinelander being the best of the opponents it had beaten.
"We played them earlier in the year, it was a close game again but then they caught us off-guard, scored four off us," Waldhart said. "This game we went in with a little bit more of a winning mentality. Don't get down, don't get penalties, stay out of the box."
Searles said earlier in the week he was hoping Medford would get a shot at Rhinelander in the tournament just to gauge how far the Raiders have come since their 7-3 loss to Hodags on Dec. 10.
"I guess we got a little better," he said.
Medford delivered the first punch 9:34 into the game when Pernsteiner was able to bury a shot past Stafford's left side off a Colton Gowey assist. The Raiders' only penalty of the game cost them at 12:55 when Jake Losch rebounded a shot by Harlan Wojtusik. Conor Pequet also had an assist. Rhinelander outshot Medford 15-5 in a period that ended in a 1-1 tie.
The offenses had better luck in the second period. First, at 5:12, Pernsteiner won a battle for the puck just outside the net and was able to push it to the charging Connor Gowey, who slapped in the one-timer.
"Carter was the player of the game," Searles said. "He was flying out there and was on top of everybody. He had his legs today."
Rhinelander answered at 8:06 with Joe Schneider getting a clean shot and scoring off assists from Zuiker and Cal Laggis. Pequet's perfect pass set up Leo Losch at 9:32 and gave the Hodags a 3-2 lead, but Raider defenseman Dalton Hraby went into sniper mode with 1:10 left in the period, surprising Stafford and the Hodags with a shot from just inside the blue line that was assisted by Miles Searles.
But, with 10 seconds left, the Hodags' two most dangerous scorers, Pequet and Wojtusik got a two-on-one break and Wojtusik got the go-ahead score.
"Those goals are killers," Galen Searles said. "We talked about it at the end because this team does not quit. That Rhinelander team, they go, go, go. Fortunately we were just able to hang with them."
Adleman, who finished with 41 saves, said he's had a front-row seat to watching Medford's improvements.
"We've improved a ton," he said. "Our passing is crisp now. I think we made more passes in this game than we had in the last three games before this game. It just keeps getting better."
Searles said Adleman was strong again as well.
"They're a big rebound team," he said. "They're crashing the net, constantly just shooting for the pads to get those rebounds to come out. Every time AJ made a save he made a great recovery and got back into a square position so he could face the next one because they kept coming."
Medford 5, East-Merrill 1
The Raiders were 55 seconds away from earning their second 5-0 shutout of the year over the East-Merrill United team in Friday's tournament opener, but they were more than satisfied with their 5-1 win.
"One thing we've talked about all year is knowing what you're going to do with the puck before you get the puck," Galen Searles said. "I told the kids after that game this is the best example of that I've seen. They were passing to guys as soon as they got the puck and not having to hang on to it and take a look."
It took the Raiders just 23 seconds to score and they controlled things the rest of the way, outshooting the BlueJacks 5438. They had a 40-15 edge in shots through the first two periods and built a 4-0 lead in the first 34 minutes.
Pernsteiner got the first one right off the bat off a Waldhart assist. Defenseman Warryck Leonhardt got his second goal of the season, an unassisted score at 10:08.
Seidl beat BlueJack goalie Jake Furrer with an unassisted goal 1:17 into the second period and the bench took great delight in seeing third-liner Colbe Bull score his first goal of the season at 11:12, assisted by Leonhardt and Brody Brunner, who both notched their second helpers of the season.
Waldhart got Medford's fifth goal on a power play 10:17 into the third with assists from Hraby and Connor Gowey. East-Merrill got its goal at 16:05 as Medford was trying to kill a five-minute major. Jared Heller got it with a Colton Betro assist.
Rhinelander beat Jeffers, Mich. 5-1 in Friday's other semifinal. East-Merrill and Jeffers played to a 0-0 overtime tie in Saturday's third-place game. The Blue-Jacks finally won a prolonged shootout 2-1.