Posted on
Rockets rely on perimeter shooting to get past Colby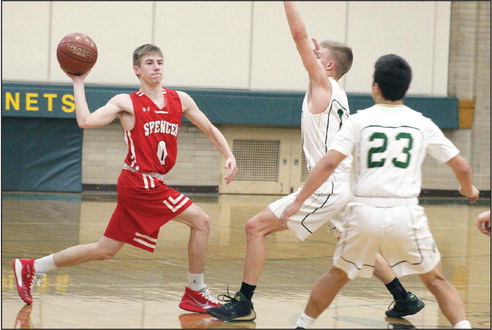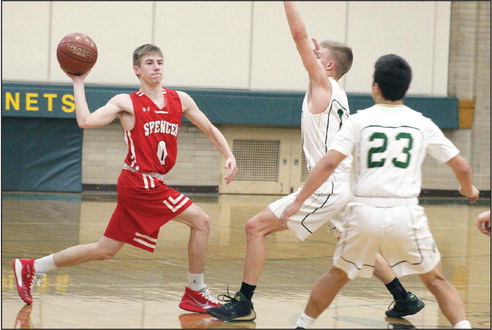 Spencer once again played long ball against Colby on Jan. 16, canning eight shots from 3-point range on the night on its way to a 59-54 Eastern Cloverbelt Conference road win at Colby. In outscoring the Hornets 24-9 from behind the 3-point line, Spencer was able to push its ECC record to 7-1 at the halfway mark of the league season, and stay within a half-game of Neillsville for the top spot in the standings.
With Harley Schmelzer (11 points) and Noah Robida (seven) propelling Colby's offense in the first half, the Hornets took a 31-27 lead into the halftime locker room. Eric Ehlert helped keep Spencer close with a 12-point half that included a pair of 3-pointers.
After the break, it was senior point guard Brett Kasch's turn. He buried a trio of 3-pointers early in the half to give him five total on the night, and Spencer made up the deficit and had the score tied at 46-46 with 3:30 to go. Colby went cold from that point on, and Spencer hit key free throws down the stretch to finish with a 13-8 run to put it in the win column.
Kasch scored 23 points in the game and Ehlert complemented him with 15. Normally high-scoring guard Austin Bacon was limited to eight points, but the eight 3-pointers carried the offense. Spencer was 7-12 at the freethrow line.
The Rockets were able to grind through the first half of their ECC schedule with only one setback, a 63-46 loss at Neillsville on Jan. 10. Spencer will have a chance to avenge that loss when the two teams meet again on Feb. 18 in Spencer. The Rockets are next in action on Jan. 24 at Granton (7:30 p.m. start time).
Greenwood 58 Owen-Withee 52
The Indians had a balanced offensive attack with four players scoring in double figures in a Jan. 16 ECC road win. The game was tight throughout and the Indians trailed by a point at the half.
Three-point shooting carried the night for Greenwood. Nathan Revier buried three shots from behind the arc and Westen Schmitz and Cooper Bredlau each had a pair. Greenwood outscored the Blackhawks 21-9 from downtown. The Indians could have helped themselves more from the line as it went 13-23 in the game. Owen-Withee was 9-15.
Schmitz scored 15 points to lead Greenwood, Treyton Thomas had 14, Revier scored 13 and Bredlau added 12.
Aaron Ovyn scored 13 points for Owen-Withee and Carter Klabon chipped in a dozen.
ROSS PATTERMANN/TRIBUNE PHONOGRAPH PHOTO