Posted on
Sigmund, Sova take titles at Everest; Antigo is here tonight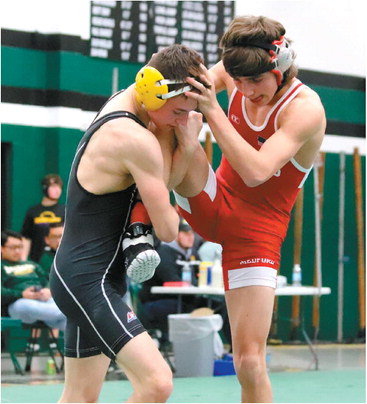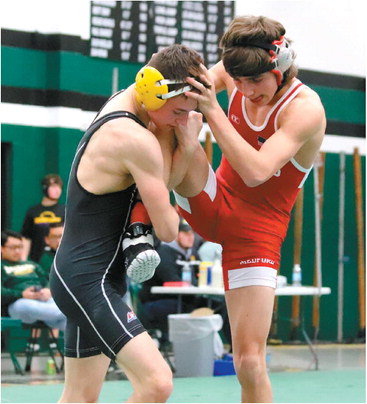 MEDFORD WRESTLING
The Medford Raiders went shorthanded into Saturday's Fred Lehrke Invitational hosted by D.C. Everest with no entrants for five weight classes, but the 10 wrestlers they did have available scored well in the team's fourth-place finish out of 10 teams.
Zeke Sigmund won the 145-pound weight class championship, freshman Ty Sova claimed his first high-school tournament title at 106 pounds and Dane Higgins, Emett Grunwald, Eric Rehbein and Clay Bowe all were among the top three in their weight classes.
The Raiders totaled 242 points in their first competition of 2020 to trail Stratford (315), D.C. Everest (297) and Denmark (289). Medford finished ahead of Bonduel (204), Tomah (199), Auburndale (121), Rosholt (112), Spencer-Columbus (108) and Mosinee (81).
Sigmund improved to 21-3 for the season by winning all five of his matches at 145 pounds. In a round-robin pool of six wrestlers, his key match came at the end where he beat Stratford sophomore Gavin Kirsch 5-3 to take the title. Kirsch is 19-6. In his fourth match, Sigmund went to the third period before pinning a solid senior Jack Schmitz of Denmark (18-9) at the 4:30 mark.
In his first three rounds, Sigmund pinned Mosinee's Tristan Iczkowski in 1:40, Tomah's Logan Boulton in 2:37 and Auburndale's Brent Lau in 2:41.
Sova improved to 9-6 by winning all three of his matches in a four-man 106-pound bracket.
He pinned Riley Smith of Spencer-Columbus in 1:20 and Gavin Peterson of D.C. Everest in 1:17. That set up a championship third-round matchup with Denmark's Alec Bergelin (19-6). Sova took control of that match in the second period and held on for a 9-5 win.
Dane Higgins improved to 16-5 with a 4-1 day that ended with a championship match between accomplished 138-pound wrestlers. An escape was the difference for 29-1 Max Schwabe of Stratford in a 1-0 win over Higgins. Schwabe is the topranked Division 3 138-pound wrestler in the state. Higgins entered the tourney ranked fourth in Division 2.
Higgins beat Division 3's fourthranked 138-pounder, Max Sokolski of Bonduel, 10-5 in his fourth match of the day and pinned Tomah's Nate Boulton, who got honorable mention last week in Division 1, in 3:22 in his third match.
Higgins easily won his first two pool matches, earning a 19-4 technical fall over Logan Paplham of Denmark and a pin over Ashton Curtin of Spencer-Columbus.
Grunwald (18-7) took second in a highly- competitive 152-pound bracket. Starting out in a four-man pool, Grunwald went 2-1 to earn a spot in the championship bracket. He got a big 5-4 win over Stratford's Jacob Heiden (25-6), who was fourth in Division 3 coming in, but lost 6-0 to Denmark's Ethan Schwartz (23-4), who was ranked third at 145 pounds in Division 2 last week. Grunwald pinned Carson Kilty of Spencer-Columbus in 1:08.
Grunwald pinned 21-3 Blade Niewiadomski of Rosholt in 55 seconds in the semifinals. D.C. Everest's Freddy Lehrke upset Schwartz in the other semifinal and then edged Grunwald 3-1 in the final to take the title.
The state's second-ranked 182-pound wrestler in Division 3, Trevor Dennee of Stratford (29-1) pinned Bowe (16-6) in 1:36 in their opening match, but Bowe went 4-0 after that to place third in the weight class.
The sixth-ranked Bowe pinned Auburndale's Sloan Welch in 2:00, Mosinee's Ben Folwarski in 2:19, Denmark's Mason Karl in 4:46 and Bonduel's Tristan Tomashek in 1:25 in the third-place bout.
Rehbein (12-8) went 2-2 to take third at 126 pounds. He went 1-1 in his opening pool, which was good enough to advance to the semifinals. He pinned Cameron Saari of D.C. Everest in 3:27 and was pinned in 3:24 by Stratford's top-ranked Gavin Drexler (29-0). Denmark's 22-4 Cole Tenor pinned him in 3:35 in the semifinals, but Rehbein finished with a pin in 5:08 over Auburndale's Hunter Godard in the third-place bout.
Jake Brunner (15-7) won his first three matches and wound up fourth at 160 pounds. In pool competition, Brunner beat D.C. Everest's Dakota Pagel 11-1 and Jared Olson 14-0 before earning a pin in 5:31 over Bonduel's Moises Lagunes. In his final pool match, Stratford's topranked Devin Dennee (29-2) pinned him in 2:23. Tomah's 19-7 Sam Linzmeier beat Brunner 10-8 in the third-place match.
Zack Mottle was a second Medford entrant at 160 pounds. He went 1-4 with a pin in 3:12 over D.C. Everest's Phing Vang. Pagel beat him 7-0 in the seventhplace match.
Hayden Johnson (8-12) had a solid day at 170 pounds, taking fifth with a 3-2 mark. He split his pool matches, pins in 3:16 over Auburndale's Cody Poeschel and 5:59 over Mosinee's Jaydon Cherek. He handled 13-12 Thor Lass of Tomah 13-2 in the fifth-place match.
Dalton Krug (14-9) went 2-3 and took sixth at 195 pounds. He went 1-2 in his opening pool, finishing with a pin in 1:11 over Connor Luedtke of Spencer-Columbus. He won his first consolation match with a pin in 2:25 over Tomah's Connor Perry and finished with a 9-5 loss to Auburndale's Brice Thiel in the fifth-place match.
Medford is back at Raider Hall tonight, Thursday, to face Antigo in a Great Northern Conference dual meet. The JV matches start at 6:30 p.m., followed by the varsity at 7 p.m. The Raiders head to the always-tough Freedom Invitational on Saturday before going to Lakeland for GNC competition on Jan. 23.