Posted on
Redmen maintain their lead with a pair of road wins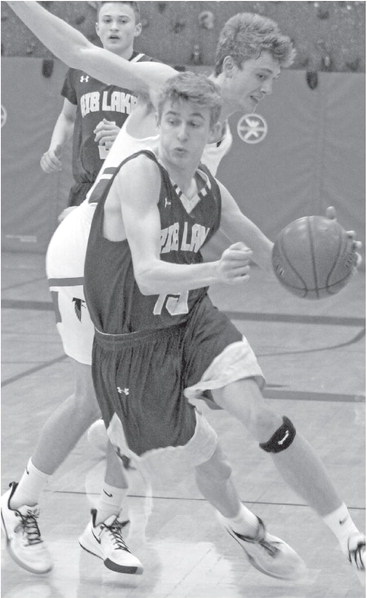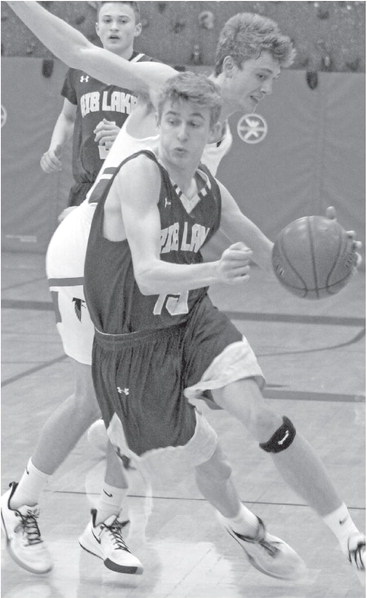 RIB LAKE BOYS BASKETBALL
The Abbotsford Falcons had ideas of pulling off a second straight home upset over Rib Lake Tuesday night. But in the second half, the Redmen decided it was time to take charge and pulled away for a 48-32 win.
The Falcons, who sit at just 1-7 in Marawood Conference play and 3-10 overall, limited Rib Lake to just 20 firsthalf points and trailed by only four at the break. But a 28-16 advantage in the second half allowed the Redmen to breathe a sigh of relief and maintain their one-game lead over Phillips in the Marawood's North Division.
On a night where shots weren't falling consistently for either team, the Redmen still managed to get double-digit outputs from three players and a couple of big 3s off the bench in the second half from sophomore Logan Blomberg.
Levi Ewan kept Rib Lake afloat in the first half when he scored nine of his game-high 13 points. Steven Petkau scored seven of his 12 points in the first half, including a dunk. He hit a pair of 3-pointers in the win, one in each half.
Nick Gerstberger added 10 points, six of which came after halftime. Ryan Patrick scored four second-half points and Devyn Vlach added a second-half 3-pointer.
The win pushes Rib Lake to 7-1 at the halfway point of the Marawood Conference season and 10-1 overall. The Redmen have moved up to seventh in this week's Division 5 Wissports.net state coaches poll. They avenged a seasonopening 70-56 loss on Abbotsford's home floor that wound up playing a key role in preventing Rib Lake from winning or sharing last year's North title.
Abbotsford got nine points from Blake Draper, eight from Cade Faber and seven from Mason Carpenter in Tuesday's contest.
Rib Lake will start the second round of Marawood North competition Friday at Chequamegon. The Redmen coasted to a 73-50 win in the first meeting Dec. 3. The Redmen will take a non-conference trip to Flambeau on Monday before hosting Auburndale in a big Marawood Conference crossover Jan. 23. The Apaches are 11-1 and ranked 10th in this week's Division 4 coaches poll.
Redmen 54, Royals 36
The offense didn't exactly start fast again Friday at Wisconsin Rapids Assumption, but the Redmen excelled on the defensive side of the court to stay in control until the offense came around in the second half of a 54-36 crossover win.
Petkau scored nine first-half points and Ewan scored six points on a pair of 3-pointers to help the Redmen get out to a 22-11 halftime lead in game two of a girlsboys doubleheader.
Ewan got rolling in the second half and helped Rib Lake widen its lead and pull away from the Royals, who are sitting at the bottom of the Marawood South at 1-7 in league play and 1-10 overall.
Ewan made five shots from the field after halftime and sank four of seven free throws to finish with a game-high 20 points. Petkau added a second-half hoop to finish with 11 points and Gerstberger scored six in the second half to finish with 10 points.
Patrick chipped in with six points and Vlach scored five second-half points.
Dennis Matott had a big night for Assumption with 16 points, but no one else got much going offensively. Reed Duellman hit a pair of 3s for six points.