Posted on
Raiders stretch win streak to four at Nekoosa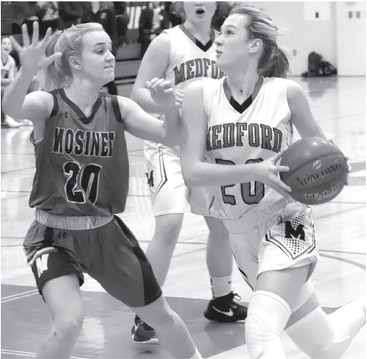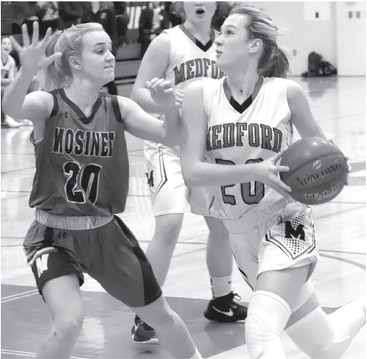 Brynn Rau scored a season-high 15 points to lead four Medford Raiders in double figures as they extended their post-Christmas winning streak to four games Tuesday with a 65-45 non-conference win at Nekoosa.
The Raiders got up by double digits quickly, let the Papermakers (6-6) cut their deficit to five late in the first half and then used a big surge on each side of the halftime break to build a lead that got as high as 24 in the second half.
With the win, Medford has, somewhat under the radar, built a 9-3 overall record. While the Raiders were in Nekoosa, a 67-52 win by Mosinee over a Lakeland squad that was short-handed due to illness created a three-way tie for second place in the Great Northern Conference between those three squads as the second round of league play is set to get underway on Friday.
Medford, Lakeland and Mosinee all sit at 4-2 in league play, two games behind 6-0 Rhinelander. Medford visits Lakeland Friday for a crucial game to start round two. Tip time is 7:15 p.m. Lakeland came from behind to win the first meeting 48-41 Dec. 20 at Raider Hall.
In Tuesday's win, the Raiders found holes in Nekoosa's zone defense and tore out to a 14-4 lead. Rynn Ruesch scored four early points inside and Sierra Hanson hit a 3-pointer while Autumn Krause sank two. The lead grew to 18-6 following two Laurissa Klapatauskas free throws and an offensive putback by Ruesch.
Medford's outside shots stopped falling and Nekoosa took advantage, pulling within 21-16 on a 3-pointer Kiya Kolo. But a Marissa Fronk steal led to a Krause hoop and helped Medford regain control. Hanson drove for a bucket and Fronk's aggressive drive allowed her to draw a foul with 0.4 seconds left and add two free throws, giving Medford a 27-16 halftime lead.
Nekoosa went to a 1-3-1 look to start the second half and the Raiders quickly got them out of it. Rau cut for an open layup and took a high post feed from Ruesch to score. Hanson scored off a steal, Rau swished a 3-pointer and added a free throw moments later to end the 14-0 run that changed the game.
Fronk and Rau sank 3s to get the lead to 47-26 with about 11 minutes left. Free throws by Hanson, a Fronk steal and score, another Rau score off a Ruesch assist and free throws by Hanson and Bryn Fronk gave Medford its largest lead at 57-33.
Fronk finished with 12 points and Krause hit double digits for the third straight game by also scoring 12. Hanson added 11 points, Ruesch had seven, Klapatauskas chipped in with five, Lydia Pernsteiner hit a late bucket and Bryn Fronk had one point.
Izay Escamilla led Nekoosa with 14 points, while Kolo added 10.
Following Friday's showdown at Lakeland, Medford hosts Ashland Tuesday at 7:15 in non-conference play and then has back-to-back games Jan. 23 and 24 at D.C. Everest and at Antigo.
Medford 64, Mosinee 49
The Raiders withstood early foul trouble and a late surge by Mosinee when fouls caught up to them again in an otherwise solid performance Friday in a 64-49 win over the visiting Indians that closed out the first half of GNC play.
Medford got solid contributions from all seven players who saw action, led by 26 points, five steals and two assists from Marissa Fronk and 16 points, 14 rebounds, three steals and two assists from Ruesch. Fronk was a thorn in Mosinee's side, getting 11 defensive deflections.
The Raiders took the lead for good late in the first half despite starters Fronk and Rau being out at the time with three fouls apiece. Fronk got through the game without picking up her fifth, but Rau and point guard Sierra Hanson weren't as fortunate. Mosinee also lost two key players in the tightly-officiated contest that featured 69 total free throws shot. Senior Paige Wicklund, who led the Indians with 16 points, and sophomore guard Lexi Freiboth, who was limited to three points, both fouled out for the Indians (33, 7-4).
"We played really solid," head coach Jessica Faude said. "I think we executed our offense pretty well. Despite some of the pressure in the first half, we took opportunities when we needed to and finished strong, got to the free throw line and made free throws. That was huge in the last two games. We've shot a lot of free throws and shot them pretty darn well. With our older girls in foul trouble, those other girls knew what to do, they stepped in and kept their composure and handled the ball well. They knew what they needed to do and they got it done."
The Raiders already were without injured sophomore center Katie Brehm, out for precautionary measures after she was injured four days earlier at Stanley-Boyd. Rau was saddled with her third foul with 7:05 left in the first half and Fronk went to the bench with her third at the 4:54 mark. But just before that, Klapatauskas put Medford ahead 19-18 on a nice left-handed drive to the basket. Just after Fronk left, Krause drained a tie-breaking 3-pointer and Bryn Fronk hit two bonus free throws for a 24-19 lead. Krause scored again to put Medford up 26-21 at halftime.
Krause hit double digits for the second straight game with 13 points and added three assists and two steals. Ruesch's double-double also marked her second big performance in a row. Klapatauskas had two points, three rebounds and two first-half steals off the bench.
"Sometimes girls have spurts and I just felt like it was nice, coming from the Stanley game, to see that consistency in this game (from Ruesch and Krause) and being solid and feeling more comfortable in their spots on varsity," Faude said. "Laurissa might not always put up the points and she might not put up all the numbers but she's somebody that I know when I get her in there she does the things that she needs to do. She hustles, she's strong physically and she gets things done."
"We put in our younger girls that might not get many minutes, but you just gotta have trust in them and they did good tonight," Rau said.
Wicklund opened the second half with a 3-pointer to pull Mosinee within two and an Adalyn Lehman basket moments later made it 30-28, but that's when Medford got its offense cranked up.
Ruesch hit two free throws, Marissa Fronk got a steal and score and then she accelerated through the lane for a transition three-point play to make it 37-28 at the 13:06 mark. After Mosinee's Zoe Gburek rattled in a 3 to pull the Indians within 37-32, Ruesch assisted on a Marissa Fronk basket and then the sophomore scored inside. Krause drilled a 3-pointer from the right side and added a free throw moments later. Fronk scored for a 47-32 lead, then Ruesch came up with a loose ball, scored and was fouled. The free throw made it 50-34 with 8:00 left.
The lead reached 19 at 56-37 on a Krause free throw with 6:00 left.
Offensively, Medford did enough against Mosinee's 1-3-1 zone in the first half to get the Indians to switch to manto- man in the second half and the Raiders were able to exploit that and build their big lead.
"They were really fast and everything, but when we were in our 2-1-2 offense we knew that if we skipped it around we'd get ahead of their defense and be able to attack," Rau said.
Mosinee got as close as 60-49 with 2:05 left, but Fronk hit four of six free throws after that to put it away.
Hanson finished with three points and two assists for Medford, Rau had two points and two rebounds and Bryn Fronk scored two points.
Medford made 23 of 39 free throws (59%), while Mosinee was 14 of 30 (46.7%). The Raiders shot 43.9% overall from the field (18 of 41), while Mosinee was 15 of 42 (35.7%). Mosinee had 23 turnovers compared to Medford's 15. The Indians had the rebounding edge 37-26, including 14 on the offensive end.
"Our defensive rebounding percentage is something that we set as a goal a couple of games ago because we feel like it's been lower than we want it," Faude said. "We need to keep working on it. We know that's probably the one thing after the game that we circled that we said we need to do a better job with."