Posted on
Raiders cruise on Senior Night, struggle in the Dells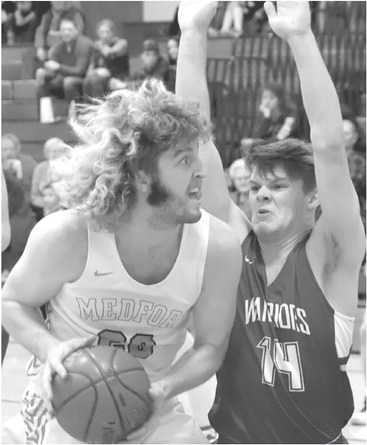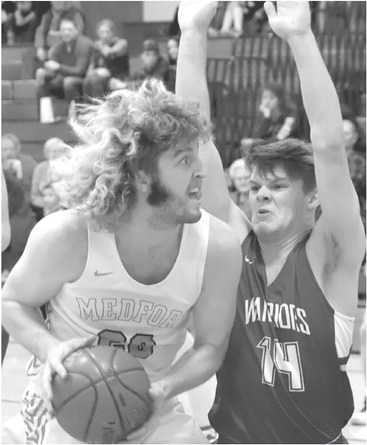 MEDFORD BOYS BASKETBALL
The Medford boys basketball team celebrated its eight-man senior class on Tuesday night before taking on a Rice Lake team that, conversely, has just two seniors on its roster and is relying heavily on a cast of players new to full-time varsity play this season.
The contrast in experience levels showed in the Raiders' 58-37 win.
While it wasn't always pretty as the Raiders didn't shoot particularly well and played several different combinations while showcasing the seniors, the outcome was never seriously in doubt as Medford jumped ahead 14-5 in the first eight minutes while improving to 10-3 overall.
The Warriors dropped to just 1-9, but it was an important win for Medford to get against a team in their side of the sectional bracket this season.
As usual, Medford set the tone with its defense, which made life tough on anyone handling the ball for Rice Lake. The Raiders forced 28 turnovers and turned several steals into the types of scoring opportunities they wanted. But, on a night where they shot just 41% from the field, they didn't always convert those opportunities.
"They're a younger team and we're a physical, older team now," Medford head coach Ryan Brown said. "We understood what they were trying to do because our offenses are so similar and me and (Rice Lake) coach (Kevin) Orr spend a lot of time together talking basketball. We got aggressive and were really able to anticipate some passes and get in passing lanes, get deflections. When they did drive, I thought we rotated pretty well and guys were getting their hands on the ball, which led to a lot of steals."
The Raiders also set a physical tone early, getting 6-2 senior center Doug Way set up on the block for six of the team's first eight points during a 10-2 gameopening run. "That's really a part of our offense where we're looking to set those screens for our shooters coming out and then get that strong post up," Brown said. "I thought (Way) did a good job of getting good position and we made some nice post entries. We struggled later in the game making good post entries. We got some nice post entries early and he did a good job of going up strong and finishing."
Mason Rudolph scored twice in transition and Justin Sullivan added a bucket to give Medford its early 14-5 lead. A scorebook error led to technical foul free throws for Rice Lake's Nick Schlampp and a hoop by Nolan Rowe made it 14-9, but Medford went on a mini 8-2 run to push the lead back to double digits at 2211. Peyton Kuhn answered a Judson Rikkers 3-pointer with five points of his own for a 27-14 lead that shrunk to 29-21 at the break.
Medford's solid defensive work continued early in the second half, where the Raiders started with a 18-3 spurt that knocked out the Warriors. Kuhn and Sullivan started the run with buckets, Way's pass from the top of the key found Kuhn for a layup and a backcourt steal by Kuhn led to a Rudolph basket that made it 37-22. Alex Belongia got a tip-in for the Warriors, but Brady Hupf swished a wide open left-corner 3-pointer and Kuhn and Logan Baumgartner scored easy buckets and Kuhn drilled a triple to push the lead to 47-24.
Kuhn was the only Raider to hit double figures, scoring 16 points. Rudolph led the balanced output from there with eight points. Sullivan, Way and Baumgartner scored six points apiece, Hupf finished with five, John McMurry and Ty Baker scored four apiece, Cooper Wild had a point and Austin Schultz ended things by putting in a left-handed layup in the final seconds.
"I was proud of the seniors," Brown said. "They've all worked so hard. To get them all an opportunity and time in the game and see them all contribute is nice. It's the same things they do every day in practice. From that standpoint, it was a really good night for them. It's pretty special to have a manager and eight seniors. You know you'll probably have a pretty good chance at having success when you have numbers like that in your upperclassmen."
Way led Medford with six rebounds. Kuhn, Rudolph and Baumgartner had two assists apiece and Kuhn and Baker each had four of Medford's 19 steals.
Schlampp's 12 points led Rice Lake, while Belongia scored eight points.
Coupled with last week's 63-60 win over Menomonie, Medford is 2-0 against teams from the Big Rivers Conference that are on their side of the WIAA Division 2 sectional bracket this year. On Feb. 20, they'll get Chippewa Falls, who is in Division 1 but could be another key opponent when it comes to adding ammunition for the seeding meeting. The Cardinals knocked off the state's seventh- ranked D1 team, Eau Claire North, 59-52 on Tuesday. The Raiders currently lead the Great Northern Conference with a 5-0 mark.
"We need to find a way to beat Chippewa and hopefully keep playing good basketball in our conference and give ourselves an opportunity," Brown said. "Me and coach Orr were talking about it, between the three, four, five, six and seven seeds, it could be almost anybody."
North Scott 63, Medford 38
Less than 24 hours after earning a big Great Northern Conference win at Mosinee (see page 4), the Raiders struggled from the opening tip Saturday and never really got anything going in a 63-38 loss to North Scott, Iowa at JustAGame Fieldhouse in Wisconsin Dells.
Led by 6-8 senior and University of Northern Iowa recruit Tytan Anderson, the 9-1 Lancers jumped out to a 14-0 lead before Baker's 3-pointer finally got Medford on the board nearly six minutes in. Another Baker 3-pointer made it 18-8 and a Baumgartner triple made it 21-11. Onyi Ekwueme's putback of a McMurry miss made it 22-13 and that was the only time North Scott's lead ever dipped below double digits.
The Lancers, ranked ninth in this week's Class 4A Iowa state poll, led 35-20 at halftime and led by as much as 31 in the second half.
"We were just mentally out of it," Brown said.
Not only was Anderson a force inside, the Lancers were deadly from the outside, hitting nine of 19 3-pointers, including five of nine in the first half. Overall, North Scott shot 58.1% from the field (23 of 42), outrebounded Medford 32-23 and forced 14 Raider turnovers.
Medford shot a woeful 27.5% from the field (11 of 40).
Anderson had three dunks in the first eight minutes with the first coming off his own steal, the second coming off a Sam Kilburg assist and the third following a Carter Markham steal.
Kilburg had 16 points and five assists for North Scott.
Baumgartner led Medford with 10 points. He knocked down all five of his free throws to go along with his early 3-pointer. Baker had eight points and four rebounds. Kuhn scored eight points. McMurry, Hupf and Wild each sank a 3-pointer. Ekwueme finished with two points and Rudolph scored one. Rudolph had a team-high six rebounds. Sullivan had two assists.