Posted on
Raiders break GNC skid with 6-4 win over Hatchets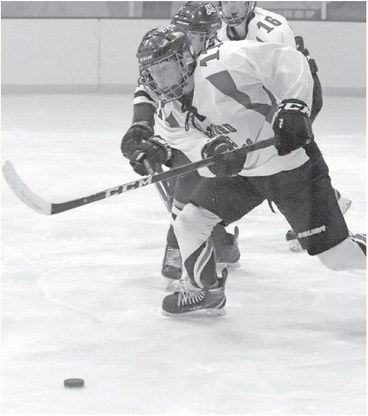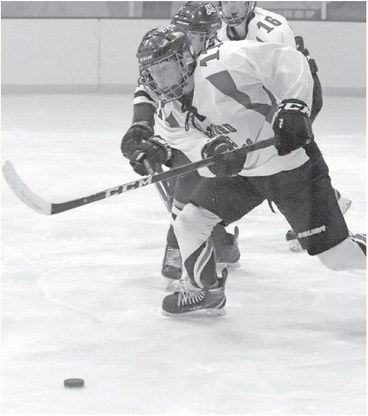 MEDFORD HOCKEY
The Medford hockey team's Great Northern Conference drought is over.
The Raiders dominated statistically but had to hold off a late Tomahawk rally to beat the host Hatchets 6-4 Tuesday night at Sara Park and get their first league win since a 5-2 win over Rhinelander on Jan. 24, 2017. Medford teams had lost 31 straight conference outings, if you include an overtime shootout loss to Waupaca Jan. 2 that counts as a tie in its overall record, before tasting victory in this one.
The Raiders controlled the puck and peppered Tomahawk goaltender Christopher Callahand with 47 shots in the win and scored the game's first four goals thanks to four different goal scorers.
Connor Gowey got Medford on the board 5:16 into the first period with a Miles Searles assist and Carter Pernsteiner tacked on his 14th goal of the year at 7:00 with assists from Austin Waldhart and Colton Gowey.
Waldhart scored the first of two quick Raider goals 9:46 into the second period with assists from the Gowey brothers. Waldhart, a senior defenseman has been on a bit of a scoring binge in recent weeks, scoring eight goals in Medford's last seven games. Blaine Seidl beat Callahan 1:02 later with assists from Dalton Hraby and Brayden Machon to give the Raiders their 4-0 advantage.
But Tomahawk rarely makes things easy for Medford in hockey and this game would be no different.
Just six seconds after Seidl's fourth goal of the year, he was penalized for roughing and the Hatchets took advantage, scoring at the 11:39 mark of the period on Caleb Lund's power-play goal, assisted by Cody Scholz and Dominic Zattera. Zack Friske scored at 14:10 with assists from Scholz and Lund to make it a 4-2 game, but Colton Gowey got a huge goal 25 seconds later with a Connor Gowey assist to stop Tomahawk's momentum and give the Raiders a 5-2 lead heading into the third period. It was Gowey's 16th goal of the season.
Just 28 seconds into the third, Waldhart scored again off Connor Gowey third assist to put the Raiders back up by four. That margin allowed them to breathe somewhat easy when Scholz and Friske struck for goals at the 11:16 and 12:58 marks. The defense held from there, even when Tomahawk pulled Callahan for an extra skater in the last 30 seconds and allowed the Raiders to improve to 7-5-1.
Goalie AJ Adleman had 14 saves in the win. Medford successfully cut down on its time in the penalty box with just three infractions for six minutes. Tomahawk was only penalized twice.
The win was key because it should allow Medford to jump over 0-5 Tomahawk and climb out of the eighth seed for the GNC tournament that starts Feb. 4. Medford's last GNC game of the roundrobin portion of the conference schedule is Monday at Lakeland, who currently holds the two seed with its 5-1 GNC record.
Before that matchup, Medford will compete this weekend in the annual East-Merrill United tournament. The Raiders will take on the host BlueJacks at 6 p.m. Friday and then play either Rhinelander or Jeffers, Mich. in the 11 a.m. consolation game or 1 p.m. championship game on Saturday.
Medford visits the Chequamegon Coop on Jan. 23.
Mosinee 4, Medford 1
On Thursday, the Raiders continued to show they can play with nearly every team in the Great Northern Conference, which is a meaningful step forward for the program. A tough third period, however, prevented them from beating a GNC squad the Raiders have had plenty of problems with in the past decade-plus.
Odd-man rushes 27 seconds apart created scoring chances for Maxwell Beste and he knocked home both to break a 1-1 tie and send the visiting Indians to a 4-1 win over the Raiders. With the win, Mosinee remained unbeaten against Medford since the 2004-05 season.
Until Beste's back-to-back goals, this was anyone's game. Both Adleman and Mosinee's Stanford Swid were solid between the pipes, though both teams also let a few scoring chances get away. Penalties hadn't been a huge problem for either team. Medford had killed three penalties, while Mosinee killed one.
Though neither of Beste's goals came on power plays, penalties did become a problem for Medford in the third period as three infractions over a span of 2:29 eventually led to a five-on-three where Mosinee capitalized by scoring the game's final goal. Mataj Rychtarik got it with 3:32 left, assisted by Trey Fitzgerald and Tobia Holka.
Holka was another star of the game, scoring once and assisting on the rest of Mosinee's goals. He was at the right place in the right time and got the game's first goal 10:35 into the first period. While positioned to Adleman's left, a rebound came his way and he was able to push the puck just under the crossbar. Gunner Colbert and Ben Lardinois assisted.
It stayed that way until the 11:29 mark of the second period when Logan Searles got the puck to Pernsteiner who flipped a wrist shot once he got near the face-off circle to Swid's left and it got through to tie it.
That's where it stayed until the 5:31 mark of the third, when Beste and Holka perfectly executed a two-on-one breakout. At 5:58, Mosinee created some pressure and Beste converted again, assisted by Lardinois and Holka.
"Those always hurt the morale when you get scored on two times real quick," Medford head coach Galen Searles said. "And it boosts the other team. It's a huge momentum swing."
The string of penalties started at 10:05 and made a comeback tough to achieve.
Searles felt the second period was where Medford had its chance to take control.
"We missed the net a few times," Searles said. "There was the period of time in the second where we had several shifts in a row where we were just pounding them and that's when you have to put it in the net. (Mosinee) withstood it."
Adleman finished with 34 saves on 38 shots faced. That included 12 saves in the first and third periods. Swid stopped 20 of 21 shots for the Indians, who improved to 4-2 in the GNC and 9-5 overall at the time.
Medford was unsuccessful in three power-play chances. Mosinee was one for six.