Posted on
Indians make Gilman work for the win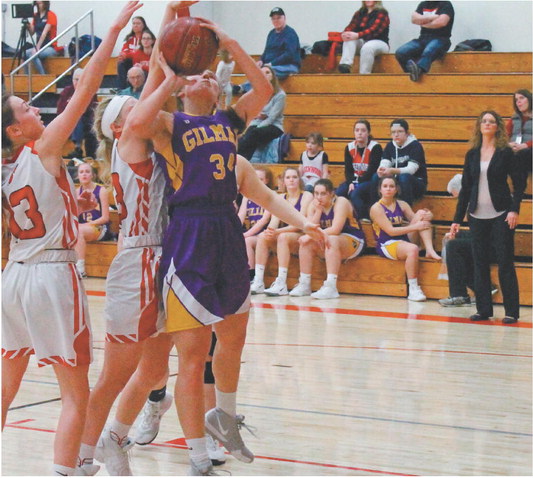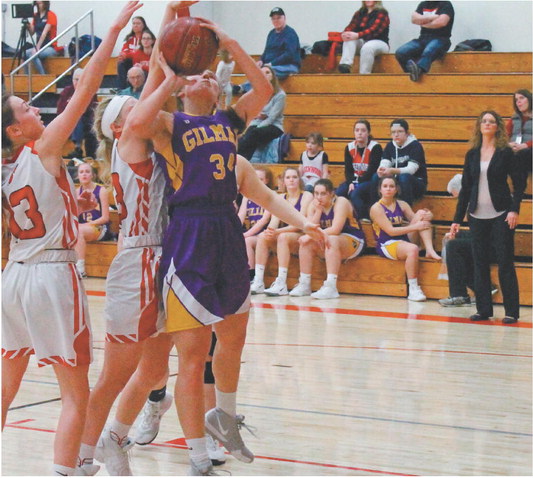 GILMAN GIRLS BASKETBALL
Grunseth reaches scoring milestone
It didn't go as smoothly as the Gilman Pirates hoped Tuesday, but they did take care of business, got an Eastern Cloverbelt Conference road win they had to have and got senior Grace Grunseth to the 1,000-point milestone in a 56-49 win at Greenwood.
The Pirates struggled mightily with their shooting especially from the 3-point line (one of 13) and the free throw line (three of 17). But they did enough damage inside, making 25 of 57 two-point shots (43.9%) and dominating with rebounds as they usually do (51-33), to get out of town with a win.
The Pirates improved to 5-3 in conference play and 7-3 overall, while the Indians dropped to 1-7 in league play and 3-10 overall.
"Our defense was good, but Greenwood was on to start the game off," Gilman head coach Tammy Weir said. "We were forcing too much on offense and not letting the offense work. Therefore some of our shots were not good ones."
Grunseth entered the game with 986 career points. It took until the final moments, but she finally got her 14th point of the night and hit 1,000.
"Grace did get her 1,000th point and, believe me, her last 14 points were wellearned," Weir said. "They were double teaming her and she had to work for each basket she got."
"It's really meaningful," Grunseth said. "It's something I've been looking forward to for some time, been working hard in the gym every day. It's such a milestone in my basketball career. I have to thank all of the coaches who put up with me over all those years."
While the Indians put their defensive focus on Grace Grunseth, her sophomore sister Emma Grunseth picked up the slack. She scored 10 firsthalf points, while Lydia Syryczuk and Emma Warner added six points apiece to help the Pirates turn a 19-17 deficit into a 28-22 halftime lead.
Emma Grunseth wound up putting up some bigtime numbers, finishing with a 16-point, 15-rebound double-double. She also had the assist on the bucket that got Grace to her 1,000th point.
The Pirates got off to a quick start in the second half, stretching the lead to double digits for the first time at 34-24. The lead stayed in the eight- to 10-point range for most of the half and hit 12 at 49-37 late.
Grace Grunseth was able to break the double teams for nine second-half points. She also had eight rebounds and two assists in the win. Warner finished with six points and 13 rebounds, 11 of which came on the defensive end. Lydia Syryczuk hit a second-half 3-pointer to finish with nine points, five rebounds and three steals. Tatum Weir was a key figure in the second half, scoring six of her nine points in that time. She added seven rebounds and three blocked shots. Aubrey Syryczuk added two points, five steals and two rebounds.
Gilman had 14 steals and 21 offensive rebounds to earn some needed extra possessions on a night the shots didn't consistently fall. Greenwood got 18 points from Amanda Bogdonovich, who scored 10 of those in the Indians' solid first half of play. Olivia Klabon added 15, 12 of which came in the second half. She knocked down a trio of 3-pointers for the Indians.
The game marked the end of round one in the Eastern Cloverbelt Conference schedule. Round two starts Friday.
Before then, Gilman hosts Cornell today, Thursday, as part of a boys-girls doubleheader. The boys get it started at 5:45 p.m.
Friday's game at Loyal starts a tough stretch of three straight road games against conference title contenders. Neillsville (Jan. 23) and Colby (Jan. 28). The Pirates handed Neillsville their only loss of the season, a 51-50 decision, back on Dec. 5 but lost home games to Loyal and Colby in round one.
Neillsville leads the standings at the turn at 7-1, followed by Loyal (6-1), Colby (6-2) and Columbus Catholic (5-2). Loyal and Columbus Catholic will play a rescheduled game on Monday.
"We need to turn it up and run our offense better on Friday," coach Weir said.