Posted on
Hornets crowned champs at home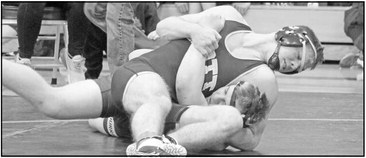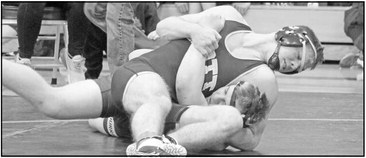 The Cadott Hornets Wrestling program saw a busy, but successful, week, taking part in two away duals, before hosting a home invitational tournament. The week was also highlighted with senior Brady Spaeth (170-pound weight class) and freshman Brayden Sonnentag (106) ranked as the No. 1 wrestlers in the state.
Junior Nelson Wahl (160) was ranked third and sophomore Kaleb Sonnentag (126) came in seventh in the rankings.
Jan. 7 vs. Boyceville (W 57-22)
The week's schedule started out on the road, going up against Boyceville, where the Hornets walked away with a 57-22 victory. Cadott is ranked sixth in Division 3, while Boyceville was ninth.
"The boys wrestled a great match against Boyceville," said coach Josh Spaeth. "The environment was electric last night. The boys wrestled with a lot of heart and determination.
The Hornets also saw the return of Wahl.
"He looked good on his feet and earned a pin," said J. Spaeth. "Freshmen Tristan Drier and Dawson Webster both beat returning State qualifiers. Those were big wins for those two boys."
Starting in the 285-pound weight class, senior Josh Briggs earned a fall over Josh Marzofka in 22 seconds, while fellow senior Steven Pfeiffer (182) got the win over Nick Hillman in 3:53. Wahl defeated Bash Nielson in 2:24 and Webster (145) won his decision over Nate Stuart, 5-4.
Drier (138) earned his win over Ira Bialzik in 5:09, while sophomore Ethan Duck (132) earned a victory over Peyton Ponath in 1:27. Rounding things out, B. Sonnentag defeated Dante Butler in just 33 seconds and sophomore Logan Harel (113) took out Emma Gruenhagen in 1:28.
B. Spaeth and senior Ethan Tegels (220) received forfeit victories.
The win moves the Hornets to 9-2 in dual meets.
"As always, we will continue to work hard and get better, each and every week," said J. Spaeth. Jan. 9 vs. Osseo-Fairchild-Augusta-Fall Creek (W 81-0)
Cadott was back in action two days later, traveling to compete against Osseo-Fairchild-Augusta-Fall Creek, taking the dual meet, 81-0. The win improves the Hornets dual record to 10-2 on the season.
"Our wrestlers continue to work hard, and get better each and every week," said J. Spaeth. "It was a great team effort."
Bringing home victories, Briggs defeated Isaiah Waggoner in 32 seconds, with Tegels earning his win over Bo Pridlick in .45. Sophomore Gavin Tegels (195) took down his opponent, Luke Fischer, in 3:04 and Pfeiffer got the win over Kaden Moseley in 1:28.
Freshman Cole Pfeiffer (145) earned the win over Ben Dickensen by technical fall, 19-4. Duck took down Dustin Sudbrink in .26, while K. Sonnentag won over Hunter Breaker by major decision, 14-4.
Nick Fasbender, freshman, got the win in .13 over Sullivan Haskins, Harel earned the fall over Cayden Guntner in .22 and B. Sonnentag won over Bryce Armstrong-Baglien in .40.
B. Spaeth, Wahl, Webster and Drier, all received victory by forfeit.
Jan. 11 vs. Cadott Invitational
Cadott finished out their week at home, going up against multiple teams in a round-robin format, keeping bragging rights in town, as the Hornets earned the home win over their opponents.
"We had seven champions this weekend," said J. Spaeth. "Great job, kids."
Earning his 151st career win, was B. Spaeth, who also reached another milestone – winning every home tournament, from youth wrestling, to his current high school status as senior.
Crowned as champions on the day, were B. Sonnentag, K. Sonnentag, Drier, C. Pfeiffer, Webster, B. Spaeth and G. Tegels. Coming in just shy of the championship, were Fasbender, Wahl, junior Michael Pecha (160), S. Pfeiffer and E. Tegels.
Harel and Briggs earned third place, with Duck and sophomore David Lallemont (145) placing fifth. Freshman Peter Weir (138) and sophomore Brett Schofield (285) came in ninth, with freshmen Austin Walters (132) and Levi Lindsay (138) in 10th.
Rounding out the placings, freshman Kane Mengel earned an 11th place finish.
"The wrestlers all wrestled with a lot of heart and determination," said J. Spaeth.