Posted on
Cornell splits a pair of close conference games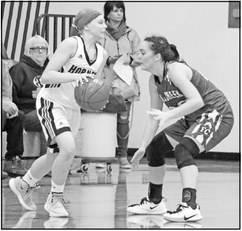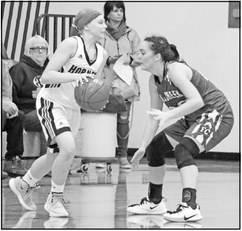 The Cornell girls opened their week of basketball with a home game against Birchwood, then hit the road for a match-up with Winter.
Jan. 7 vs. Birchwood conference (L 51-38)
"This was a close game until midway through the second half," said coach Dave Elliott.
Cornell was only down 19-13, going into the second half, but with fouls coming from the Chiefs, Birchwood racked up the points, shooting 41 free throws. The visiting team walked away with a 51-38 conference victory.
"We gave them too many second-shot opportunities, leading us into foul trouble," said Elliott.
Senior Erin Crowell led the way for Cornell, with 13 points. Junior Izzy Clark was next with 9, with junior Braya Duffy right behind with 8 points.
Bryanna Bonander, senior, added 4 points and junior Alyssa Helland chipped in with 2 points. Junior Michiah Galster and senior Kaylie Walters each came away with 1 point.
Jan. 10 vs. Winter conference (W 43-42)
Braving icy road conditions, Cornell made the trek to Winter, where spectators inside the gymnasium were treated to a last-second decision.
"We continue to struggle to make baskets inside," said Elliott. "We shot 9 for 28 from the free throw line."
However, the game came down to free throw shooting, with the Chiefs sealing the game in the last seconds.
"Erin Crowell made two clutch free throws with 9 seconds left, to put us up by one point for the win," said Elliott.
Crowell also led the way for Cornell, with 10 points, 11 rebounds and 4 blocks. Clark ended with 9 points, 6 steals and 4 assists. Bonander followed that with 8 points, 3 assists and 6 rebounds.
Helland added 6 points and 4 steals, with Duffy contributing 4 points. Walters and senior Charity Hessler finished up with 2 points.