Posted on
Rocket girls give reigning ECC champs all they can handle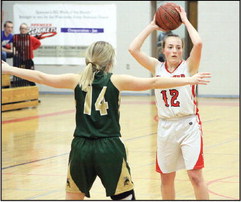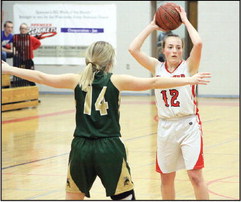 When Spencer sophomore Heavyn Kind drained a 3-point shot to pull the Rockets within two points of Colby with just over four minutes left in their Jan. 9 home game, the noise level for a Spencer girls game may well have been the loudest its been in some time. Even though Colby would outscore the Rockets 14-2 the rest of the way to claim a 64-51 Eastern Cloverbelt Conference win, Spencer proved it can play with the league's top-tier teams.
The loss dropped the Rockets to 2-6 in ECC play, with wins over Granton and Greenwood in the ECC season's first half, but the margins have been closer this year under new head coach Krystal Weier. Last week's game saw Spencer challenging the defending ECC champs and 2019 Division 3 state qualifying Hornets until a late flurry of turnovers allowed Colby to put the outcome in hand.
Spencer had the score tied at 12-12 midway through the first half on Madison Knecht's 3-pointer, but Colby pulled to a 2720 lead at halftime. The Rocket defense had difficulty keeping track of Hornet senior Hailey Voelker, who had already piled up 17 points by the end of the half.
An early second-half spurt fueled by Aryiah Schuh's follow-up score on her own miss and Amber Becker's pull-up jumper in transition brought the Rockets within 27-26. Colby then mounted a 10-2 run and appeared poised to pull away. Not so fast, though, as Knecht's second 3-pointer of the game started a rally that would see Spencer go on a 21-11 run of its own. Spencer scored seven straight points in one stretch as Kind scored after picking up a loose ball, Becker scored down low on an assist from Kind, and then Kind grabbed a long rebound on Schuh's 3-point miss, scored, and drew the foul. Her free throw made it a 43-40 game with 9:50 to go.
Down by six a few minutes later, Spencer made its final charge when Knecht hit another outside shot, although her toe was on the 3-point line. A Knecht free throw followed a Voelker score in the low post, and Kind then ignited the home crowd with her 3-pointer that made it a 50-48 game with 4:55 left to play. After Colby missed a 3-point shot on its next possession, Kind was fouled and made one of two free throws to cut the margin to a single point at the 4:08 mark. Colby missed another 3-point attempt on its next trip, but Spencer threw the ball away. The Hornets got two free throws on the ensuing possession, and Emma Peavey then stole the in-bounds pass and laid it in for a 54-49 Colby lead. Kind hit one bonus free throw to keep it a 4-point game with 2:33 to go, but more Rocket turnovers led to a 7-0 Colby run that decided the outcome. Kind scored 18 points and grabbed eight rebounds, while Knecht and Schuh scored 11 points apiece.
Voelker ended the night with a game-high 23 points.
DEAN LESAR/STAFF PHOTO
DEAN LESAR/STAFF PHOTO