Posted on
Three games in 24 hours produce a split, fine effort vs. Pines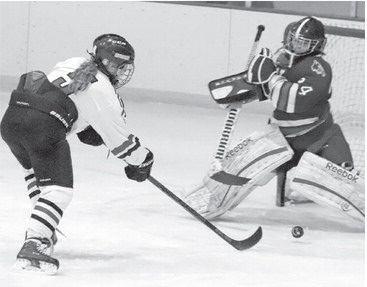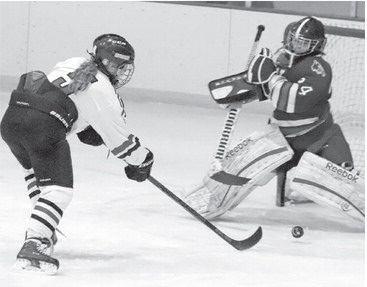 MEDFORD-RIB LAKE GIRLS HOCKEY
Emily Schafer's scoring assault continued with six goals in a game-one win, but the Medford-Rib Lake girls hockey team was done in by a slow start in gametwo while splitting a Saturday doubleheader with the mBank U19 team from Marquette, Mich. at the Simek Recreation Center.
The Raiders scored seven consecutive goals while dominating game one 8-2. Playing their third game in less than 24 hours, the Raiders' legs didn't respond early in the afternoon game as they fell behind 5-2 before a late rally fell short in a 5-4 loss.
The split put the Raiders at 4-9 overall heading into a doubleheader rematch this Saturday with the Marquette team, this time at its rink.
Marquette scored the opening goal in game one with Heidi Meglathery beating Raider freshman goalie Saige Duesing just 1:46 in with an assist from Jamie Hendrickson. But from there, Duesing was rock solid, finishing with 30 saves on 32 shots faced and the Raiders' offense caught fire.
Just one minute after Meglathery's goal, Kiersten Crass tied the game, scoring off assists by Emily Schafer and Alex Nicks. Nicks took the day off from goaltending and played a defensive position in both games, recording her first points of the season.
Schafer scored off a Kyla Kennedy assist at 11:30 and Alyssa Brandner notched the third goal of her freshman season with the fourth assist of the year for Karli Higgins at 13:09 to give the Raiders a 3-1 lead.
Schafer scored twice in the second period to extend the lead to 5-1. Her first one came off a Nicks assist at 3:16. She was able to swipe the puck and score shorthanded at 10:22. Schafer scored all three of Medford's third-period goals to put it away. Crass assisted on the first one at 1:18 and Kennedy assisted on the second just 62 seconds later. Marquette finally beat the Raiders' defense with an Abigail Bergmann goal at 6:20, assisted by Sydney Lake. But Schafer put the running clock back into effect with a power-play goal at 11:03, assisted by Delaney Hraby and Crass.
Marquette actually outshot the Raiders 32-28, but Duesing's 30 saves negated that advantage. The Raiders were one for three on power plays, while Marquette did not take advantage of two power plays.
Schafer recorded yet another hat trick, her ninth in 13 games this season, but it wasn't enough in game two.
She got the first goal of the game just 1:25 in, assisted by Kennedy, but the visitors answered and took a 2-1 lead into the first intermission. Meglathery got the first one at 6:52 and Lake put them ahead at 16:15.
An unassisted goal by Schafer tied the game at 2-2 at 7:10 mark of the second period, but Olivia Koshorek's goal 1:56 later put Marquette ahead to stay. Bergmann and Lake had assists on the go-ahead goal. Lake scored at 13:12 and again just eight seconds into the third period to give Marquette a seemingly-comfortable 5-2 lead.
It stayed that way until the 12:57 mark when Schafer got goal number three of the game and number 36 of the season with assists from Kennedy and Crass. It got even more interesting when freshman Eryka Seidl beat Marquette goalie Tara Mankee with 2:58 left in the game to cut the deficit to one. Higgins and Hraby had the assists. But that was as close as Medford would get.
Duesing had 26 saves in the loss, including 12 in the third period. Markee had 27 saves. Medford failed to score on two power plays, and Marquette came up empty on four chances.
Schafer ended the weekend as, by far, the state's leading goal scorer. Her 36 goals through Saturday put her nine ahead of Hadley Malcolmson of the Brookfield Glacier Co-op and 13 ahead of Kiya Bronston of the Onalaska Co-op. Schafer's 50 points put her 11 ahead of Bronston according to statewide statistics compiled by wisconsinprephockey. net.
Schafer has 91 goals and 35 assists in her career and is far and away the program's all-time leading scorer.
After Saturday's doubleheader, the Raiders will have a quick turnaround, traveling to Rhinelander Monday to take on the Northern Edge Co-op in a 7 p.m. face-off.
Pines 6, Medford 3
The Raiders delivered the first punch and even held a brief second-period lead, but ultimately didn't have quite enough stamina to hold down the always-tough Northland Pines Eagles in a 6-3 loss Friday at the Simek Center.
Schafer recorded her seventh hat trick of the season and her third goal goal gave the Raiders a 3-2 lead 4:19 into the second period. But Pines' top scorer, Grace Wittkopf, tied the game just 61 seconds later and the Eagles tacked on three more goals before the period ended to skate away with their eighth win of the year.
"Overall we're getting better," head coach Jenna Wieting said. "9-0 was the score of the last game (with Pines). Our pressure is good in spots. Again, we still have those letdowns and we were getting tired. We were probably more tired in the second period than we were in the third. Second period just kinda got away from us. Other than that, we're in it the whole time. We're learning, we're getting better."
Wittkopf scored twice for the Eagles (8-2-1) and had two assists, while Allison Kieffer had a goal and two assists. Northland Pines remains a team the Raiders have never beaten in the program's 11year history. The teams will play in Medford again on Feb. 3.
Medford put pressure on Pines' defense on the game's first shift, getting Schafer a good scoring chance that was denied by Frankie Will, who made her first start in goal for the Eagles. Schafer didn't miss another good chance at the 6:50 mark, taking a pass from Crass between the circles and putting a perfect shot through the five-hole.
"Right away our first shift was entirely in their zone. That was really good," Wieting said. "When we come out strong like that, it's especially really nice to see how far we've come. Once we get tired, I get that the legs become a factor because we don't have as many legs as pretty much everybody that we play. But it's nice to see those very first shifts when we come out really hard and we can see exactly what we're looking at apples to apples. They're doing a really good job."
The 1-0 lead lasted for nearly four minutes. Madison Stebbeds went coastto- coast for Pines and beat Nicks high on her glove side to tie it. Just 65 seconds later, Wittkopf scored right off a winning face-off, again going to Nicks' left side.
The Raiders got the equalizer with 27 seconds left in the opening period. Kennedy freed up the puck near Medford's blue line and Schafer was able to skate all the way in on Will, beating her high on her glove side.
Schafer gave the Raiders their brief second-period lead sticking in a rebound goal with Hraby and Crass getting the assists.
After Wittkopf tied it for Pines, Kieffer broke loose for a short-handed breakaway, which she backhanded in at the 7:10 mark to put the Eagles ahead for good. Madison Bill scored at 10:54 with Halle Kerner and Wittkopf getting the assists and Kia Dalka converted with an assist from Kieffer on a two-on-one chance at 15:03 to end the Eagles' four-goal run.
Nicks faced 16 shots in the third period, but she and the defense allowing nothing in the final 17 minutes. Nicks finished with 37 saves while Will had 11 for the Eagles.
"The defense really helped Alex a lot," Wieting said. "Alex also made a couple of corrections that she got kinda mixed up on in the second period. She overcommitted on one of the goals. With her just gaining experience, she's recognizing those mistakes before we even tell her. She'll know, so that's a good thing for her as well."
There were no power-play goals. Medford had three chances, while the Eagles had one.