Posted on
Sullivan's score caps rally; Raiders get key 63-60 win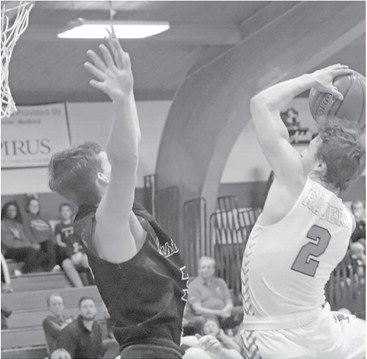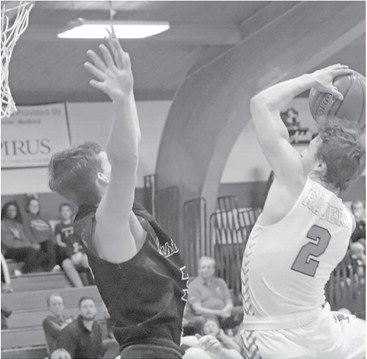 MEDFORD BOYS BASKETBALL
It didn't unfold exactly how it was designed, but from the Medford Raiders' point of view their final offensive play on Tuesday night was executed to perfection.
Justin Sullivan's three-point play with 5.9 seconds left off a back screen by Peyton Kuhn and a terrific pass from Mason Rudolph capped a comeback from a 10-point deficit in the last seven minutes and sealed the Raiders' 63-60 win in a non-conference thriller over Menomonie.
The win was a big one against a solid Big Rivers Conference team that is probably better than its 4-6 record shows and is part of the field of teams Medford will be jockeying with for post-season positioning later in the season.
The Raiders, who improved to 8-2, outscored the Mustangs 18-5 after falling behind 55-45 on a quick 9-0 spurt that included a technical foul on Raiders' head coach Ryan Brown for leaving his coaching box, a 3-pointer by sharpshooting Davis Barthen and a steal and one-handed dunk by Menomonie's Noah Feddersen.
According to Brown and Sullivan, the comeback was only made possible by tough defense down the stretch.
"That's what good teams do," Brown said. "When things get tight, you get behind or even when you get a little bit of a lead, they're able to shut teams down. I thought that was the difference maker in that last seven minutes. We really were strong on the rebounds overall. We defended well and we caused them to miss shots. That allowed us to come back and run good offense until we made shots and get ourselves back in the game."
"We gotta get stops on defense because that's what's going to get us back in the game," Sullivan said of the team's mindset after Menomonie got up by 10. "We knew we'd start hitting some shots. We have guys that can do it. We had to get stops on defense. We did a good job of that."
It also helped that right out of a timeout Kuhn, who led Medford with 22 points, buried a 3-pointer from the left wing. A turnover led to Kuhn's bucket off a Logan Baumgartner assist, Sullivan hit a short jumper in the lane and Doug Way hit two big free throws with 4:09 left to suddenly make it a 55-54 game.
Kuhn then made one of the game's biggest defensive plays, ripping the ball away from Brock Thornton and giving Medford the lead with 3:38 left on a breakaway lay-in.
"I had seen that all game that they were turning their backs to me when they'd get the post up on the key," Kuhn said. "I was thinking, 'when do I go for it?' That was the time and I took it."
Barthen and Rudolph traded baskets and Sullivan sank two free throws with 1:22 left. Barthen, who scored 24 points for the Mustangs, including 13 in the second half, hit a cold-blooded 3-pointer with 59 seconds left to tie it at 60-60.
After a timeout, the Raiders calmly beat Menomonie's press and then milked the clock to under 15 seconds before setting up their final play, which was designed to get Kuhn a shot off a staggered screen. But his back screen opened up Sullivan under the hoop, Rudolph found him from the top of the key and zipped the ball to him on the left block where his shot rolled completely around the rim once and dropped.
"It's not designed for that right there," Sullivan said. "If it's open, then you hit it. It was good for Mason at the top of the key to see that back screen there and hit me."
"We just did an awesome job of running our offense, getting to our last play and getting into it at the right time and making the right play," Brown said. "It was a great pass from Mason. He could've easily waited for Peyton to come off the stagger, but they were so worried about him. He made the right play. That was the guy who was open and Justin did a great job of just elevating and finishing."
Menomonie got Barthen a decent look at a last ditch 3-pointer, but it was just off the mark.
"This was a great win for us," Kuhn said. "It's a tough game. They're a good team and those are the types of teams we'll see in the playoffs."
Until Menomonie made its run to go up by 10, the game had been tightly-contested. The Mustangs took a 31-23 lead late in the first half that was quickly trimmed with a Kuhn putback and his 25-foot 3-pointer just before the halftime buzzer that made it 31-28. Jed Ogea banked in a 3-pointer to give the Mustangs a 44-38 lead, but Ty Baker's driving bucket, Logan Baumgartner's 3-pointer and a Rudolph score got the deficit down to 46-45.
"In the first half, even though we were behind, I think we turned it over twice and we got all great shots," Brown said. "Honestly, I didn't think our defense was that bad. They didn't really beat us on their sets. A couple times they got a highpost attack. They made a lot of shots too."
Sullivan finished with 18 points for Medford, Rudolph scored seven, Baumgartner had five, Way scored four and Onyi Ekwueme added three. Baker and Brady Hupf had two points each. Way had six rebounds. Sullivan, Rudolph and Baumgartner each had two assists.
The win gives Medford a boost heading into a big weekend. The Raiders will look to take total control of the Great Northern Conference when they visit defending champion Mosinee on Friday at 7:15 p.m. At 4-0 in the GNC, the Raiders currently have a 1.5-game lead over the 2-1 Indians. On Saturday, they will face a strong North Scott, Iowa squad at JustAGame Fieldhouse in Wisconsin Dells. Tip time is 4 p.m.
Another key game for post-season seeding follows on Tuesday when Medford hosts Rice Lake at 7:15 p.m.
Medford 77, Pines 53
Medford maintained its early lead in the GNC standings with a dominant 77-53 home win over Northland Pines Friday night.
Sullivan was in an absolute zone, hitting 12 of 14 field goal attempts while scoring a game-high 27 points. He scored 20 of those points in the second half alone. Defensively, the Raiders held Northland Pines without a field goal in the last 12 minutes of the first half, allowing them to break open what was a very tight game through the first 12 minutes.
Medford finished the first half on a 16-4 run to take a 31-16 halftime lead and they started the second half with a 16-3 burst to make it 47-19. From there, it was the Sullivan show as he scored 13 of Medford's next 17 points as the lead ballooned to 64-33.
"We did a great job, first of all, of just beating their pressure," Brown said. "That's what got (Sullivan) rolling I think. He attacked the rim hard. He finished strong. He's such a leaper he can get to that spot and then elevate over taller players. So that was really good for us because we needed a little bit of a spark. ... You could see that confidence come around. He hit a couple finishes, a couple shots off the dribble and then even the 3s started coming. And that's good because we've been asking him to be aggressive and to seek out his shot a little bit more."
"I haven't been shooting that well earlier this season," Sullivan said. "It's good when Peyton's not always hitting his shots to have someone else get some points too."
Defensively, the Raiders easily reached one pre-game goal of limiting Pines to six or fewer 3-pointers. The Eagles made just two of 21. Their other big goal was to limit Ryan Peterson, one of the GNC's premier players, to 15 points. He scored 16 but was limited to just three field goals on 15 attempts. He made nine of 12 free throws to account for most of his scoring.
"We wanted to do a good job of being in position and making good closeouts because we know they like to shoot the 3," Brown said. "We wanted to be there on the catch and just do a really good job of keeping them out of the middle. Overall we did pretty good. We gave up some middle drives on poor closeouts which led to some fouls and putting them on the line, but overall we did a good job of closing out on their shooters."
"We knew we had to stop Peterson because he's their best player," Sullivan said. "We had to work hard to deny him the ball and do what we always do and be on help line and always have our hands up on him."
Just about everyone on the roster contributed in the win. Kuhn had a mostly quiet 12 points, but he had five rebounds, two assists and two steals and scored four quick points to spark Medford's early second-half burst. Baker was active throughout, going six for six from the free throw line while scoring 11 points. He had three steals, two assists and four rebounds. Rudolph had nine points and four rebounds. Baumgartner made three of four shots to finish with eight points and three rebounds.
Hupf had three points, three rebounds, three assists and two steals. Austin Schultz hit a last-minute 3-pointer and had two rebounds. John McMurry and Ekwueme each had a hoop.
"I feel like we have a lot of depth on our team," Ekwueme said. "Other teams only have a six- or seven-man rotation. I feel like we have a solid eight-, nine-, 10man rotation."
"We had three or four of our top players just not have their best night," Brown said. "So our depth is an advantage there where we can have lots of people step up."