Posted on
Slow start erased by strong finish, RL gets a big one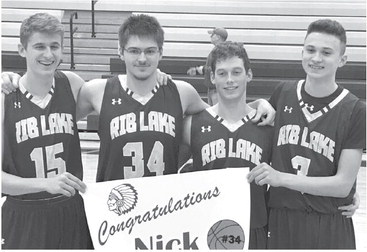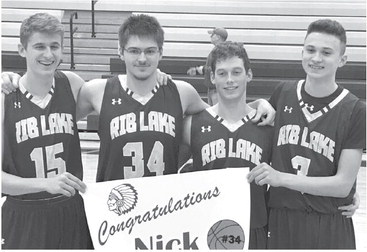 RIB LAKE BOYS BASKETBALL
The team that ended Rib Lake's Marawood North championship hopes and its season in a week-and-a-half span to end last year had the Redmen on the ropes again Friday in their first matchup of the 2019-20 season.
But this time, Rib Lake recovered after staggering in the first half and earned a 53-50 win over the Athens Blue Jays that could turn out to be one of the most important victories of the regular season for the Redmen.
Down 35-21 at the break, the Redmen buckled down defensively and outscored the host Blue Jays 32-15 in the second half to complete the comeback. Rib Lake actually started the game down 12-0.
But, when the final buzzer sounded, the Redmen found themselves with a 5-1 Marawood Conference record, one game ahead of 4-2 Phillips and two games ahead of 3-3 Athens and 3-3 Prentice in the North Division. They also now have one big North road win in their pockets and two crossover wins over South Division teams, putting them squarely in the North's driver's seat as they approach the mid-point of the season.
"We're about where we thought we'd be," head coach Carrie Ewan said. "This is what we wanted. We'd like to erase the Prentice game (a 64-54 loss on Dec. 13), but you know, that might have been a blessing in disguise for us in a sense. We like where we're at."
"That was a big confidence booster for sure," senior Nick Gerstberger said of the win. "We were down the first half, weren't shooting very well but we came out and showed that we are resilient and that we can bounce back. Mentally, we know we can beat them now."
It certainly didn't look good early. Athens guard Javon Penney knocked down a trio of first-half 3-pointers. Athens' powerful center Cameron Ford pumped in 10 first-half points and sophomore guard Cooper Diedrich was a handful as well with five first-half field goals and 11 points before halftime.
"In the first half, we couldn't hit anything and they were hitting everything," Ewan said. "They were burying everything from the outside, hitting inside."
The good news from the first half was that Rib Lake at least stabilized itself after Athens' big start. Gerstberger hit a couple of 3-pointers and had 10 points in the half. Levi Ewan and Logan Blomberg each hit a 3 and Steven Petkau hit three free throws after being fouled on a 3-point attempt to keep the Redmen within striking distance.
In the second half, Athens made just four shots from the field, while Gerstberger, Ewan and Devyn Vlach led Rib Lake's charge.
"It was not a fun first half by any means," Carrie Ewan said. "But in the second half the guys came alive they played really good defense and started to hit their shots. We put a little more pressure on them defensively. I think we wore them down. We started to press a little bit and threw them off their game a little bit. Devyn Vlach hit two 3s. Nick Gerstberger hit another 3 and got a couple tough buckets inside and the energy just shot up right through the roof. Levi had some nice drives at the end that put us ahead and we just held them."
Gerstberger finished with a game-high 21 points, while Ewan ended up with 14 points after a slow start. Petkau scored nine, Vlach had six with his two secondhalf 3s and Blomberg finished with three points.
Penney and Ford both scored 15 points for Athens, while Diedrich finished with 14. "Athens just seems to be a really tough matchup for us for some reason," Carrie Ewan said. "We have to get them figured out by the post-season."
Rib Lake looks to maintain or even build on its North lead in its next three games. The Redmen are at Wisconsin Rapids Assumption Friday for a Marawood crossover. They'll end the first round of North play Tuesday at Abbotsford and start the second round Jan. 17 at last-place Chequamegon. All three games tip at 7:15 p.m. with this Friday's game being game two of a girls/boys doubleheader.