Posted on
REDMEN JUST KEEP ROLLING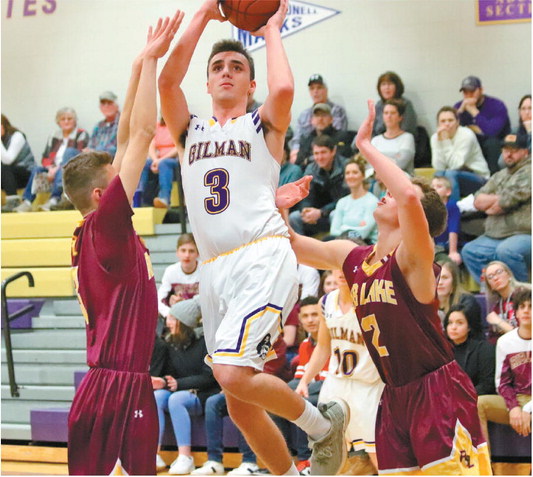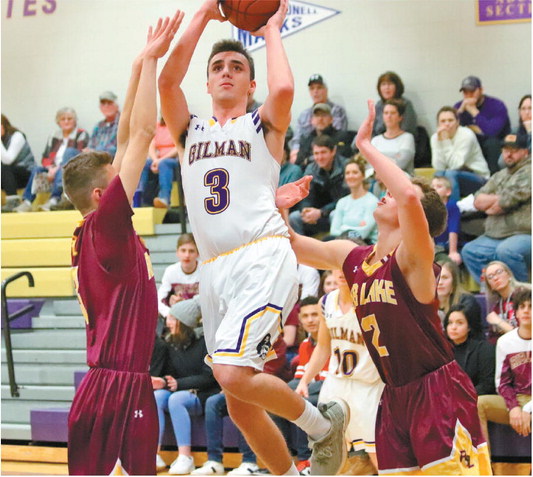 RIB LAKE 83, GILMAN 25
Pirates are no match in cross-county contest
A high school basketball game officially lasts 36 minutes.
Unofficially, Monday's non-conference matchup between the Rib Lake and Gilman boys teams was decided in about five.
Showing no letdown whatsoever following a huge Marawood Conference win at Athens Friday, Rib Lake scored right off the opening tip and started the game with a 15-0 run, led 40-5 in the first half and coasted to an 83-25 win over the host Pirates.
The Redmen, who entered the game ranked 10th in the state's Division 5 rankings according to wissports.net, improved to 8-1. The Pirates fell to 1-6 while dropping the first contest in two days of back-to-back games. Gilman also lost Tuesday at Columbus Catholic 75-46.
"They're a good team. They came out guns a-blazing and we didn't match it," Gilman head coach Wade Hendricks said.
"We came out fired up," Rib Lake head coach Carrie Ewan said. "I had a talk with these guys. We had just come off a great win on Friday night, and I said, 'I don't want to come out here and play sloppy. I want you to keep your energy up and play well. Always play as a team.' We definitely had that talk before the game. (A letdown) tends to happen, but it didn't tonight and I was happy to see that."
The highlight of the night for Rib Lake was the last basket of a 26-point night for senior forward Nick Gerstberger. With a short shot from the left baseline that made it an 80-25 game, he surpassed the 1,000-point mark for his high-school career.
"I just kinda wanted to get it off my back," Gerstberger said. "I knew it was coming this year. I wasn't that far away. I was just playing until I got within 50, then I started thinking about it more. It's just nice to get it done."
Gerstberger scored his first six points in Rib Lake's game-opening 15-point run. He also pushed the opening tip to guard Levi Ewan, who took a couple of dribbles and scored one of the quickest first baskets fans will ever see. Ewan added a 3-pointer, Steven Petkau made two of three free throws after being fouled on a 3-point shot. Ryan Patrick added a hoop in that run to start a career night for himself. The junior forward scored a career-high 18 points and pulled down several rebounds.
"That was a really nice game for Ryan," Ewan said. "He had a great game, got a lot of rebounds. He's always been good for us on the boards, but he did a really nice job passing and shooting tonight."
Andrew Hecker, who led Gilman with 12 points, finally got his team on the board with a 3-pointer at the 13:54 mark of the first half. But that didn't stop the Redmen, who often beat the Pirates down the floor in transition or scored on offensive putbacks. They scored 11 straight points after Hecker's basket, nine of which came from Levi Ewan. Ewan finished with 22 points, 17 of which came in the first half.
Gilman's second field goal of the night came on a Blake Wisocky 3-pointer that made it 40-8. Hecker scored six more points before the half was over, including the last two just before the buzzer when he picked up the ball after teammate Peyton Heiman blocked a shot and went coast-to-coast to make it 52-14 at the break.
Ethan Grunseth scored inside and Jordan Goebel hit a 3-pointer to get Gilman within 56-19 early in the second half, but Ewan sank a 3-pointer of his own and Rib Lake continued to roll from there in a game that was played with a running clock in the last nine minutes.
Petkau and Devyn Vlach both scored six points for the Redmen, while Logan Blomberg scored five in the second half, including a 3-pointer.
Heiman had a better game for Gilman than his three points suggest as he quickly came off the bench and played with aggression during his team's early struggles. Wisocky and Goebel finished with three points each, while Grunseth and Grant McFadden scored two apiece.
Rib Lake is at Wisconsin Rapids Assumption Friday for a Marawood Conference crossover. The boys game is the second half of a girls/boys doubleheader and should start around 7:15 p.m.
Gilman hosts Owen-Withee Friday at 7:15 p.m. in Eastern Cloverbelt Conference play.