Posted on
Raiders start GNC's second round by knocking off Shawano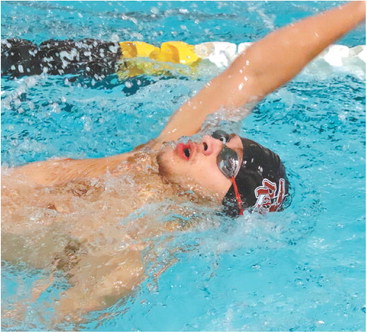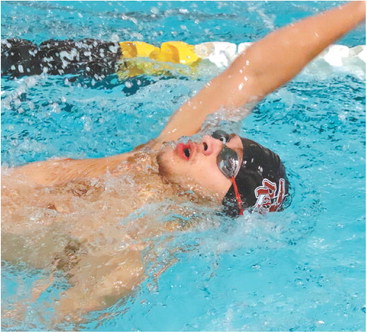 MEDFORD BOYS SWIMMING
The bad taste of a tie with Antigo on Dec. 17 in their first down-to-the-end meet of the season still lingers for Medford's boys swim team, but, on Thursday, they made sure they didn't experience it again.
Trailing by two points with five races left, the Raiders got the key places they needed to get the rest of the way, particularly a big win in the 200-yard freestyle relay, and knocked off Shawano 86-83 at the MASH pool to start the second round of dual meets in the Great Northern Conference.
The win raised Medford to 1-4-1 this season in GNC duals. It was the program's first dual win over Shawano since a 96-73 victory on Jan. 13, 2009 when the teams faced each other as independent programs. Shawano had won 17 straight duals over Medford since then.
"I was proud (of how we swam)," senior Jack Griesbach said.
"Yeah, surprised and proud all in one," senior Matt Buchan said.
For the older swimmers, they said it felt like their first-ever true win. The Raiders won two meets last year against a very thin Antigo team. This one, they said, felt different because it was one where they had to battle from the first race to the last to get it.
"I kept peeking at the sheet the whole time seeing the scores," first-year senior Blaze Kesan said. "I was starting to get a little nervous and then we brought it back."
"It was a good win for them, a good motivator," head coach Shari Bergman said.
Freshman Jacob Mitchell won the 100-yard breaststroke and Buchan had a big night for the Raiders, winning the 200-yard and 500-yard freestyles. He also pulled out Medford's win in the 200-yard freestyle relay, overtaking the Hawks' swimmer at the turn in the final leg. Isaac Dittrich, Tahtankka Damm, Mitchell and Buchan finished in 1:57.23, 1.41 seconds ahead of the Hawks' A team.
"I didn't expect that one," Bergman said. "(Buchan) really did pull out the win for us in that 200 freestyle relay. He had some ground to make up."
"I saw him on the flip turn and I said, 'I can do this,'" Buchan said. "I came out of the flip turn and I said, 'I'm ahead I have to finish this.' That was really exciting. When I dove in he was pretty far ahead. I got closer and closer and when I got to the flip turn I said, 'I got this.' I just had to keep going full speed."
Getting the eight first-place points in that relay turned out to be a big deal as Medford's B team was disqualified due to an early start by one of the swimmers. At the time, Medford led 64-59.
Shawano's Josh Bergmann won the 100-yard backstroke in 1:12.9, but Raider Ethan Kraemer came up big by getting by Michael Dickmann by 0.72 seconds and taking second in 1:16.65. Dylan Kraemer and Kesan picked up three points by taking fourth and fifth in 1:35.3 and 1:37.16 to keep Medford ahead 71-68.
"Ethan was feeling under the weather tonight, but he came out OK for us in the backstroke," Bergman said. "I was a little worried with that first 50, but he sure finished strong coming back. Dylan just keeps getting better and better too."
Mitchell followed that with his big win in the breaststroke with a time of 1:22.21. He was 2.53 seconds ahead of Shawano's Drew Kane. Nathan Sislo (1:31.94) and Christian Di Benedetto (1:38.41) got
1
three points by taking fourth and fifth to push Medford's lead to 80-75.
"We've really been working with Jacob with his breaststroke," Bergman said. "He was a little up on his time which really is to be expected right now, but I'm really happy with how he's doing."
The breaststroke results meant the Raiders needed six points in the 400-yard freestyle relay to win the meet. They got exactly that with a second-place time of 4:32.37 from Damm, Griesbach, Ethan Kraemer and Buchan and a third-place time of 5:04.46 from Abe Miller, Dylan Kraemer, Sislo and Dittrich. Shawano's winning time was 4:19.99.
Miller's return was big for Medford. Back in the lineup after eye surgeries this fall, his highlight was placing second in the 100-yard freestyle at 1:04.09 behind Shawano's Wylee Springborn (1:00.98). Dylan Kraemer was fifth in 1:22.23.
Damm earned key points with secondplace times of 28.21 seconds in the 50-yard freestyle and 1:20.58 in the 100-yard butterfl y.
"It's nice to have Abe back," Bergman said. "Obviously we're taking it slow with Abe. He and Tahtankka, I've talked to both of them, they're probably going to have to switch positions this year. Tank will probably be our flyer for the rest of the season. He's OK with that too. That was another PR for him tonight."
"It felt good (to be back)," Miller said. "I felt I did better than I thought I would."
Di Benedetto (29.76) and Kesan (30.32) were just behind Damm in the 50. Buchan (2:24.36), Dittrich (2:32.73) and Sislo (2:52.52) took the top three spots in the 200-yard freestyle.
Sislo and Kesan are among the firstyear swimmers who are learning a lot, but also improving a lot.
"I think I'm getting better but I'm still definitely uncomfortable," Kesan said. "The whole non-breathing aspect is not my thing. Oxygen is necessary."
Sislo remembered hitting his head against the wall while doing a flip turn in Medford's first meet of the year, an 85.569.5 loss at Shawano on Dec. 3.
"I figured out (it was going to be tough) the first day of practice when I threw up," he said. "I figured out I have a lot more endurance than I thought I did. I've managed to keep up with these guys somehow."
Buchan won the 500-yard freestyle in 6:49.77, while Griesbach was second in 7:26.23 while swimming the event for the first time this season.
"Mentally it was tough, but then I saw I was keeping up with Matt, so I said, 'I got this," he said.
Griesbach also earned a hard-earned second-place finish in the 200-yard individual medley at 2:54.13, while Mitchell was third in 2:55.1. Dickmann won in 2:42.69. Ethan Kraemer added a thirdplace time of 1:21.53 in the butterfly while Dittrich was fifth in 1:28.63 while swim- ming it for the first time this year.
Ethan Kraemer, Mitchell, Griesbach and Kesan were second in the 200-yard medley relay at 2:11.37, 6.27 seconds behind Shawano's top team. Dylan Kraemer, Di Benedetto, Miller and Damm swam an exhibition time of 2:29.13.
Medford is at GNC power Rhinelander tonight, Thursday, and will head to Lakeland Jan. 16.
"We'll keep working, keep working on the little things," Bergman said. "Little things turn into the big things and that's what makes or breaks you. We'll take it any way we can get it. This is better than a tie."