Posted on
Pirates get back on track after break with two home wins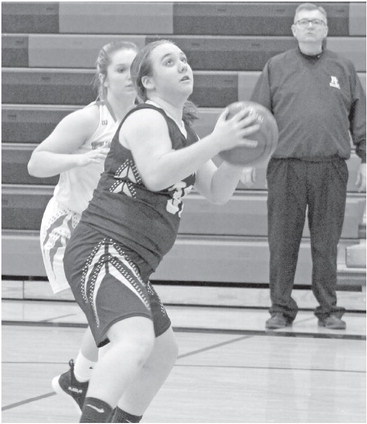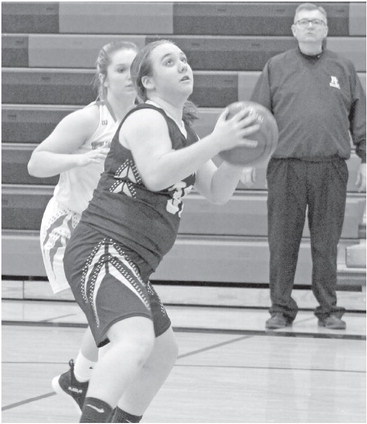 GILMAN GIRLS BASKETBALL
The Gilman Pirates got their transition game going early and often Tuesday and Lake Holcombe was powerless to stop it in an 83-39 non-conference blowout played on Gilman's home court.
The Pirates put this one away early, jumping out to a 55-21 halftime lead. They were able to coast comfortably through the second half and easily improved to 6-3 overall.
"We had some great plays," head coach Tammy Weir said. "Our girls saw the court so well. You can tell by the awesome stat of 20 assists. It was pretty cool to see the girls play so well together."
Emma Warner and Grace Grunseth were the primary recipients of the assists. Warner poured in a game-high 24 points and grabbed 14 rebounds to add another double-double to her collection. The senior scored 20 points in the first half alone and was an impressive 11 of 17 from the field for the night. She had four assists and three steals.
Grunseth scored 21 points, 14 of which came in Gilman's big first half. She was nine of 13 overall from the field, including two of five from 3-point range. She added a team-high four steals and had three rebounds and two assists.
As a team, Gilman made 31 of 57 twopoint shots (54.4%) and a respectable five of 13 3-point shots (38.5%). They did struggle from the free throw line, making six of 14. However, they pounded Lake Holcombe on the boards, outrebounding the Chieftains 46-19 and forced 22 turnovers to gain several extra possessions and scoring opportunities. Of Gilman's 46 rebounds, 21 came on the offensive end.
Emma Grunseth joined Warner in notching a double-double. The sophomore connected for 13 points and pulled down 11 rebounds. Senior guard Lydia Syryczuk had her second straight solid outing, scoring seven points, grabbing five rebounds and adding two assists and two steals. She even blocked a shot.
Sophomore Madisyn James scored a season-high seven points and led Gilman with five assists. She had two of Gilman's 12 steals. Freshman forward Tatum Weir had five points, seven rebounds and four assists. Mikayla Waichulis added four points and two rebounds. Aubrey Syryczuk added a bucket and two rebounds. Hannah Vick got some second-half playing time and pulled down two rebounds.
Lake Holcombe (4-3) got 14 points apiece from Brooke Lechleitner and Allison Golat-Hattamer. Golat-Hattamer hit the Chieftains' lone 3s of the night. Both came in the first half. Lechleitner scored 12 of her points in the first half.
Gilman wraps up the first half of Eastern Cloverbelt Conference play Tuesday with a 7:15 p.m. tip at Greenwood. After a non-conference home game with Cornell on Jan. 16, the Pirates begin the second half of league play with a threegame stretch that will play key roles in the team's conference and post-season standings. Gilman visits Loyal on Jan. 17, Neillsville on Jan. 23 and Colby on Jan. 28.
Gilman 64, O-W 56
The best way to shake off a frustrating loss is to play much better the next time out and that's what Gilman did Friday in a 64-56 Eastern Cloverbelt Conference win over visiting Owen-Withee.
The biggest improvement came in ball handling, where the Pirates turned the basketball over 16 times. That was much better than the 33 turnovers Gilman had in its Dec. 19 loss at Columbus Catholic.
"The girls played hard and hustled," Tammy Weir said. "It was a great game to start off with after the break."
The Pirates also benefited from the return of great balance to their offensive attack. Four players hit double digits in scoring and the Pirates used 18 offensive rebounds and 17 steals to create more scoring opportunities. They made 24 of 55 two-point shots (43.6%), two of eight 3-pointers and 10 of 17 free throws (58.8%) while leading the vast majority of the game.
Gilman led by as many as seven in a first half which ended with the Pirates leading 34-32. Weir said they kept the lead at or around eight points for much of the second half.
Warner led the Pirates in scoring with 18 points while hitting eight of 14 shots. The senior added six rebounds, five steals and two assists. She scored 12 of her points in the first half. Grace Grunseth hit five of 12 shots overall and finished with 12 points and a team-high seven steals. She had five rebounds, two assists and blocked a shot.
Emma Grunseth had a double-double with 10 points and 11 rebounds. All four of her field goals came in the second half and she had two steals. Senior guard Lydia Syryczuk had her highest scoring game since opening night with 10 points, nine of which came before halftime. She had three rebounds, two assists and a steal.
Aubrey Syryczuk added seven points, eight rebounds, two assists and two steals. Tatum Weir also scored seven points and blocked four shots. She had seven rebounds and two assists.
Coach Weir said the team's defense was solid, particularly in making Owen-Withee's sharp-shooting senior guard Brianna Simington earn her 20 points, 18 of which came on six 3-pointers. Katie Erickson added 13 points for the Blackhawks, who sit at 2-4, 3-6.
"We did well with Simington," Weir said. "She had a few 3-pointers, but we were always aware of where she was at."