Posted on
Lady Redmen hold on to earn win number one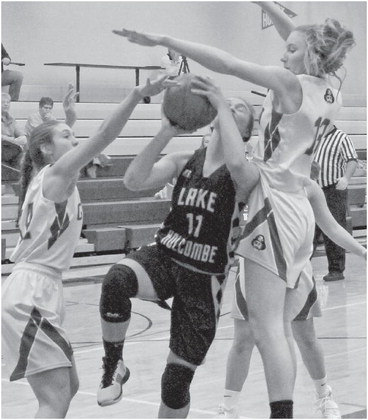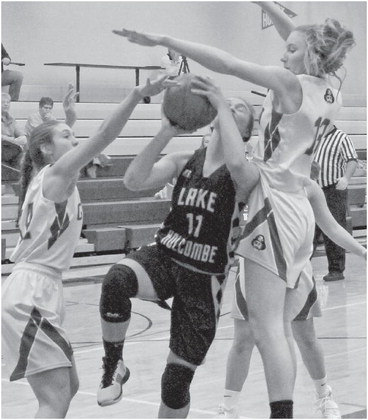 RIB LAKE GIRLS BASKETBALL
Big nights by Mackenzie Weinzatl and Nellie Hopkins pushed the Rib Lake Redmen to their first win of the girls basketball season Tuesday, a 39-36 victory at Abbotsford in Marawood North play.
Playing their first game in three weeks, the banged-up Redmen built a sizable first-half lead and held on from there to get out of the cellar in the conference standings as it wrapped the first round of play in the North Division.
Now playing without three injured guards –– Rebekah Strobach, Lauren Pelnis and Reagan Reinhardt –– the Redmen improved to 1-6 in Marawood Conference play and 1-8 overall with Tuesday's win.
"It feels great to get that first W," head coach Mike Wudi said. "We had a nice first half. We had a 10-point lead but had to hang on for dear life in the last four minutes to get the win."
Weinzatl and Hopkins used their size advantages inside to score eight points apiece during a first half that ended with Rib Lake leading 21-12. Sophomore forward Tia Bube, a first-year basketball player, had her best night of the season as well, going four for eight from the field and scoring eight points, six of which came in the second half to help keep the Redmen in the lead.
Weinzatl finished with 13 points on six-of-eight shooting, while Hopkins had 10 points on five-of-nine shooting and collected a career-high eight steals.
Continuing the theme of strong inside play, senior Savana Radtke was limited to six points by the Falcons, but she dominated on the glass with 15 of Rib Lake's 39 rebounds. Weinzatl had eight boards as did sophomore Molly Heiser, who scored one point in the win and had a team-high two assists. Guard Jolee Gehrke also finished with a point, two rebounds and assist.
By getting the ball inside, Rib Lake easily had its best shooting night of the season, making 18 of 34 field-goal attempts overall. All but two of those shots came inside the 3-point arc.
The Redmen would've made the end of the game a little less stressful by making more free throws. They were just three of 14 at the line, while Abbotsford (0-5, 1-8) was nine for 16. "In spite of poor free throw shooting and still too many turnovers (25), especially late in the game, we gutted out a win," Wudi said.
Abbotsford was led by junior guard Catie Clement, who hit a pair of 3s and scored 11 points, eight of which came in the Falcons' second-half comeback attempt. Maggie Seefluth, who hit a pair of second-half 3s, finished with 10 points.
Rib Lake has a couple of tough challenges in the upcoming week starting with Friday's 5:45 p.m. tip at Wisconsin Rapids Assumption in a Marawood Conference crossover game. The Redmen head west Monday to face East Lakeland leader Flambeau in a 7:15 p.m. tip.
Round two of Marawood North play starts Jan. 16 at Chequamegon, a team that edged Rib Lake 43-41 back on Nov. 21.