Posted on
Hanson hits clutch 3; Raiders hold off the Orioles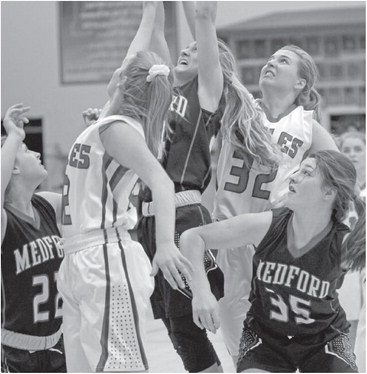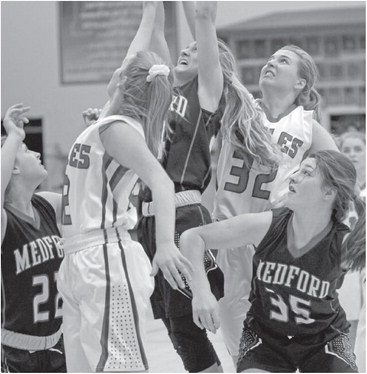 MEDFORD GIRLS BASKETBALL
In a back-and-forth battle between relatively young squads, it was one of the game's two seniors who hit the biggest shot and pushed the Medford Raiders past Stanley-Boyd 63-55 Monday in nonconference play. Sierra Hanson drifted to her left against Stanley-Boyd's 1-3-1 zone, took a kickout pass from Rynn Ruesch in the high post and drilled an open 3-pointer with 2:35 left, breaking a 55-55 tie and sparking the game-ending 8-0 run that sent Medford to its second win in four days.
Hanson's shot finally put the dagger in an Oriole team that never led in an entertaining second half of basketball but continually fought back every time the Raiders seemed to be taking control.
Medford improved to 7-3 overall with the win, while Stanley-Boyd fell to 6-4.
Hanson's 11 points, three assists and two steals were a big part of Medford's success as was the usual strong contributions from junior Marissa Fronk, who scored 16 points and had four steals.
But the win wouldn't have been accomplished without the breakout performances from sophomores Rynn Ruesch and Autumn Krause. Ruesch scored a career-high 17 points, dished out seven assists and had four rebounds. Krause hit five of eight shots from the field, including three of four 3-pointers, to score a varsity-high 14 points. She had three steals as well.
The teams played to a 13-13 tie through the first 10 minutes. That's when Medford went on a 12-3 tear, capped by a three-point play from Ruesch, to go up by nine at 25-16. Ruesch assisted on a bucket by Krause to make it 28-20 but Oriole freshman Mallory Eslinger answered with a 3-pointer with 20 seconds left that cut Medford's halftime lead to 28-23.
Krause scored on the baseline off a well-executed inbound play and then hit a 3-pointer to push Medford's lead to double digits for the first time at 37-27. Krause assisted on Ruesch's three-point play with 13:15 left that gave the Raiders their largest lead at 43-31.
But Stanley-Boyd's Marissa Gustafson scored five quick points and freshman Teagan Becker nailed a 3-pointer and, just like that, it was a 43-39 game. The Orioles eventually tied it at 45-45 on a Lily Hoel bucket with 7:37 left.
Krause hit a clutch 3-pointer and Ruesch answered a Hoel hoop with two free throws. Ruesch assisted on a Fronk triple that put the Raiders up 53-47. But, again, the Orioles responded, getting a Gustafson 3 and a Hoel inside hoop to tie the game back up at 55-55 with just under three minutes left.
That's when Hanson came up with her big bucket. After the teams traded missed 3s, Fronk got a steal that led to two Ruesch free throws with 1:25 left. The Raiders rebounded a Becker miss and Hanson wound up being intentionally fouled with 38.7 seconds left. She made one of two free throws. Fronk sank two more free throws a few seconds later to put it away.
Senior Brynn Rau hit a 3-pointer early in the second half and had four assists for Medford. Katie Brehm had an early bucket and two steals before leaving the game following a hard fall to the floor.
Hoel's 18 points paced the Orioles, while Becker had 12 and Gustafson added 11. Stanley-Boyd shot a blistering 68.8% from the field (22 of 32), including 14 of 17 on two-point shots. But, Medford forced 26 Stanley-Boyd turnovers while committing just 11. Those extra possessions were the difference in the game.
Medford shot 46.7% overall from the field (21 for 45), including seven of 16 from 3-point range. Medford also had a big ad- vantage from the free throw line, making 14 of 19 compared to Stanley-Boyd's three of eight.
Medford gets back to Great Northern Conference play, where it is 3-2, on Friday when it hosts Mosinee (3-1, 7-2) in a key mid-season clash at 7:15 p.m. The Raiders will be at Nekoosa Tuesday for a 7 p.m. non-conference tip. The second half of GNC play starts Jan. 17 with a key game at Lakeland.
Medford 45, Pines 21
After a two-week break from game action, Medford was sluggish on the offensive end early Friday, but the defense made sure the Raiders were never in danger in a 45-21 Great Northern Conference win at Northland Pines.
Using both man-to-man and 1-3-1 zone defenses, Medford held the Eagles to three points until Eagle Paige Hickson finally hit a 3-pointer 21 seconds before halftime. Marissa Fronk caused all kinds of havoc for the Pines offense, getting all five of her steals in the last nine minutes of the first half. She scored 14 of her game-high 18 points in the first half, helping Medford take a 19-6 halftime lead.
Medford got 12 of its first-half points off Eagle turnovers, helping ease a tough half for Raider shooters, who put in just six of 28 first-half field goal attempts (21.4%).
The shooting got a bit better in the second half, where Medford made 11 of 29 shots from the field (37.9%) and led by double digits throughout.
Fronk's three-point play with 10:21 left in the opening half broke a 2-2 tie and started a run where she scored all of Medford's points in a 14-1 run that covered nearly nine minutes.
Teresa Kopanski hit a 3-pointer to start the second half for Northland Pines and make it a 19-9 game. A rebound bucket by Brehm and a steal and score by Hanson put Medford back up by 14. Later, up 27-16, Medford delivered the knockout punch when Marissa Fronk hit a long two-point shot to end a long offensive possession for the Raiders, Krause assisted on two straight field goals by Bryn Fronk and Krause had another assist on an easy bucket for Rau. Laurissa Klapatauskas and Rau added hoops to extend the margin to 37-18 with five minutes left.
While she didn't score, Krause had a game-high five assists and added two steals. Rau finished with six points, all in the second half, and added four rebounds and two steals. Brehm had five points and a game-high eight rebounds as well as three steals. Hanson equaled Marissa Fronk's five steals and added four points and four rebounds.
Ruesch had four points and six rebounds. In a season-high 18 minutes, Bryn Fronk had scored four points and had four rebounds. Klapatauskas had two points, two rebounds and two steals. Lydia Pernsteiner hit two late free throws.
Kopanski led Northland Pines, who fell to 1-3 in the GNC and 1-10 overall, with seven points, five steals and three assists. Kelty Neff added six points. The Eagles made just eight of 35 shots from the field (22.9%) and turned the ball over 29 times. Medford had 19 steals and 26-5 and 22-2 edges in points off turnovers and second-chance points.