Posted on
Gerstberger reaches 1,000-point milestone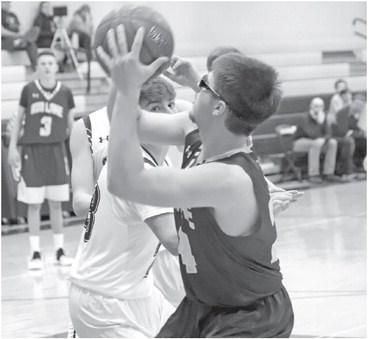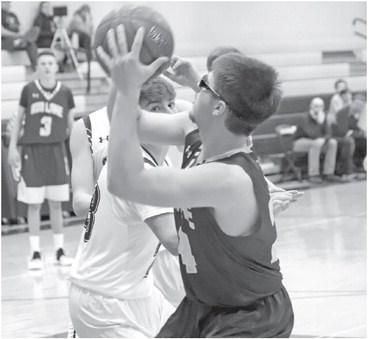 Barring an injury, Rib Lake senior Nick Gerstberger knew the milestone was going to come. Now, like most players in his position, he's just glad that time has come.
With the final basket of his 26-point performance in an 83-25 win at Gilman Monday, Gerstberger surpassed the 1,000-point mark in his outstanding fouryear varsity career with the Redmen. He hit a short baseline jumper from the left side to put Rib Lake up 80-25 late in the blowout non-conference win.
The starters went back into the game for a brief stretch during running-clock time to try to get him the last three points he needed. He swished two free throws with 6:30 left in the game and then got fi- nal bucket just over a minute later.
"We went back in. (Coach Carrie Ewan) just said we're giving it to me. I was three away or whatever," Gerstberger said after the game. "They had me go back on (Gilman) free throws. I just posted up, there was two guys on me but I said 'screw it' and just went for it. It was just one of those things."
Gerstberger said he hadn't been stressing much about the approaching milestone and he was just glad to be able to celebrate it with his senior teammates Levi Ewan, Steven Petkau and Devyn Vlach, who he's played basketball with since he started playing the game in elementary school.
"Me, Levi and Steven actually started a year early because they needed a few guys," he said. "Carrie was coaching. Carrie's a big part of what we've been formed into. Just being with my friends all the time was just fun. It made it fun. It's been a long journey."
Gerstberger is the second player in that quartet to reach the 1,000-point milestone. Ewan got there last year. In fact, Gerstberger said Ewan had the assist on his first varsity bucket during their first game as freshmen on Nov. 28, 2016.
"It was against Lake Holcombe, actually a pass from Levi on a breakaway," he said. "I remember that one. It's really cool (for he and Ewan to hit 1,000). All four of us were so close. We've been playing basketball with each other our whole lives. For two of us to get it just adds to it. It adds to us four's careers."
Making those milestones more meaningful is the fact that Rib Lake has been quite successful during the seniors' time in the program. Rib Lake was the Marawood North champion and a sectional semifinal team two years ago and, with an 8-1 record this year and a current top-10 ranking in the state in Division 5, hopes are high for a strong finish this year.
"It's been a good season, besides that game against Prentice obviously (a 64-54 loss on Dec. 13)," Gerstberger said. "But other than that we're playing really well. We're playing good defense, we're moving the ball around, not being selfish, just playing good team basketball. ... We don't want to look ahead, but it's always in the backs of our minds. We know what we can do. We know where we can go."