Posted on
Four-goal period sparks another win for skaters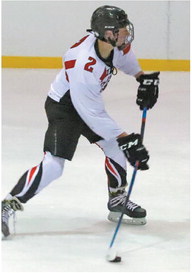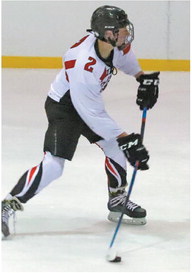 MEDFORD HOCKEY
The Medford Raiders got goals from six different players, scored two short-handed goals and added a power-play goal in a 7-3 win over the visiting Black River Falls Coop that extended the program's most successful stretch of hockey in three years.
Tuesday's win puts Medford at 4-0-1 in its last five games, a stretch of success not seen since the 2016-17 Raiders went 3-0-2 with two overtime shootout wins over a five-game stretch in January of that season.
Now 6-4-1 overall, there may be no better time for Medford to be taking on Great Northern Conference nemesis Mosinee, who comes to the Simek Recreation Center tonight, Thursday, for a 7 p.m. face-off. After tonight, the Raiders will be away from home for their next five games.
"I thought we played particularly well today," head coach Galen Searles said after the win. "I like how the passing has been developing over the last few games."
Playing against a 4-5 team that had similar results this season against common opponents like Marshfield, Viroqua and the Altoona Co-op, the Raiders set the tone with a four-goal first period.
Just 3:05 in, Blaine Seidl took a pass from Brayden Machon and whistled a low shot from the face-off circle to the right of goalie Cody Kuehl and beat him to open the scoring. The only blemish in the period came 21 seconds later when Medford allowed a quick answer from Tiger Jake Zukowski, who scored with assists from Nathan Johnson and Jonah Zoschke.
An interference call on Seidl at 5:01 could've been a negative, but the Raiders turned it into a positive at the six-minute mark when Miles Searles skated up the left side, put a pass right on Connor Gowey's stick and the freshman snuck a wrist shot under Kuehl's pads for the goahead, short-handed goal.
At 14:17 and just 12 seconds into a Raider power play, defenseman Dalton Hraby took a pass from Colton Gowey and fired a shot from just inside the blue line that beat Kuehl to make it 3-1.
Kuehl was replaced at that point by Aydan Karau, who was the victim of Connor Gowey's second goal of the period with just 14 seconds left. Colton Gowey and Carter Pernsteiner had the assists.
"The defense in this game did a really good job of moving the puck quickly to get it out of our end," coach Searles said. "At the beginning of the year they'd be hanging on to it too long and then by that time all the passing lanes get covered and then they don't have anybody to pass to. We've been talking about it and focusing on it in practice. You have to know where that puck is going to go before it comes to you and know where everybody's at. As soon as it's to you it's up and out. I thought we did a really good job of that in this game."
Zoschke cut Medford's lead to 4-2 just 39 seconds into the second period with an assist from Zukowski, but the Raiders responded with a Carter Pernsteiner goal at 4:32, assisted by Colton Gowey, and Austin Waldhart's unassisted goal at 8:32.
Colton Gowey got Medford's final goal 4:04 into the third period, just before a penalty was about to expire. His teamleading 13th goal of the year was assisted by Seidl and goalie AJ Adleman.
Adleman had 31 saves, with 10 coming in the second period and 14 more in the third.
"AJ had another solid game," Searles said. "We had a couple lulls where we were a little weak off the face-offs and they were getting a lot of quick shots on him. That would've been an opportunity where if our goalie wouldn't have been ready, they might've snuck one in. He covered us during those lulls."
Karau had 37 saves for the Tigers, while Kuehl had 11 to start the game. Medford finished with a 55-34 advantage in shots on goal.
Not surprisingly, Searles said confidence and chemistry are growing as the team enjoys its mid-season success.
"The legs are looking good," he said. "We do condition ourselves during our morning practices. The kids that are on the bench have been real supportive. I try to get them out there when I can. They're about the team and they're good teammates. It's been a nice atmosphere on the bench and in the locker room."
After the Mosinee matchup, Medford heads to Tomahawk Tuesday for another key GNC battle. It's on to Merrill Jan. 17-18 for the annual two-day tournament hosted by the East-Merrill United Co-op.
Medford 15, Shawano 0
On Friday, the Raiders recorded its biggest blowout win in recent memory, shutting out the Shawano Co-op 15-0 at the Simek Recreation Center.
Coupled with their 11-1 opening-night win on Nov. 26, the Raiders outscored the Hawks 26-1 in their two meetings this season.
Machon was the scoring standout in this one, scoring a career-high four goals and adding an assist. Colton Gowey scored three goals and had two assists, following up his five-goal performance from the first meeting between the teams. Waldhart added two goals and an assist. The senior scored the game's first two goals at 2:33 and 6:41. Miles Searles assisted on the second goal and then the freshman scored at 10:06 to make it 3-0. Kyle Petrick's assist on that goal was the first of four on the night for the senior.
Colton Gowey's first goal of the game was assisted by brothers Ben and Brody Brunner at the 11:02 mark. Gowey scored a short-handed goal with six seconds left in the period to make it 5-0. He scored at 2:44 of the second period to complete his hat trick.
Machon scored twice in the second period and Warryck Leonhardt added his first goal of the season as the lead increased to 9-0. The lead ballooned in the third as Connor Gowey and Machon each scored twice, Pernsteiner scored a short-handed goal and crowd favorite Brody Brunner got on the board with his first varsity goal at the 10:53 mark, assisted by freshman Jacob Noland, who got his first varsity point.
Logan Searles, a night after getting nicked up against Waupaca, returned and had three assists. Hraby had two assists.
Adleman needed to make just eight saves to collect his third shutout of the season and fifth of his career. Medford put 66 shots on Shawano goalie Caleb Davids, who had 51 saves.
The Raiders were three of five on power plays and scored two short-handed goals while burning off two Shawano power plays.
Waupaca 2, Medford 2
Penalties put Medford in some tough situations late in the game on Thursday, but the Raiders found a way to hang on and earn what went into the books as a 2-2 tie with Waupaca.
The tie gave the Raiders their first Great Northern Conference point since Jan. 24, 2017 when they beat Rhinelander 5-2. Following regulation and the scoreless eight-minute overtime period, which officially made it a tie, the teams went into a three-round shootout for GNC scoring purposes and Waupaca won that 2-0 to get two points in the standings.
Adleman had a tremendous game in net with 44 saves. That's an impressive number in itself, but it becomes even better considering he and the Raiders allowed just one goal while killing off four five-minute major penalties in the back half of the game.
That included two consecutive majors in the third period that left the Raiders short-handed for a nearly a seven-minute span, including a stretch of just over three minutes where they were down two skaters.
"They skated real hard. Our goalie was standing on his head," Searles said. "Not everything was bad (with the penalties), but you have to know when to pull up and when to be aggressive. Unfortunately, we use four defensemen most of the time and there were two of our defensemen sitting in the box and another (Logan Searles) was out injured."
The tie produced Medford's first nonloss to Waupaca since a 4-0 win on Feb. 1, 2007, not including a forfeit win the Raiders were awarded after the Comets' use of an ineligible player in a Feb. 1, 2011 game.
The Raiders had one quick burst of offensive success in the first period. At 9:45, Colton Gowey got control of the puck in the neutral zone, skated around a couple of would-be defenders and was able to walk right in on Waupaca goalie Hagen Rasmussen, beating him with a back-hander.
Just 11 seconds later, right off the ensuing face-off won by Miles Searles, Seidl rifled a shot from the point past Rasmussen for a 2-0 lead.
"It looked like our Viroqua game (from Dec. 28) where we had a real spurt there," coach Searles said. "Keep that pressure going, get another. It heartening to see those attacks, guys looking to score and not just sitting on it."
After that, Waupaca's grip on the puck and the game tightened. At 12:19 of the first period, Waupaca's Braeden Ryan and Eli Bartel got loose on an odd-man rush and, even though Colton Gowey, defl ected a pass between the two, Ryan was able to beat Adleman with a wrist shot to cut Medford's lead to 2-1.
The first of Medford's majors cost the Raiders at the 6:25 mark of the second period, when Bartel kept punching at a loose puck in a scramble near the right post and finally got it past Adleman. Garrett Bohm had the assist.
At the end of the first period, Waupaca had an 11-7 in shots on goal. By the end of regulation, that edge was 42-9. The Comets' 19-2 edge in third-period shots, however, produced no goals as Adleman was on his game during Waupaca's power plays. He started the five-on-three with a glove save on Comet Davis Levine and then another on Bartel. He pushed aside two more shots from Bartel, made a pad save on Vin Nikolai and easily deflected a shot by Henry Batten.
"He was in a zone," Searles said. "He was seeing everything. Our forwards on the penalty kill, they kept forcing those defense to not be able to get anything off. I was happy with that."
A little more than a minute into the overtime, Adleman made a huge save on a breakaway chance for Waupaca's Jed Vanden Bush, but a checking from behind penalty in the ensuing scramble for the puck put the Raiders in another fiveminute disadvantage. They got through it, surviving a shot off the post to earn the tie. Waupaca outshot Medford 4-1 in overtime with Carter Pernsteiner coming up empty on a transition chance for the Raiders.
The three-round shootout started with Jack Erspamer beating Adleman through the five-hole and Pernsteiner getting stopped by Rasmussen. Bartel used a perfect deke to get Adlemen to commit early and was able to push his shot past the goaltender's left skate in the second round and Rasmussen denied Colton Gowey, ending it.
This was only Medford's second GNC shootout since the league introduced it in the 2015-16 season. The Raiders won the other one 1-0 at the end of a 4-4 tie at Lakeland on Jan. 17, 2017. That 2016-17 team won another non-conference shootout at Merrill-Wausau East four days later.