Posted on
Hornets surge past Bluejays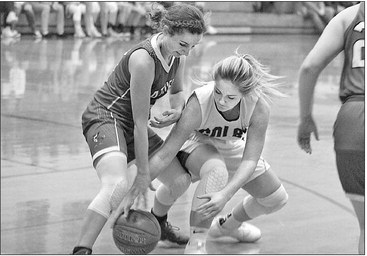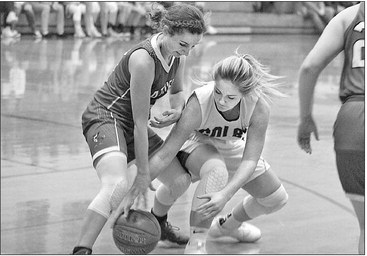 The Colby Hornets broke free from a two game losing skid in emphatic fashion, scoring a season high to earn an 8462 victory over the Athens Bluejays on Thursday, Jan. 2.
The 'Jays (3-7; 3-1 MNC) came into the contest trailing Phillips for first in the Marawood North Conference, and began the game playing like a conference contender, jumping out to an early 10-3 lead in the first half. The Hornets turned to their defense to get their offense flowing, forcing 33 turnovers from the 'Jays, with 29 of those the result of Colby steals.
"We picked our pressure up a little bit more, and probably the first game that we've come out and pressed a little bit more, got Athens flustered with some double-teams and tried to speed them up a little," Hornets head coach Randy Rau said about Colby's defensive approach.
Those turnovers bore sweet fruit for Colby, with the Hornets tying things up at 18-18 with 8:28 left in the first half.
Colby's offense, quiet for the past few weeks, quietly rumbled and then outright erupted as the Hornets snapped off a 15-4 run to take a 33-22 lead. By the time the first stanza came to a close, the Hornets held a 38-27 advantage.
Senior guard, and NCAA D-2 commit, Hailey Voelker turned in perhaps the finest performance of her career, finishing just one assist shy of a rare triple-double, putting together a gaudy stat line that read 32 points, a new career high, and 12 steals, nine rebounds and three blocks.
Lexi Underwood and Lexi Krebsbach shook off a mid-season slump as they scored 18 points apiece.
"We're just trying to get the girls to quit thinking out there, and just play the game, and do the things that help get the game off their minds," Rau said.
Krebsbach scorched the 'Jays from deep with four triples that were nothing but nylon. Underwood had two triples, but was a force underneath, scoring in the post or finishing at the charity stripe as the Hornets converted 70 percent of their free throws as a team.
Midway through the second half Colby held a 66-46 advantage, and several JV players got involved as Brett Schmitt and Brooke Suckow each scored baskets down the stretch for two points apiece.
Emma Peavey had eight points, and Olivia Vollrath added four points, and also collected a team high seven rebounds.
The win was Colby at its absolute best, and hopefully a sign of things to come, Rau said afterwards.
"It wasn't only just the 'W' - some of the girls got a little bit out of their slumps that they were in," a pleased Rau said.
"It was a nice win, some girls shot the ball the way I expect them too, and it was nice to see a whole team effort tonight."