Posted on
Cadott scores late points to power past NGL wrestlers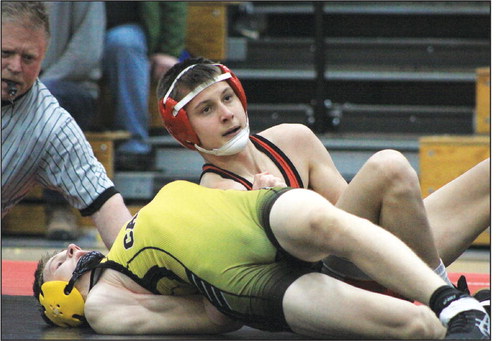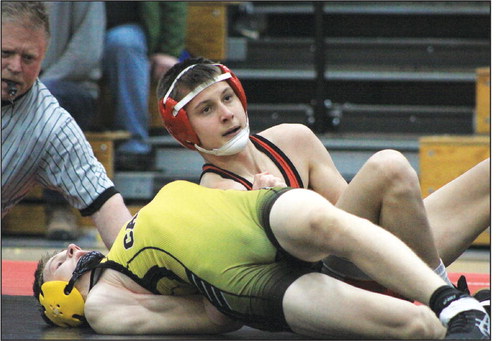 In a preview of what will likely become a highly competitive dual meet rivalry over the next several seasons, the Cadott wrestling team downed Neillsville-Greenwood-Loyal 46-31 on Jan. 3 to take control of the Cloverbelt Conference dual meet standings. Both teams sent several promising freshmen to the mat for a first meeting of what should develop into a long battle for conference supremacy.
NGL built a 25-12 lead after seven of the 14 weight classes in the match at Neillsville had been decided, but Cadott's powerful mid-weight lineup took over after that. NGL still led 31-30 after junior Tommy Friemoth pinned Michael Pecha at 160 pounds, but the Hornets then scored 16 straight points in dominating fashion over the next three matches to put it away.
The match started with the marquee draw of the night, with NGL freshman Gunnar Hoffman coming in fresh off his Northern Badger Invitational championship to face 2019 state meet fourth-place finisher and senior Ethan Tegels at 220 pounds.
The match went scoreless through the first period, but Hoffman grabbed a 3-1 lead after two periods. Tegels managed an escape 35 seconds into the final period, then Hoffman upped his freshman season record to 16-1 by scoring a takedown with 20 seconds to go.
The teams traded forfeits at 285 pounds and 106 pounds before sophomore Jarick Young scored an 18-7 major decision over sophomore Logan Harel at 113 pounds. NGL pushed its lead to 19-6 as freshman Gage Ludovic manhandled Cadott freshman Nick Fasbender for a fall in 4:37. Ludovic had built a 12-2 lead after two periods before getting the pin.
Cadott got six points back on NGL's forfeit at 126. NGL got those points right back, with freshman Keeghan Anding pinning Cadott sophomore Ethan Duck in 1:46 at 132 pounds for a 25-12 team lead.
The tide began to run from there when Hornet freshman Tristan Drier pinned NGL freshman Garrett Learman in 3:01. It became a 1-point match when NGL gave up another forfeit, at 145 pounds.
Freshman Dawson Webster put Cadott in the lead with a fall over NGL junior Tucker Bethea in 1:53. Friemoth took the lead back for NGL as he put the junior Pecha to his back in 3:03.
At 170 pounds, NGL sent senior Nathan Buchanan to the mat to face defending state Division 3 champion Brady Spaeth. Buchanan was able to avoid a pin, but could not mount any offense and fell in a 14-3 major decision. Cadott then finished off the match with senior Steven Pfeiffer's pin in 2:26 over freshman Dan Polzin and sophomore Gavin Tegel's quick pin in 33 seconds over freshman Joe Polzin.
NGL was represented by freshmen in seven of the 14 weight classes in the night's match. Cadott sent three freshmen and four sophomores into action.
NGL and Cadott may well meet again soon. The Cloverbelt standings are split into East and West divisions this year, with the champs of each side to meet in a cross-over title match on Jan. 31 at Thorp. NGL is in the East half and Cadott is in the West.
DEAN LESAR/STAFF PHOTOS