Posted on
the drought and once they ….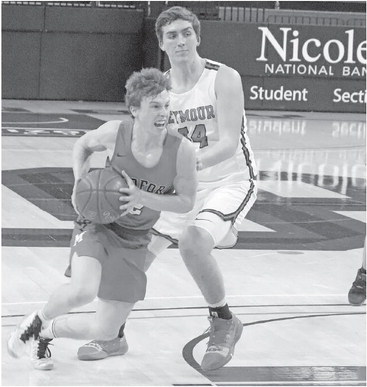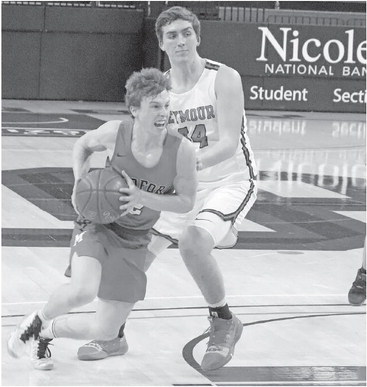 the drought and once they were on the board, the Raiders started chipping away, getting to 14-7 on a three-point play by Brady Hupf and 16-9 on a steal and score by Mason Rudolph.
Peyton Kuhn got a steal and score and Ty Baker pumped in two free throws with 1:32 left in the half to get Medford within 22-17, but Seymour hit the Raiders with a crucial 8-2 spurt, capped by two buckets from Treyton Cornell, to take a 30-19 halftime lead. Medford committed 14 first-half turnovers against Seymour's 1-3-1 zone and was outrebounded 19-10, including eight offensive boards by the Thunder.
"We came out a little bit slow," Brown said. "With the bright lights and the big gym and we're playing a ranked opponent, I felt like we maybe played a little bit timid to start. Our defense really kept us in the game. We just turned the ball over too much in the first half."
Dorn hit a couple of 3s and hit two free throws to give Seymour its biggest lead at 43-21 with 14:31 to go. Logan Baumgartner and Rudolph each hit a 3-pointer to start Medford's climb back into the game. Baumgartner hit another 3 and Kuhn added one to pull the Raiders within 5139 with 8:30 still to play. Baumgartner got fouled on an offensive rebound and hit his free throws and Sullivan swished two bonus throws to suddenly cut it to 51-43 with plenty of time, 7:27, remaining.
The Raiders had a golden opportunity to get even closer but the first of the crucial missed layups wound up resulting in a three-point play for Seymour on the other end. The Thunder got the lead back up to 12 and the teams traded points until a Kuhn 3 and a mid-range score by Sullivan got the deficit down to 67-61.
But Seymour executed well on the following possession and Peyton VanDeHei converted a three-point play with 50 seconds to go to push the lead back to nine. Kuhn scored with 29.7 seconds left, but Dorn's free throws a second later iced it.
Medford outscored the Thunder 44-42 in the half, cut its turnovers for the half down to five and outrebounded Seymour 18-15.
"When we made that run, it showed we can play with them," Brown said. "You kinda wish you could play them again another week from now, now that you know you can play with them and see what you could do out there. There were a couple loose balls, a couple missed layups where we could've maybe pushed that deficit all the way down. I think there were at least three or four in that second half that really could've pushed it to even or close to even."
Kuhn's 21 points led Medford, while Baumgartner scored 13 and Sullivan had 10. Rudolph added eight points, Onyi Ekwueme scored five and Baker and Hupf scored three each. Hupf and Rudolph had seven rebounds apiece, while Baumgartner had five. Baumgartner had three assists with Ekwueme, Sullivan, Kuhn and Baker adding two each. Kuhn had five steals and Baumgartner had three.
Medford returns to the court Friday with a Great Northern Conference home game against Northland Pines that tips at 7:15 p.m. The Raiders host Menomonie Tuesday before going to Mosinee on Jan. 10 for the season's first showdown with the defending GNC champions.
Medford 60, Southwest 49
Back-to-back 3s to start the game put Medford in a quick hole in its first game of the Sun Drop Shootout Thursday, but this time, the Raiders quickly stabilized things and earned a 60-49 win over Green Bay Southwest.
The Raiders' defense made life difficult for the Trojans from the middle of the first half through the middle of the second half. Southwest got back into it when some 1-2-2 full-court pressure got Medford out of sync, but the Raiders were clutch down the stretch, finishing the game on a 12-4 run.
"We had moments where we dominated," Brown said. "They went to a little 1-2-2, kinda what Everest did (in Medford's first loss) and when we got to our press break spots, it was swing, swing, hit middle, layup. We had a stretch there where nobody got in the middle of their zone press. We were trying to skip the ball and they got a couple turnovers. They actually cut it all the way down to four or three. Then we did a good job. We got back to doing what we needed to do."
Medford fell behind 6-0 and 12-8 in the early going, but the first 3-pointer of the year by Rudolph, who made his season debut after being injured in a freak deer/ATV accident in November, hit his first 3-point attempt of the season, Baker scored in transition off a Sullivan steal, Baker hit two free throws, Hupf scored in the post and Way scored off a pretty Ekwueme assist in an 11-1 run that put the Raiders up 19-13. Baumgartner and Rudolph added 3-pointers to open up a 27-17 halftime lead.
The Raiders continued to roll early in the second half as Green Bay Southwest continued to struggle to find any consistent offense. Sullivan and Way scored off the bat, Kuhn hit a 3, Sullivan scored four points and Hupf got an inside bucket to give the Raiders their biggest lead at 40-23.
Baker's aggressive take put Medford ahead 46-33 when the Trojans made their run. A four-point play by sharpshooter Owen Stieber cut it to 48-44 with 3:17 left and a Connor Pytleski free throw made it 48-45 with 2:46 left. But Baker put an end to their momentum, spinning away from a defender in the high post and laying it in and then sinking two free throws following a steal with 2:09 to go. Sullivan scored off a Baker steal to push the lead back to nine with 1:40 left. Way and Sullivan put it away with last-minute buckets.
Sullivan paced Medford with 15 points while hitting five of 10 shots from the field and five of six free throws. Kuhn and Baker scored 10 apiece and Way had eight on a perfect four-for-four from the field. Hupf chipped in with six points and Rudolph had six points in a solid 16-minute season opener for him. Baumgartner scored five points. Ekwueme had seven rebounds, four rebounds and two assists.
Sullivan and Baker led the team with five rebounds each. Sullivan had three steals and four assists.
Pytleski led Green Bay Southwest, who put four players in double figures, with 14 points. Ty Melchert had 12 and Stieber and Cam Baade scored 10 each.
The Trojans fell to 1-6 but Brown said Medford may have gotten them at just the right time as they were just getting three players back who were out with injuries. Brown said the only concern with Medford's effort in this one was that it allowed 11 offensive rebounds while only getting two. That resulted in 16 secondchance points for Southwest.