Posted on
Marathon teams struggle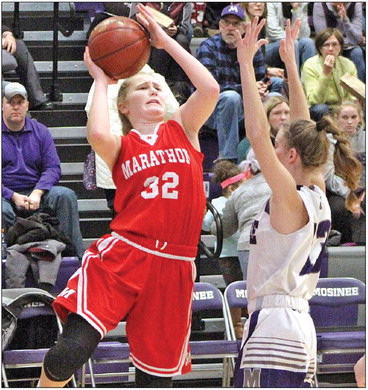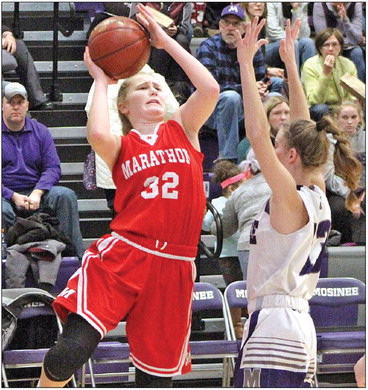 Schneicon- n r dd am ee es
Red Raider girls and boys endure long losing skid
By Casey Krautkramer
Marathon junior girls basketball forward Anna Cleven and her team's head coach, Jeff Schneider, are both confi dent the Red Raiders can reverse their recent bad fortune and still have a successful season.
The team has lost three straight games to tough opponents Wisconsin Rapids Assumption, Wausau Newman and Mosinee. Marathon had diffi culty trying to break Mosinee's fullcourt press, leading to a 6643 non-conference road loss to the Indians on Friday. Marathon falls to 4-3 this season, while Mosinee improves to 5-2.
Schneider knows it's pertinent his team learns how to effectively break an opponent's full-court press.
"At times I thought we did a good job against Mosinee's full-court press, but it's a really good press and Mosinee has quick and athletic players," Schneider said. "Our team definitely has some improvements
"If we just keep working together as a team and keep up our positive attitude, then we will start winning games again."
Anna Cleven
Marathon junior
to make but I have no doubt in my mind we will continue to get better. We've played against three really good teams during these last three games, and all those teams have a chance to win their conference or advance to the state tournament."
Marathon players only made 19 of 51 shots, or 37 percent, in its defeat to Mosinee. Senior center Bradyn Free led the Red Raiders with 18 points and nine rebounds. Senior guard Elizabeth Boehm contributed eight points, eight rebounds, two assists and two steals against the Indians. Sophomore guard Allison Wokatsch added seven points and seven rebounds. Senior guard Kyli Blume stole the ball twice and Cleven had six points.
Cleven is not concerned about her team's recent slide in losing three straight games.
"If we just keep working together as a team and keep up our positive attitude, then we will start winning games again," she said. "We can compete with the three teams we just lost to; it's not like we are not a bad team so I think we need to be there for each other. It's early in the season and we will get there yet."
She believes Marathon will play more competitively against Assumption and Newman the second time around this season. Schneider echoes Cleven's positive thoughts.
"Our team will bounce back from these losses and keep working hard, and I really like the chemistry the players have and the leadership we have with our three senior captains Bradyn Free, Liz Boehm and Kyli Blume," Schneider said. "I think they've been doing a nice job of holding the team together and trying to mentor the younger players on our team. I'm pleased with our players' work ethic and effort; I think they play hard so that's a positive."
Raider boys fall to Indians
Marathon's boy's basketball team also lost to Mosinee, 71-63, on Friday.
The Red Raiders outrebounded the Indians, 33-21, in Mosinee. Marathon, however, turned the ball over 13 times compared to eight for Mosinee. The Red Raiders also were less effective shooting free throws, by only converting six of 14 attempts for 43 percent, compared to the Indians making 11 of 14 for 79 percent from the charity stripe.
Junior forward Brock Warren led Marathon with 16 points. Sophomore guard Jaden Koeller achieved a double double of 15 points and 12 rebounds, but he also turned the ball over five times. Senior guard/forward Clarke Mouw contributed 14 points, eight rebounds and seven assists. Junior guard Matt Vande Boom had eight points and three turnovers.
Marathon falls to 2-5 this season, while Mosinee improves to 5-1.