Posted on
Falcons dismantle Blackhawks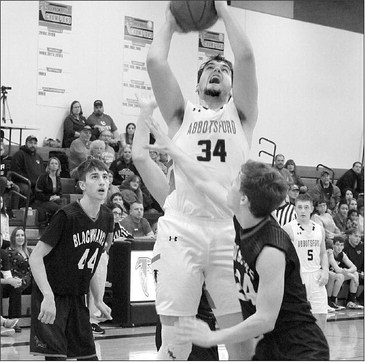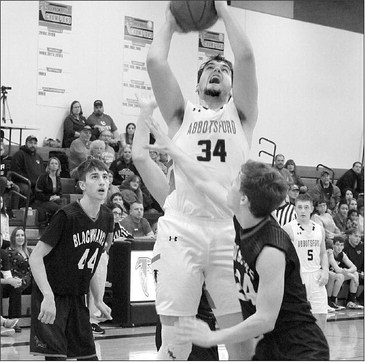 In the battle between birds of prey, it was the Abbotsford Falcons that flew higher, faster and stronger than the Owen-Withee Blackhawks on Saturday afternoon. The Falcons shot down the 'Hawks (2-6; 1-4 ECC), figuratively and literally, suffocating them with a barrage of baskets from down low and outside as Abby notched its second win to improve to 2-7 on the season.
"It feels pretty good. We haven't had many of them yet, so it definitely feels great to get another one under the belt," Abby's Blake Draper said. "We're definitely seeing a lot more improvement from a bunch of guys."
The Falcons played their most complete game yet, and it was the perfect antidote for their loss to Colby the day before. Abby drew on that game, and used it to fuel their offense.
"Colby definitely helped because they kind of ran stuff that was a little bit similar," Draper said. "We're hoping this really propels us forward - we're kind of a confidence team, so it would be really nice to come out next time and come out confident, and that we can compete."
Draper, along with Cade Faber and Reiley Schreiber, were the propellers that drove Abby forward, with all three players executing at a high level.
Not that it was easy. The Blackhawks took a 9-5 lead with 15:32 left in the first half before the Falcons found a grove. A Faber three from the top of the key capped off a 13-0 run to gave the Falcons a 18-9 advantage with 11:50 to play in the half, and Abby never trailed again.
The Falcons still had to earn the victory, with the Blackhawks getting to within a single possession at 28-25. But the Falcons closed out the first half on a 6-0 run for a 36-27 advantage at halftime that proved a harbinger for things to come, and in the second half, it was all Abby as the Falcons scored inside, outside and at the charity stripe. Abby opened with a 9-4 run, and continued to batter the Blackhawks inside, with the Falcons gobbling up rebounds left and right.
Faber continues to be among the state's top rebounders, and on Saturday he pulled down 19 rebounds - his seventh game with double digit boards.
The Falcons also found their range from outside, with Soyk, Faber and Schreiber all burying at least one triple in the second half.
"Obviously, this is what we need to do. We need to have a team that can be balanced," Abby head coach Dean Bellanti said about the Falcons' offensive outpouring. "We have to see the whole floor - our vision is our quickness. Sometimes we play quick without vision, and that has been an issue, but overall, we moved the ball today and made some really nice assists. That was really fun basketball to watch today."
As the minutes continued to tick down, the Falcons continued to expand on their lead, and by games' end six different players scored.
Faber had another huge day, scoring a game high 24 points to go with his 19 rebounds and seven assists. Schreiber had a new season high of 15 points and Draper pumped in 12 points and had seven rebounds.
Soyk shot and distributed the ball well, splashing three treys for nine points and finishing with six assists. Mason Carpenter continues his development, with four points and eight boards. Victor Aguilar rounded things out with three points.
"Hey, this is our second win. It doesn't feel like we are a two win team, but that's what we are," Bellanti said in the aftermath of the game. "We have to get ourselves in the win column, and we have to do it together. . . . That's why I was pleased with the flow of the game - it was team flow out there tonight."