Posted on
Raiders keep aiming for complete game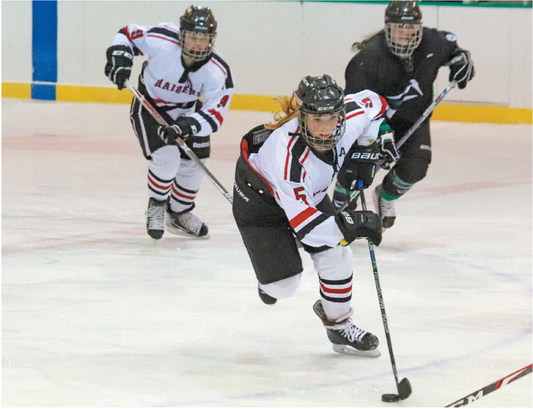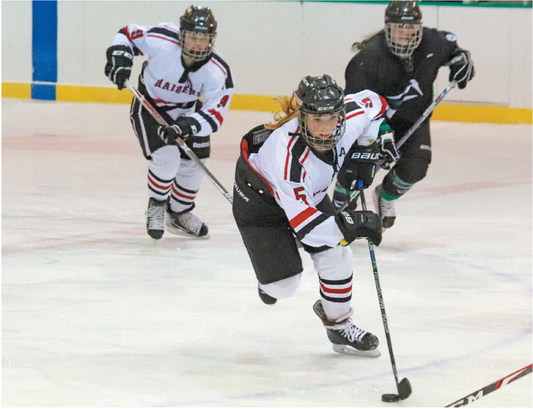 MEDFORD-RIB LAKE GIRLS HOCKEY
The Medford Raiders have their moments of solid hockey in every game they play with Friday's contest against the Northern Edge Co-op certainly being included on that list.
The quest for coaches Jenna Wieting and Scott Brandner as the second half of the season approaches is to get those moments to last longer and be more consistent.
A solid first period Friday ended on a down note with a last-minute breakaway goal for the Edge that made it 3-1 and set the tone the rest of the way for a 10-3 defeat at the Simek Recreation Center that dropped the Raiders to 2-6 as they hit the holidays.
The Raiders started the game by controlling the puck in their offensive zone in the game's first few shifts and, despite eventually giving up 27 shots on goal in the period, they were right there before the Edge's Kate Vizanko was able to get loose and got her shot to just trickle past Raider goalie Alex Nicks with 28 seconds left in the opening period.
"They controlled the puck really well for a couple of really good shifts in that first period," Wieting said after Friday's loss. "That was definitely the best period that we had. We have to work on putting full games together. It's every battle against the boards, it's every shift, it's every period. We're doing well in a couple things. We're just not putting it all together yet."
Vizanko, a Lakeland representative in the Edge's five-school co-op, wound up having a huge night with four goals and an assist to help the Edge improve to 1-3. Madi Losch had two goals and Anna Maulson had 14 saves for the victors.
The Raiders countered with Emily Schafer's fifth hat trick of the season. The senior continues to put her name all over Medford's scoring records with 21 goals so far this season.
Offensively, the Raiders have done some good things this season. The team is averaging four goals per game, well ahead of last year's pace of just under two scores per contest.
"We had a few really good passes, and our breakaways did well," Wieting said. "We had a few rushes that worked out really well for us. Emily had a hat trick again tonight. She's doing really good things with that first line. They're working together."
Schafer's first goal was unassisted 9:54 into the first period as she fought through an Edge defender to get right to the crease and then flipped a backhand shot past Maulson to cut the lead to 2-1. She had another opportunity seconds later that the Edge was able to break up. That's how it stayed for nearly seven more minutes until Vizanko got the breakaway.
Losch scored her first goal 55 seconds into the second period. After an Evelyn Leveque goal at 7:06, Vizanko completed her hat trick with goals at 7:24 and 9:33. Losch's second goal came on a power play at 10:45 and made it 8-1 before Schafer put one in at the 15-minute mark with an assist from junior defenseman Kristen Brandner.
"That's tough. It definitely is," Wieting said. "If we come out of that first period down 1-2, we're feeling a little bit better about ourselves. With that goal a little under a minute left in the period, that kinda brought us down a little bit. But we always tell them to have short memories. We don't put our heads down. We have to keep on trucking."
Goals by Vizanko (:50) and Wyndi Saari (1:25) early in the third period preceded Schafer's final goal at 6:54 in the third.
Alex Nicks got the start in goal and racked up 29 saves on 37 shots in the first two periods. Saige Duesing stopped nine of 11 shots in the third. The Raiders had just one power play during runningclock time in the third period and didn't convert. The Edge was one for two.
"We're hustling, we're still working really hard in practice," Wieting said. "We're still improving. We just made a few too many mistakes that we couldn't make."
Medford is headed to the Northern Edge's HodagLand Holiday Tournament in Rhinelander this weekend. The Raiders will play two games, facing the Edge at 2 p.m. on Friday to kick off the tournament and the Beaver Dam Co-op at 4 p.m. Saturday. The always-popular skills competition is set for noon on Saturday.
The Raiders return home to face Northland Pines at 5 p.m. on Jan. 3.
First two wins
The Raiders got their first two wins of the season on Dec. 14, sweeping the Copper Country Kiwanis 18U team from Houghton-Hancock, Mich. in games played at the Houghton County Ice Arena.
Medford took game one 9-0 and finished the doubleheader with a 7-2 win.
"It was really fun," Wieting said "We got to move some people around and get a lot of people goals. I think we were up 5-0 in the first period of the first game so we kinda moved some things around to try to spread the wealth a little bit."
By the end of the day, seven of the team's nine skaters scored at least one point.
Schafer had hat tricks in both games. She scored four goals in game one, three of which came in the opening period. Kyla Kennedy and Kiersten Crass also had multi-goal games in the opener.
Schafer's first two goals were back-toback at 7:05 and 8:00 to start the scoring. Kyla Kennedy got on the board 64 seconds later. Schafer got her third goal of the period at 13:55 and Kennedy scored again with assists from Crass and Schafer at 15:46 for the 5-0 lead.
Crass got both of her goals in the second period to boost the lead to 7-0. Schafer and Kristen Brandner assisted on the first one three minutes into the period. The second goal for Crass was unassisted at 5:29.
Schafer used assists from Crass and Delaney Hraby to score her fourth goal 6:54 into the third period. Freshman Skylier Krueger scored her first varsity goal with 50 seconds left in the game, assisted by Schafer.
Wieting said after the Raiders built their early lead, they moved Schafer down to the second line for good portions of both games to help spread out the scoring and that worked quite well.
"We got some goals and a little bit of confidence built up," she said. "We worked the puck around a little bit more because it was a team that was more on our competition level. So we were able to move it around and really show what we've been working on in practice."
The Raiders jumped ahead quickly again in game two, building a 4-0 first-period lead. Hraby got her first two varsity goals at 3:14 and 7:51 with Schafer getting an assist on the second one, which was a power-play goal. Schafer's first goal came at 11:58 and Crass got the fourth goal of the first period with a Schafer assist at 13:41.
Schafer stretched the lead to 5-0 with a Karli Higgins assist 4:30 into the second period. Copper Country finally got on the board with a goal from Natalie Nyman at 8:24.
It stayed 5-1 until the third. Alyssa Brandner put in her first goal of the season 5:06 in with a Schafer assist. The home team got a power-play goal from Melanie Gronlund at 8:16, but Schafer closed the scoring with a Hraby assist with 3:55 left.