Posted on
Pirates will need to bounce back after a lackluster loss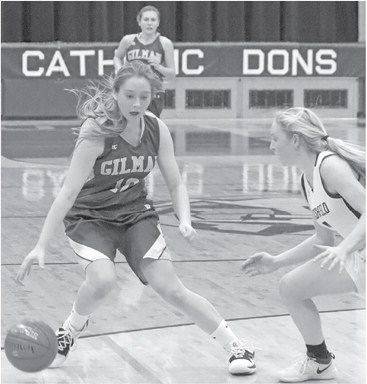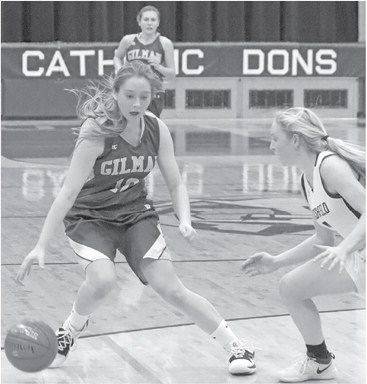 GILMAN GIRLS BASKETBALL
The Gilman girls basketball team's 60-43 loss at Columbus Catholic certainly won't be one the Pirates will want to spend their 15-day holiday break from competition thinking about.
But, as head coach Tammy Weir said after the loss, the one positive they can take from it is they should only go up from there when play resumes Jan. 3 at home against Owen-Withee.
Without question their most lackluster performance of the season, the Pirates turned the basketball over 33 times and couldn't slow down Columbus Catholic's Addison Baierl, who lit them up for 25 points in a win that put the Dons in a three-way tie for first place at the break in the tightly-packed Eastern Cloverbelt Conference.
Columbus Catholic, Neillsville and Loyal all sit at 4-1 in league play, while Colby is a half-game behind at 4-2.
A win would've put Gilman even with Colby, just behind the co-leaders. Instead, the Pirates have a hill to climb after the holidays to keep pace with them. More importantly, Weir is hoping her team quickly finds its confidence again after the break.
"It looked like we were scared to death to attack them," Weir said after the loss. "We kept saying to them, 'what's going on, this is just not you.'" The Dons used a couple of different zone presses during the game and they certainly took the Pirates out of their comfort zone. When they were poised with the ball, they were often able to break down Columbus Catholic's defense and get good looks. Grace Grunseth was particularly effective, hitting seven of nine shots overall from the field, including six of seven two-point shots, while scoring 16 points.
Gilman fought back from an early deficits of 11-4 and 16-8 to end the first half trading leads with the Dons. Tatum Weir scored inside, Grunseth put in an offensive rebound and swished a 3-pointer off a well-run inbound play and Emma Grunseth made two free throws to put the Pirates up 17-16. Emma Warner's third attempt on one possession finally went, giving Gilman a 19-17 lead. Baierl answered with a 3-pointer, but Grace Grunseth scored for a 21-20 Gilman lead. Grunseth, though, picked up her third foul with 2:52 left and sat out the remainder of the half. Emmalee Jicinsky sank the free throws, but Emma Grunseth countered with a bucket. Baierl swished another 3, which was answered by two Warner free throws that tied it at 25-25 with 1:31 left. Warner's free throw with 51.9 seconds left put Gilman ahead. Jicinsky scored off a Baierl assist, but Lydia Syryczuk hit nothing but net on a triple to put Gilman ahead 29-27 before two Jicinsky free throws with 4.5 seconds left tied it at 29-29.
The back-and-forth game continued early in the second half. Warner's threepoint play and Aubrey Syryczuk's free throws gave Gilman its largest lead at 34-31 with 15:08 to go. Baierl banked in a 3-pointer to tie it. Warner scored off a Grace Grunseth assist for a 36-34 lead, which was Gilman's last.
A 13-0 Columbus run followed and the turnover-prone Pirates never recovered. It started with an Annika Brown hoop. Holly Dean scored off a turnover, Baierl impressively hit a stepback 3-pointer from the left corner, Meghan Kibbel scored twice off of steals and Baierl sank two free throws to make it 47-36. The Pirates got no closer than eight after that.
Warner scored 12 points and grabbed seven rebounds for the Pirates. Emma Grunseth had six points and five rebounds. Aubrey Syryczuk had four points, six rebounds and two assists. Lydia Syryczuk scored three points and had two assists. Weir finished with two points and four rebounds. Grace Grunseth had six rebounds, four assists and two steals.
Gilman (4-3 overall) outrebounded the Dons 29-16. The Pirates greatly improved their free throw shooting by making nine of 10 but just didn't get there enough. The Dons were 13 of 23 and hit five of eight 3-pointers. Gilman made 16 of 40 shots overall from the field (40%) while Columbus made 21 of 44 (47.7%).
Brown scored 13 points and Jicinsky added 10 for Columbus Catholic (5-4 overall).