Posted on
Fast start isn't quite enough in Raiders' Friday upset bid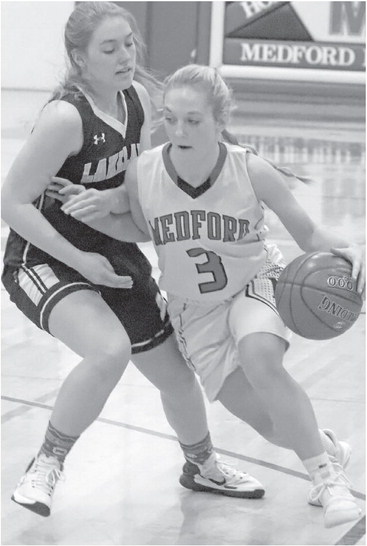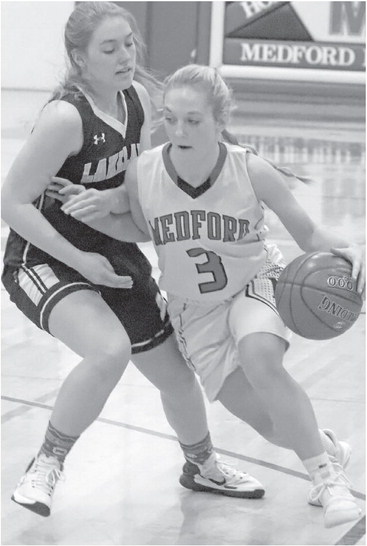 MEDFORD GIRLS BASKETBALL
The Medford Raiders held Lakeland to 30.2% shooting from the field on Friday, held the Thunderbirds about 25 points below their season scoring average and outrebounded them by a huge 48-27 margin.
Yet, it still wasn't enough to prevent a second straight home loss against one of the Great Northern Conference's two pre-season favorites.
Using a 22-12 edge in points off turnovers and some big jump shots down the stretch by their two go-to offensive players, Lakeland escaped with a 48-41 win that kept it tied with Rhinelander atop the league with a 3-0 GNC record.
Medford, unfortunately, went into its holiday break thinking about what went wrong as it fell to 2-2 in league play and 5-3 overall.
Knowing they would be facing intense full-court pressure by a team that likes to turn those turnovers into quick points, the Raiders came out strong, passing right through Lakeland's 1-2-2 full-court pressure and building leads of 10-0, 12-2 and 14-4.
But the composure against the pressure didn't last and the Thunderbirds wound up forcing 31 turnovers. Medford forced 23 turnovers as well. The officials let the teams play a bit in a game that got physical and very defensive minded with scores staying in the mid 20s deep into the second half.
"We just came out really solid, composed," Medford head coach Jessica Faude said. "We've been working on that, trying to be composed and just solid. We came out just playing really well. It wasn't a lot that lost us that game. Just little mental breakdowns through some of it. We were breaking the press right away. Then it seemed like they would score a little bit. Then we got rattled and started turning the ball over and not trusting in what we needed to do to break the press."
Medford never trailed in the first 29 minutes. The Raiders got the first 10 points of the game on a Marissa Fronk steal, a left-handed drive by Katie Brehm, two free throws by Rynn Ruesch, a cross-court pass from Ruesch to Fronk for a layup and a long pass from Brynn Rau to Sierra Hanson for an easy one in the first 5:13.
Lakeland got within two three times in the first half, the last of which was 2018 on an Abby Parris 3-pointer and a Julianna Ouimette free throw late. That was the halftime score.
Parris and Ouimette were the focal points of Medford's defensive game plan. Ouimette, a freshman phenom, came in averaging about 30 points per game and Parris, a senior, lit up Medford for 43 points in a game two years ago. As a team, Lakeland came in averaging 73.2 points per game in a 7-1 start. Parris had 12 first-half points, but Ouimette was held to three.
"We know that Julianna is going to try to get to the basket, so we sat a post in the lane," Faude said. "We were just kind of able to key in on their stronger players a little bit. We said, 'don't bail them out. Just be that help defense.' We really wanted to overexaggerate our help defense to not allow the drive. We didn't want to let them beat us on fouls and drives to the basket and just be aware of where some of their shooters are. They are scoring tons. I'm happy we held them to 48."
Following a scoreless first 4:10 of the second half, Lakeland tied the game for the first time at 20-20 on a Camille Quade bucket, but Medford answered with a Fronk free throw and a Rau 3-pointer. A Ruesch bucket made it 26-22 with 9:35 left and a Brehm put back later made it 28-25.
A mini 6-0 surge, capped by a Parris 3 put Lakeland on top 32-28. Rau's 3 cut the deficit to one and Brehm's drive into the lane and left-handed score put the Raiders back up 33-32 with 5:50 left. The Raiders got a stop, but Ouimette's steal and score put the T-Birds back on top and her cold-blooded 3 about 25 seconds later made it 37-33 with 4:50 left. Parris get a friendly bounce on a left-wing 3-pointer at the 4:05 mark to make it 40-33 and Lakeland's lead hit 10 at 44-34 with 1:38 left following two Ouimette free throws on an intentional foul call.
The Raiders didn't quit. Two Fronk free throws with 1:23 left, Hanson's score off a backcourt steal with 30 seconds left and a Brehm offensive putback with 18.4 seconds left following a Lakeland turnover made it 44-40. But Ouimette and Vivian Trapp hit four free throws in those final seconds to seal it for Lakeland. Ouimette finished with 20 points and Parris had 18 for Lakeland.
Medford got 12 points from Fronk along with five rebounds and two steals; 10 points, five rebounds and two steals from Rau and nine points, 11 rebounds, three steals and two assists from Brehm. Ruesch pulled down a game-high 16 rebounds and had two assists while scoring four points. Hanson had four points, four assists and four rebounds. Autumn Krause had a bucket and four rebounds.
"Defensively I'm really happy with how the girls played," Faude said. "I think we did the things we needed to do to stop them. I know that Julianna still had 20 points but a lot were free throws at the end. I think we played pretty solid defensively. Offensively, there were just some possessions where we broke down again mentally. We're working on that strength against pressure."
Medford will resume play Jan. 3 at Northland Pines and will visit Stanley-Boyd for non-conference play on Jan. 6. While two games back of the leaders in the loss column in the GNC standings, Faude said the team isn't conceding anything yet.
"I'm happy with the group of girls," she said. "They're very, very coachable even in the games. When we're trying to change stuff up, they're listening they're buying into the things we're working on. That helps us keep moving forward. We still have lots of big goals that we want to achieve this season. We're looking at one game at a time. That's been our motto throughout the season."