Posted on
Colby buzzes past Greyhounds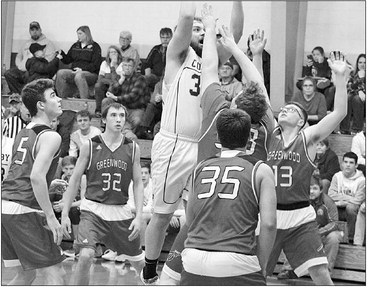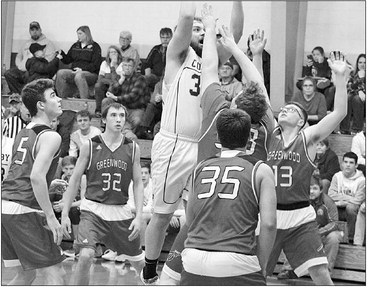 The Colby Hornets turned in their best performance of the season on Friday night, rebounding from a tough loss at home on Tuesday to Greenwood to oust the Loyal Greyhounds on the road, 67-51.
The victory was an exhibition in team basketball as nine Hornets scored, including four in double digits. The Greyhounds were missing several of their starters, but still had the services of Alex Bogdonovich, a deep and accurate shooter who Colby head coach Jimmy Flink describes as "one of the best players in the conference."
Bogdonovich came into the season averaging 24 points a game, but Colby's Noah Robida and Gavino Lopez worked together to stymie and frustrate the Eastern Cloverbelt's leading scorer, holding him to just 11 points.
"As a team we did a great job guarding him, especially Noah Robida and Gavino Lopez," Flink said. "They are probably two of the best on the ball defenders in the conference, and are really doing a great job this year."
With their best player barely cracking double digits, the Greyhounds struggled mightily against the Hornets and their 1-2-2 zone defense. It's not the easiest of defensive schemes to master, says Flink, but when played well, it is extremely effective, as Loyal discovered.
"It's a tough defense to play, and the players are learning you can't take plays off when you run it," Flink said. "Our goal is to keep the offense in front of us and force them to play fast, forcing them to get up a quick shot or a turnover. This season our players are really doing a great job of that."
With their defense leading the way, the Hornets took advantage of 11 steals, turning them into points in transition, and before long Colby was up double digits, taking a 29-16 lead into the locker room.
The second half saw both offenses come alive as the Greyhounds more than doubled their first half total, finishing with 35 points in the final frame.
But Colby matched them shot for shot, converting free throws and points in the post and lane to keep ahead of their conference rivals, out-scoring them with 38 points in the second half.
The Hornets also shot better from the charity stripe, finishing 13 of their 19 free throw attempts, a stat that Flink says needs to continue to improve.
"Looking back at our previous games, the free throw line was a big reason we lost games and why we had to fight to the end of games to get our wins," Flink explained. "Against Loyal was the first time we shot a good percentage from the free throw line. We are shooting about 25 free throws a game which is great, but we are only making about 10 of them."
Robida was the Hornets' leading scorer with 16 points, and a team high six steals. Harley Schmelzer had another doubledouble with 14 and 12 rebounds. Senior Roman Schmitt and sophomore Richard Streveler each had 10 points.
"Offensively we have a very balanced scoring team now, and we won't have a player consistently score 20-30 points a night for us," Flink said about his team's offensive mindset. "Our players are very unselfish and doing a good job sharing the ball, and looking to score when the defense gives them an opportunity."
Colby also welcomed back Brent Jeske, who has been out for several weeks following an injury sustained during the Hornets first game of the season, a Dec. 3 game with Columbus Catholic.
"I was careful with him since it was his first game back," Flink said. "I think he did a good job after he was out there for a while, and is only going to get better. "
Brent had just the one point in his return, but the Hornets saw Connor Jeske add seven points and Isaac Karl score five points. Mason Schmutzler and Lopez chipped in with two points apiece.
While Flink is happy to see Brent back in his line-up, his absence has allowed other players more minutes, and the Hornets have become much more effective scoring the ball since their first game with the Dons.
"When we started the season with Brent our scoring was coming from Brent, Connor and Harley. Now we have a lot more threats with Roman, Richard, Noah and Isaac proving they can find ways to score too."
With the holiday season now here the Hornets will be playing just one game in the next two weeks, a Friday, Dec. 27 meeting across town with the Abbotsford Falcons at 7:15 p.m.
The Falcons may not have a winning record, but are playing hard and shooting the ball well. Friday's game gives Colby another chance to improve - and continue to develop their identity.
"Coming into the season I thought we had a really good defensive team, and so far we are proving that," Flink said. "On average we are giving up 47 points a game, and we have only given up 60 points twice this year."