Posted on
Rockets stay unbeaten with late surge at Greenwood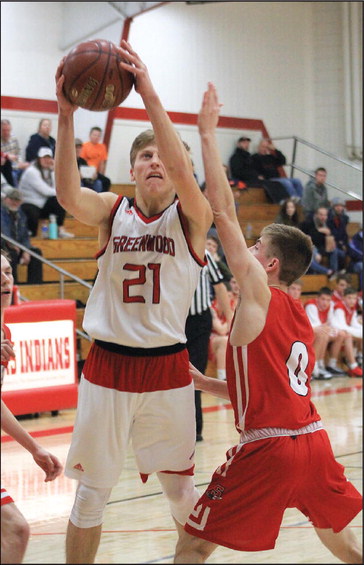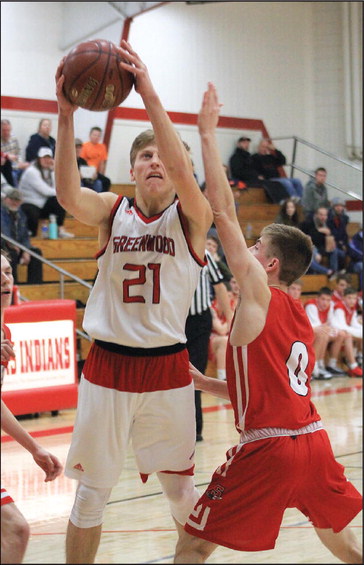 The Spencer boys basketball team got 39 points from its senior backcourt duo of Austin Bacon and Brett Kasch and just enough from everyone else to hold off Greenwood for a 67-59 Eastern Cloverbelt Conference road win on Dec. 19. The win kept the Rockets unbeaten heading into the holiday break, and a half-game ahead of Neillsville for the top spot in the league standings.
Kasch scored 20 points and Bacon dropped in 19, but Spencer was not able to put Greenwood away until the final minutes of the game. The Indians still had the game within two points as late as the 3:32 mark, until Spencer pieced together a 9-1 run to finally put it out of reach.
Kasch had a pair of 3-pointers and was 4-4 from the free-throw line in the first half to put the Rockets ahead 31-25 at the break. Westen Schmitz countered for Greenwood with 10 first-half points as the Indians kept it close for the entire 18 minutes.
An 8-2 Greenwood spurt fueled by six points from senior point guard Treyton Thomas knotted the game at 33-33 early in the second half. Thomas was 4-4 at the line in that stretch and scored on an easy lay-up as he released on a defensive rebound and took a long outlet pass from Cooper Bredlau.
A 3-pointer from Schmitz and Nathan Revier's smooth baseline reverse lay-up put the Indians up 42-41 with 10:25 to play, but Eric Ehlert countered with one of his two second-half 3-pointers. Schmitz answered right back with another trey -this one from the corner on an in-bounds play. Spencer then reeled off six straight points on two scores in the paint from Bacon and an assist where he drew three defenders to himself and dished off to Tyson McDonald for an easy deuce.
Greenwood took its final lead of the game at 52-51 with 5:50 left on the clock on Thomas' offensive rebound put-back of a missed free throw when Spencer's low block man fell down.
Kaleb Brandt hit a three from the corner on an in-bounds play, but Revier tied it at 54-54 with a fast-break hoop on a Spencer free throw miss. Kasch's driving score and a free throw for a 3-point play put Spencer ahead to stay with 4:52 to go. After a second reverse lay-up from Revier brought Greenwood to within 58-56, Spencer began its game-clinching run on Brandt's secondchance score after a teammate launched an airball on a 3-point try. Brandt then blocked Schmitz's wing 3-point attempt on Greenwood's next trip, and Ehlert followed with a score in the low post for a 62-56 Rocket lead with 2:37 to go. Greenwood turned the ball over on a pass into traffic on its next possession, and Spencer spread the floor and ran the clock down to 1:24. Ehlert got a foul call at that point, but a Spencer lane violation negated the chance.
Revier missed a 3-point try with 1:06 to go, and the Indians fouled Kasch after the rebound. He hit both shots for a 64-56 lead.
Bredlau hit a free throw to cut it to seven with 49 seconds to go, and Spencer then turned the ball over on the ensuing in-bounds play. Bredlau's next 3-point try was off the mark, and the Indians put Bacon at the line with 35 seconds to go. He iced the game with two free throws for the 66-57 lead.
Kasch finished with 20 points and was 8-9 at the line. Bacon scored 19 and hit four of his six free throws. Ehlert added 10 points for the Rockets and Brandt scored nine.
As a team, Spencer was 15-27 on free throws.
Schmitz and Thomas each scored 17 points for Greenwood. Schmitz was good on seven of eight free-throw tries. Revier added 12 points.
Greenwood was 12-20 at the line on the night.
Spencer will now take its 5-0 ECC mark into the break. It will return to action with a Jan. 3 non-conference game at Stevens Point Pacelli, then resumes its ECC schedule on Jan. 7 at home against Loyal. The Rockets then get their first crack at Neillsville in a Jan. 10 road game.
Greenwood will host Athens in a Dec. 27 non-conference game (2:45 p.m. tip-off) and gets back into ECC action on Jan. 7 at Granton.
Cloverbelt Eastern Cloverbel Boys Basketball Standings
Spencer 5-0 Neillsville 4-0 Mfld. Columbus 2-1 Colby 3-2 Greenwood 2-2 Loyal 1-3 Gilman 1-4 Owen-Withee 1-4 Granton 0-3
DEAN LESAR/STAFF PHOTO