Posted on
WVCA presents its All-State honors for 2019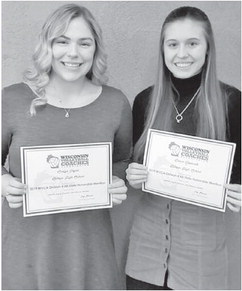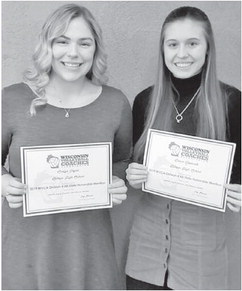 ALL-STATE VOLLEYBALL
Medford's Kamry Albrecht earned honorable mention for the second straight year, while Evelyn Fryza and Grace Grunseth were Gilman's first award winners in recent memory in voting for the 2019 Wisconsin Volleyball Coaches Association All-State Teams.
In her senior season with the Raiders, Albrecht was a unanimous All-GNC first-team choice after leading the conference in blocks with 76 in 49 sets played for a 1.6 block per set average. Of that total, 58 were solo blocks. Albrecht ranked fourth in the GNC by averaging three kills per set. She put down 145 kills in her 49 sets played. Albrecht was sixth in the league in hitting percentage at .224 with just 50 errors in 424 total attacks and she had 25 service aces in 177 serves. She had just 14 service errors in league play to finish with a .921 serving percentage.
Playing a more all-around role this year, Albrecht also had 152 digs in league play and 11 assists for the Raiders, who tied Antigo for third in the conference at 7-5 and went 20-15 overall.
Albrecht was one of four Great Northern Conference representatives to win Division 2 awards from the association. GNC Player of the Year Jacqueline Smith was one of five unanimous first-team selections, while Mosinee senior Paige Wicklund and Mosinee junior Brooke Montgomery both earned honorable mention.
The Division 2 first team included unanimous picks Smith, Ella Collins of Lakeside Lutheran, Elise Goetzinger of Mount Horeb, Julia Treichel of Wisconsin Lutheran and Katie Winkler of East Troy, along with Bekah Day of state champion Luxemburg-Casco, Gianna Field of Kettle Moraine Lutheran, Ella Foti of Madison Edgewood, Marissa Kleman of La Crosse Logan and Rylee Vaughn of Lake Country Lutheran.
Fryza and Grunseth led Gilman to a share of the Eastern Cloverbelt Conference championship and a berth in a WIAA Division 4 regional final. There, the Pirates took a game from eventual state champion Clear Lake, who put four players on the Division 4 All-State first team.
As Gilman's primary setter, Fryza was named the conference's Player of the Year after averaging just under 30 assists per match and just over eight per set in conference play. She surpassed 1,000 assists for her career early in the season.
Fryza added 105 kills and 58 blocks and was among the team leaders in aces with 40 and served at a 90% success rate. She finished with 200 digs.
Grunseth finished with 312 total kills during the season and an impressive .292 hitting percentage. She had 100 blocks, served at a 91% success rate with 24 aces and had 197 digs.
They led Gilman to a 6-1 conference record and a 23-8 overall mark. They tied for the ECC's top spot with Columbus Catholic, who also had two honorable mentionees on the All-State team, junior Emmalee Jicinsky and sophomore Dorci Walker.
The Division 4 first team consisted entirely of unanimous selections. They were Julianna Rosen, Maggie Rosen, Rayne Vangsness and Madison Zimmer of Clear Lake, Maggie Craker of McDonell Central, Olivia Liddicoat of Iowa-Grant, Aubrey Schoeneman of Mercer, Sammie Seib of state runner-up Burlington Catholic Central, Lauren Shields of Newman Catholic and Jaclyn Wise of Green Bay NEW Lutheran.
From the Marawood North, senior Kaelyn Isaacson and junior Olivia Burcaw of Prentice got honorable mention.