Posted on
Redmen bounce back from first loss by blasting the Loggers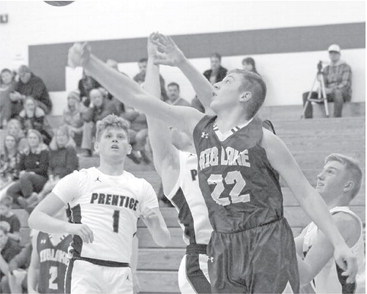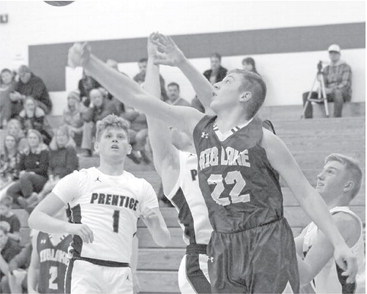 RIB LAKE BOYS BASKETBALL
The past two years, the Phillips Loggers had beaten Rib Lake just before Christmas and sent the Redmen into chase mode in the Marawood North boys basketball race.
The Redmen made sure Tuesday that wouldn't happen again.
Putting their disappointing loss to Prentice from four nights earlier behind them, the Redmen rediscovered their shooting touch and turned a five-point game at halftime into an 84-57 blowout at Rib Lake High School.
The win put both teams at 3-1 in Marawood Conference games and they are tied with Athens heading into a crossover Friday where all three North co-leaders have tough matchups. Rib Lake hosts Marathon, Phillips gets Auburndale and Athens hosts Stratford.
Now 5-1 overall, the Redmen got huge nights from seniors Levi Ewan and Devyn Vlach, who accounted for 60 of the team's points.
Vlach set a career-high for the second straight game, pouring in 28 points while making 11 of 15 shots from the field. He was six of nine on 3-point shots.
Ewan shook off his rough night at Prentice by knocking down 10 of 14 shots from the field, including five of six 3s to finish with 32 points. He was an assist shy of a double-double and added three rebounds.
Overall, the Redmen were a blistering 13 of 22 from 3-point range (59.1%) and 30 of 53 overall (56.6%) from the field.
Rib Lake led 33-28 at halftime and out- scored the Loggers (4-1 overall) 51-29 in the second half.
Nick Gerstberger had nine points and six rebounds for the Redmen, Steven Petkau had eight points, eight rebounds, five assists and two steals and Logan Blomberg had five points and five rebounds. Vlach added four rebounds and three assists. Ryan Patrick had two points and three rebounds.
After Friday's 7:15 p.m. home game with Marathon, the Redmen will be off until Jan. 3 when they have their first showdown of the year with Athens. That game will be on the Blue Jays' home court.
Prentice 64, Rib Lake 54
Possibly relying too much on outside shots on a night when they weren't falling, the Redmen suffered their first loss of the season Friday in a 64-54 defeat at Marawood North rival Prentice.
The Redmen scored 42 of their points by making 14 of their 3-point attempts, but it took them 40 shots to do it (35%). They were just six of 27 from two-point range (22.2%) and only shot two free throws in the entire game with Ewan making both.
Not only was this Rib Lake's first loss after a 4-0 start, but it was the first win of the season for the Buccaneers, who had dropped their first two outings.
Prentice held a slim 27-26 halftime lead and outscored Rib Lake 37-28 in the second half to secure the win and end a four-game losing streak in its rivalry with the Redmen.
Vlach led Rib Lake with a career-high 23 points and he had five rebounds, three steals and two assists. Overall, he had one of the better shooting nights for the Redmen, making nine of 19 shots overall, including five of 14 from long range.
Ewan finished with 15 points, five assists and three rebounds, hitting five of 11 from long range. Petkau's recent hot streak cooled as he was held to six points. He had six blocked shots, however, and added three assists, two rebounds and two steals.
The rims were unkind to Gerstberger, who only got two of 12 shots to fall and finished with five points, five rebounds, three assists and two steals. Blomberg hit one of four 3-point tries to finish with three points. Patrick had a bucket to go with a team-high 11 rebounds. He blocked two shots and added two steals.
Rib Lake took great care of the basketball with just seven turnovers.
Rib Lake 67, Tomahawk 39
On Dec. 10, the Redmen shut out the host Tomahawk Hatchets over the last eight minutes of the first half to take control of the game and Petkau played a big role in finishing the team's 67-39 win in the second half.
The senior scored 13 of his team-high 17 points after halftime capped by a highlight- reel slam dunk, where he beat his man off the dribble at the top of the key, drove the middle of the lane and threw it down while getting fouled. He made the free throw to give the Redmen a 59-31 lead.
Things didn't look quite so good halfway through the first half. Tomahawk's 6-7 post Connor Dichsen scored six early points and guard Drew Bolder went off for 12 points as the Hatchets came back from a six-point deficit to take a 22-20 lead on an Elijah Scheffler bucket.
That, however, would be Tomahawk's last bucket of the half. Ewan sank a 3-pointer to give Rib Lake the lead back, Patrick stuck in an offensive putback and Vlach sank a 3-pointer to put the Redmen up by six. Gerstberger made a pair of free throws, Petkau got a tough scoop shot to fall, Ewan made a free throw and Gerstberger stuck in a second-chance hoop to finish a 15-0 run that made it 35-22 at halftime.
After getting the opening three points, the Hatchets did not get any closer in the second half. Petkau scored eight of Rib Lake's first 13 points in the half, while Vlach hit his second trifecta of the night. Blomberg swished two 3s as well, pushing the lead to 54-31 before Petkau made two free throws and then put the exclamation point on the non-conference win with his dunk.
Petkau added five rebounds, two steals, two assists and a blocked shot. Ewan and Gerstberger both scored 14 points in the win. Gerstberger had eight rebounds, three blocked shots, two steals and two assists. Ewan had three steals and three rebounds.
Blomberg scored nine points, all in the second half and pulled down five rebounds. Vlach had six points, three rebounds, two assists and two steals. Brock Thiede put in three of six late free throws and grabbed three rebounds. Patrick had two points, five boards and two assists. Trey Klemann and Michael Borchardt both had a late point.
Bolder led Tomahawk with 19 points.