Posted on
Raiders vault to second at Rhinelander Snowflake Invite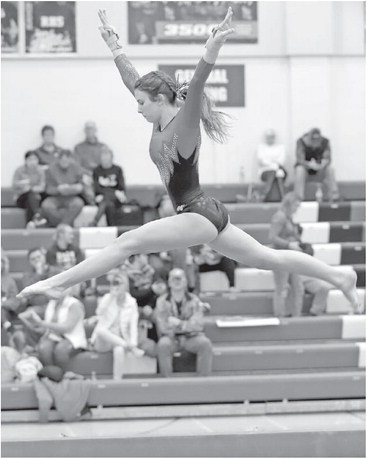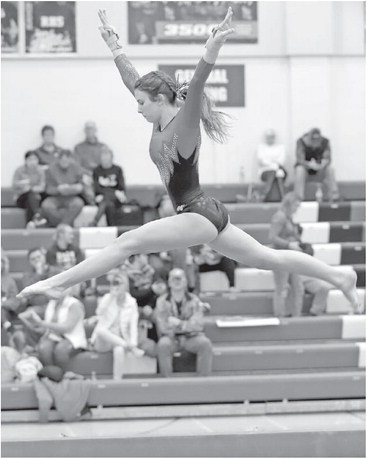 MEDFORD CO-OP GYMNASTICS
Bilz is new balance beam record holder
Medford's school record score of 9.075 on the balance beam barely survived the Raiders' Dec. 7 Hot Cocoa Invitational. But that was the end of the line for Megan Strama's mark set at the 2004 WIAA sectional meet.
Sophomore Brooklyn Bilz bumped her score from 9.0 last week to a 9.2 on the beam Saturday, one of several highlights for the Raiders during their second-place finish at the eight-team Rhinelander Snowflake Invitational.
The Raiders scored 128.925 points and earned their highest finish ever at this early-season meet. They weren't too far behind one of the top Division 1 teams in the area in Marshfield (132.95) and also finished ahead of Ashland (123.525), something few Medford teams have ever done in a meet.
"It was a great day," head coach Steve Cain said. "Another school record, quite a few PRs. Eight of them actually. I know it's only the second meet, but they brought the score up and that's the trend that I'm looking for as a coach. It was a great day, great day. As a coach, I'm proud of that team. There's a lot more to come."
Bilz's 9.2 not only set the new school record, it was good enough to give her the individual title in the event ahead of Marshfield star Gracie Holland (8.9), Washburn standout Lakyn Sonday (8.3) and Marshfield freshman Jade Scholl (8.2). Raider Makala Ulrich tied Antigo's Maggie Winter for sixth at 7.7 and freshman Kate Malchow was ninth with a 7.55, up from 7.25 a week earlier. Kara Hudak earned a 6.65 and Anna Wanke had a 6.0 for the Raiders.
Cain said he had a feeling after watching Bilz warm up that she had a chance to surpass last week's 9.0.
"I watched her warm up and I felt like, you know what? She's comfortable. She's feeling about the most confident that I've seen in a warm up," Cain said. "She did not hardly have a bobble or a wobble or anything. She went into competing was the first one up there and she did it the same as she was warming up. When I saw that, I thought she's found her spot. She just fell right into her pocket. The way she warmed up, I thought she's got this and she did. She finished and it was the kind of finish where you know that's going to be a good score."
Cain said the score first flashed up as a 9.0, but the judges quickly reviewed their notes and changed it to the 9.2.
"Of course that was when it was pretty exciting because that meant she broke the school record that was held by Megan Strama since 2004," Cain said.
The team's top event for the day actually was the vault where they put up 34 points, their highest score in that event in recent memory. The Raiders only topped 33 points twice last year.
All five vaulters earned scores well into the eights. Wanke led the way, tying for Chequamegon's Kristina Peterson for seventh with an 8.65, Bilz was 10th at 8.5, Ulrich was 12th at 8.45, Malchow was 13th at 8.4 and freshman Kennedy Bilz made her varsity debut, tying for 15th at 8.15, up from her JV 8.0 a week earlier. Bilz, Wanke and Malchow set personal bests.
Holland won it with a 9.375 and Ashland's Catie McPherson was second at 8.9.
The Raiders finished the meet in the floor exercise and put three gymnasts in the top 10. Brooklyn Bilz took fourth with her 8.75, Malchow was seventh at 8.5, Wanke placed eighth at 8.475, Avery Purdy tied for 21st with her 7.55 and freshman Brooke Wegerer was 32nd in her first-ever varsity event with a 5.6, filling in for Ulrich, who was held out due to a sore ankle.
With Lakeland pulling out of the meet late, a rotation was open for teams to enter extra gymnasts. Though her score wasn't officially part of the team score, freshman Kiarah Behling got a 6.5 in her first floor routine in front of varsity judges.
"Brooke got out there and she did a remarkable job," Cain said. "She's got things that we have to add or change in there to get her value better. But for the first time, I was really impressed. When you look at all the scores in there, I was very impressed. Avery PR'd, Kate PR'd."
Holland's 9.45 won the floor title, while Sonday (9.05) was second and Ashland's Elaina Seeger (8.875) was third.
The Raiders scored 30.55 points on the uneven bars, a shade off the 30.8 they scored a week earlier but still a score they were quite happy with. Brooklyn Bilz was fifth at 7.825, Malchow was seventh at 7.7, Wanke took eighth at 7.6, Ulrich was 12th with a 7.425 and Purdy was 17th at 6.975. Malchow improved from a 7.65 and Wanke equaled her score from a week earlier. Holland's 9.325 easily won the event.
"Bars we were just about right where we were in the last meet," Cain said. "We dropped in a couple of things, nothing major though. Where we dropped a few tenths of a point here, we gained with other girls."
Holland was the day's top all-around scorer with 37.05 points, while Brooklyn Bilz was second with 34.275 and Malchow was fourth with 32.15 points behind Sonday (34.05). Wanke was ninth with 30.725 points.
Medford gets another shot at Marshfi eld tonight, Thursday, as the teams will meet in a Great Northern Conference crossover dual in Marshfield at 5:45 p.m. The Raiders won't have another meet for four weeks.
"Our whole team will have a chance to see what they can score individually and then we'll see where we go from there," Cain said. "We have quite a bit of a break before the next meet."