Posted on
Raiders, Robins battle to rare swim tie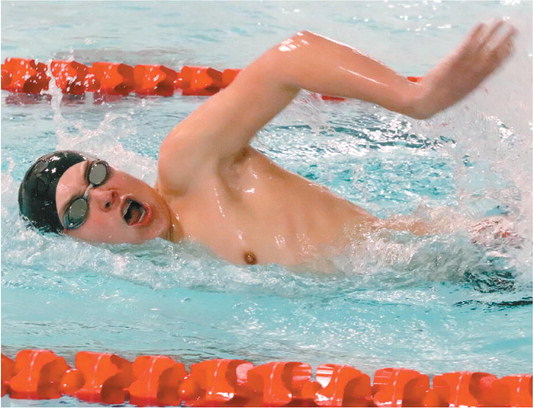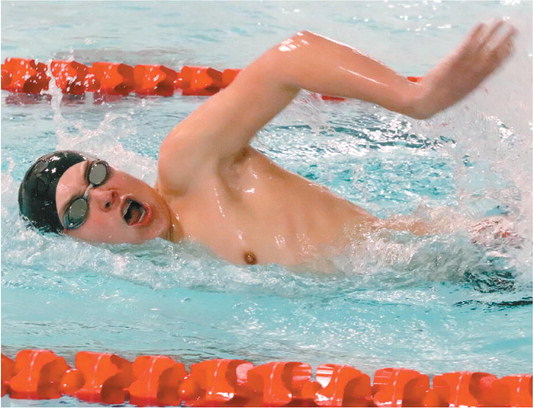 MEDFORD BOYS SWIMMING
What the Medford Raiders and Antigo Red Robins lacked in depth, they made up for in drama as Tuesday's Great Northern Conference swim meet went down to the last event –– and still wound up with no winner.
Trailing the entire meet, the six-man crew from Antigo won the last four events and, with a win in the 400-meter freestyle relay, forged a 73-73 tie with the Raiders, who were short-handed themselves and competing without two of their top swimmers Jack Griesbach and Ethan Kraemer.
With the small rosters for both teams, every swim scored points and, as the final score indicates, every place mattered in Antigo's 25-meter pool at the Clara R. McKenna Aquatic Center.
With wins by their senior state qualifi er Brett Farmer in the 200-meter individual medley and 100-meter butterfl y, Antigo stayed close in the first half of the meet despite being outnumbered in most events.
Dylan Kraemer, Christian Di Benedetto, Jacob Mitchell and Nathan Sislo swam uncontested in the 200-meter medley relay, finishing in 2:54.35, then Matt Buchan won the 200-meter freestyle for the Raiders in 2:42.17, beating Antigo's Karl Busse by 4.46 seconds, while Isaac Dittrich placed third in 2:57.34 to give the Raiders an early 17-4 lead.
Farmer won the medley in 2:28.46, while Mitchell got the second-place points in 3:28.75, then Antigo got four points closer at 27-20 with Devin Farrar (29.77 seconds) and Tate Beaber (31.19) taking the top two spots in the 50-meter freestyle, while Medford's Tahtankka Damm (32.71), Blaze Kesan (34.45) and Tayler Mueller (35.18) finishing third through fifth.
Mitchell took second in 1:31.99 and Damm was third in 1:33.24 behind Farmer's time of 1:05.12 in the butterfl y. Karl won the 100-meter freestyle for Antigo in 1:06.23, while Mueller was second for Medford in 1:21.26 and Dylan Kraemer was fourth in 1:34.23.
Buchan and Dittrich then extended Medford's lead to 50-38 by taking the top two spots in the 400-meter freestyle. Buchan's time was 5:48.23, while Dittrich came in at 6:10.64, well ahead of Busse (6:47.75). Antigo won the 200-meter freestyle relay in 2:01.13, but Damm, Kesan, Mitchell and Sislo were second in 2:21.37 and Mueller, Di Benedetto, Dittrich and Buchan placed third in 2:37.17 to keep the Raiders ahead by 10.
Dylan Kraemer took second (1:44.77) and Kesan (1:47) placed fourth in the 100-meter backstroke, but Antigo closed the gap by three points with Karl winning in 1:29.08 and Ben Tincher taking third in 1:44.99. Beaber (1:33.23) and Farrar (1:35.71) took the top two spots in the 100-yard breaststroke ahead of Sislo (1:43.37) and Di Benedetto (1:57.79) to make it 67-65 going into the last event.
Farmer, Busse, Farrar and Karl won the 400-meter freestyle relay in 4:58.52 to give Antigo eight points. Buchan, Kesan, Dittrich and Damm took second in 5:46.26 and Di Benedetto, Kraemer, Mueller and Sislo took third in 6:29.76 to give Medford six points in the race and secure the tie.
Antigo (0-2-1 in the GNC) and Medford (0-3-1) will meet again in Medford on Jan. 23.
Medford hosts a strong Tomahawk squad today, Thursday, at 5:30 p.m. at the MASH pool. The Hatchets come in a 3-1 in league duals are coming off a big 85-83 win over Lakeland Tuesday.
Lakeland 108, Medford 54
With a week between meets, the Raiders had a chance regroup before their Thursday dual with Lakeland the results were pretty positive in a 108-54 home loss to the T-Birds.
"Everybody can go back to basics on certain things," Medford head coach Shari Bergman said. "Our flip turns have gotten a lot better. We went back to basics on flip turns on Monday and it's helped. They're happy with where they're at. When the guys were seeing they were cutting so much time, seven seconds here, 11 seconds there, I'm just as excited as they are to see that. That's truly fun."
The season's third meet was highlighted by big drops in times by veterans Buchan and Dittrich in the 500-yard freestyle. Buchan won it in 6:32.79 and Dittrich cut 19 seconds from a week earlier and took second in 6:44.53.
"Those two still have a lot to cut," Bergman said. "Isaac was at a 7:02 with Shawano (Dec. 3) and then with Rhinelander (Dec. 5) he was at a 7:03. He wants it. He's working hard."
Dittrich earlier took third in the 200yard freestyle at a season-best 2:30.77, which was about three seconds off his personal-best time from last year. Buchan lost his goggles at the start of race, resulting in contact lens troubles but managed to take fourth in 2:35.56.
Ethan Kraemer's move to the 100-yard butterfly appears permanent after the junior took second in 1:17.12, cutting 7.25 seconds from his first-ever fly a week earlier. Griesbach took third in 1:28.24.
"Ethan has really shown in the last couple of weeks that he's actually quite strong in the butterfly," Bergman said. "He was really happy. This is his new favorite event. So he doesn't want to do freestyle anymore. He wants to continue to get better at the butterfly and he absolutely can."
Ethan Kraemer added a personal-best time of 1:17.65 in the 100-yard backstroke, good for third place, while Dylan Kraemer cut his time to 1:41.62, good for fifth.
The Raiders also had a big night in the 100-yard breaststroke, where all three first-year swimmers set new personal bests. Mitchell, a freshman, was second in 1:23.76, Sislo, a junior, was fifth in 1:35.51 and Di Benedetto was sixth in 1:39.85.
"We've just been trying to work with their breaststroke pullouts," Bergman said, "They're not perfect, they're not spot on, but they are substantially better than what they were."
Griesbach took third in the 200-yard individual medley in a season-best 2:50. Damm was third in both sprint freestyles. He swam the 50-yard race in 28.85 seconds, while Mitchell was fifth in 31.35 seconds and Kesan was sixth in 32.23 seconds. Damm's 100-yard time was 1:06.28, while Di Benedetto lowered his time to 1:14.48 and Sislo dropped to 1:19.35. They were fifth and sixth.
Newcomer Tayler Mueller, who joined the team at the start of the week, debuted with a second-place time of 34.05 seconds in the JV 50-yard freestyle, while Dylan Kraemer was third in 34.91 seconds.
Damm, Buchan, Kesan and Griesbach gave Lakeland a run in the 200-yard freestyle relay, finishing 2.79 seconds behind the T-Birds' top team in 1:59.57. Dylan Kraemer, Sislo, Di Benedetto and Dittrich were fourth in 2:14.78. Buchan, Griesbach, Ethan Kraemer and Damm earned second in the 400-yard freestyle relay at 4:30.76, 11.29 seconds behind Lakeland. Dittrich, Kesan, Mitchell and Sislo got the third-place points in 5:21.42.
Ethan Kraemer, Di Benedetto, Mitchell and Kesan finished third in the 200yard medley relay at 2:17.23.