Posted on
Raiders come through in clutch to take down Hodags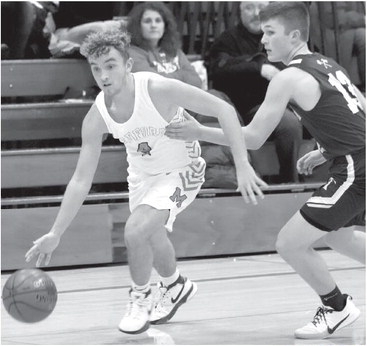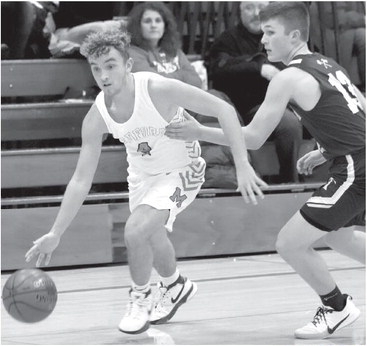 MEDFORD BOYS BASKETBALL
For the second straight Tuesday, the Medford Raiders faced some secondhalf adversity in a tough road environment and for the second straight time they overcame it, securing a pivotal 6355 Great Northern Conference win at Rhinelander.
The Hodags put a jolt into the GNC race by knocking off defending champion Mosinee 78-72 on Friday and would have forced a situation where five teams would've had one loss in league play had they knocked off the Raiders Tuesday. It looked like they might do it when they held a 47-42 lead with less than eight minutes to play.
But Medford turned the game around with a 13-1 run, survived another late run by Rhinelander that tied it at 55-55 and then closed it out with an impressive 8-0 spurt in the final 92 seconds.
The result puts the Raiders at 3-0 in league play and in sole possession of first place heading into the holiday. It also gives the 4-1 Raiders a four-game winning streak.
Five players scored at least eight points in the win, led by the 14 scored by guards Justin Sullivan and Peyton Kuhn. Ty Baker had a season-high 10 points and Logan Baumgartner also scored 10. Doug Way added eight points, while Onyi Ekwueme scored two big buckets late for four points and John McMurry hit a second-half 3-pointer.
Kuhn started Medford's strong last eight minutes by knocking down a 3-pointer. Baker's steal and score tied it and Kuhn's assist set up Baker for the goahead score that made it 49-47 with 6:04 to go.
Ekwueme got a steal and fed Sullivan for a layup and Ekwueme took a post feed from Baumgartner and scored to push the lead to six with 4:30 left. Ekwueme scored again on the left block after a Travis Towne free throw to give the Raiders a 55-48 edge.
Just when Medford seemed to be in control, a couple of missed free throws seemed to breathe life back into the Hodags. Jackson Labs hit a 3-pointer, Drake Martin scored off a backdoor cut and assist from Peyton Erikson and Jackson Smith hit a baseline floater to suddenly tie it up with 1:40 left.
But the Raiders wasted no time on their next possession as Kuhn pushed the ball up the floor and found Sullivan to break the 55-55 tie with 1:32 left. A solid defensive possession ended with Erikson's jumper in the lane rattling in and out. The Raiders ran 30 seconds off the clock before breaking down Rhinelander's defense with an Ekwueme feed to Way for a layup with 31 seconds to go. Baker rebounded a Labs miss and threw a long touchdown pass to Kuhn to seal it with 14.8 seconds left. Kuhn added two free throws with 0.4 seconds to go.
The Raiders had key advantages in shooting and rebounding. They made 23 of 43 shots from the field (53.5%), including an excellent 17 of 25 (68%) on twopoint shots. Both teams hit six 3s, but Medford did it in 18 attempts compared to Rhinelander's 23. The Hodags shot 48% overall (24 of 50).
Medford also had a big 10-point advantage at the free throw line, making 11 of 17. Rhinelander was one for three.
Medford outrebounded Rhinelander 28-20, led by seven rebounds from Baumgartner, five from Way and five from Kuhn. The Raiders had 18 assists on their 23 field goals. Sullivan had five dimes, Ekwueme and Kuhn had four each and Baumgartner had three. Baker had a team-high three steals.
The Hodags (1-2, 2-4) got 14 points from Drake Martin and 12 from Travis Towne. Towne scored 11 of his points in a backand- forth first half that saw the Hodags lead by as many as six at 25-19 but ended with Medford ahead 31-27 thanks to a late triple by Sullivan.
Medford, which is 3-0 on the road, gets another tough road test tonight, Thursday, at 4-2 Wausau East, who is led by 6-6 senior forward Gabe Krueger. He is averaging 34.8 points per game in East's first six contests. East is now coached by former Northland Pines head coach Troy Pieper.
Tip time tonight is 7:15 p.m.
Next weekend Medford will take part in Shawano's annual Sun Drop Shootout held at the Kress Center on the campus of UW-Green Bay. The Raiders play Green Bay Southwest at 1:40 p.m. on Dec. 26 and Seymour at 3:15 p.m. on Dec. 27.
Medford 55, Tomahawk 36
Tomahawk's defense early in Friday's matchup was good. Medford's defense, however, was at another level as the Raiders built a 28-3 lead in the first 16 minutes and coasted from there to a 55-36 win at Raider Hall.
It was a 23-0 run following a 3-pointer from Hatchet Nick Kahle that put this one out of reach early, though "run" might not be the best description. The Raiders slowly built on their lead until they finally got some points off turnovers, a couple of second-chance points and just some solid possessions in the last seven minutes of the half to break it open.
"We wanted to really pressure the basketball, be in good position when they did drive and try to keep the ball out of the post," Medford head coach Ryan Brown said. "I thought we did that well. I thought we really rebounded the ball well when shots did get up.
"I thought Tomahawk did a good job of being in position and trying to take away some of our cuts," he added. "They were really physical through our screens. So we can definitely go back and look and find some things we need to improve on offensively to get our shots and to run our action."
Seven minutes in, Medford led just 7-3. Baumgartner got an easy bucket off a steal, Ekwueme hit a short short and Baker got a three-point play off a putback to make it 14-3 with 9:07 left. Dylan Wickersheim and Cooper Wild came off the bench to score two points each and McMurry drove into the lane and scored over the Hatchets' 6-7 senior Conner Dichsen for a 20-3 lead. Kuhn scored six points and Baumgartner added two more off a steal before Hatchet Drew Bolder finally broke the run with three straight mid-range jumpers in about 75 seconds. Sullivan answered with a score right before the buzzer to make it 30-9 at halftime.
"I thought what kind of opened up the game was a couple of possessions where we were patient," Brown said. "Sometimes when you have a lead, you want to keep going fast and shooting quick versus running the offense. When we got turnovers and turned those into points that kinda helped extend the lead."
It was 38-15 in the second half when the Raiders went on one more surge to bury the Hatchets. Kuhn scored off a turnover with just under 11 minutes left and he scored again off a Baumgartner steal. Wild drove to the hoop and scored. Brady Hupf then scored six points in the paint after Hatchet Jakob Kaminski made two free throws to give Medford its biggest lead at 50-17.
The bench got the majority of playing time in the last eight minutes. The Raiders got 13 players into the game and 11 scored.
"There were too many turnovers, but other than that, the intensity was really good from our bench guys," Brown said. "Everybody got their opportunities and that's just good, one to reward those guys on how hard they all are working in practice and just to prepare them for an opportunity where you may need them down the road in a game."
Kuhn led all scorers with 13 points. Sullivan and Hupf scored eight apiece for Medford, Baumgartner scored six, Ekwueme and Wild had four each, Baker had three and Wickersheim, Way and McMurry scored two points each. Baumgartner had six steals, while Baker had three assists and Hupf blocked two shots. Crowd favorite Austin Schultz closed the scoring by banking in about a 30-foot 3-pointer in the final seconds.
"The guys did a good job of trying to find him some opportunities," Brown said. "I was happy for him to bank that last one in and get a shot made. I think everyone in this place was pretty happy about it."
Bolder's 10 points paced Tomahawk, who fell to 0-2 in the GNC and 0-4 overall. The Hatchets turned it over 24 times and made just one of 16 3-point shots.