Posted on
Pirates get two road blowouts heading into key game at Columbus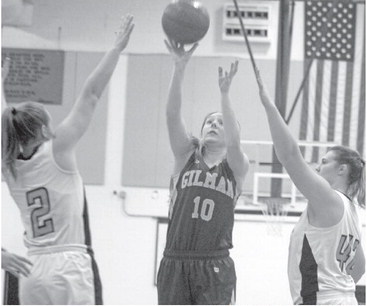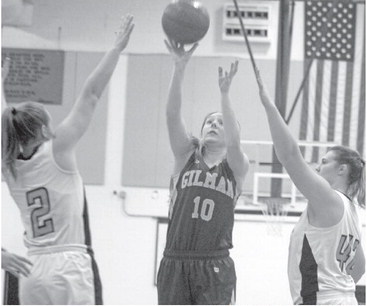 GILMAN GIRLS BASKETBALL
Behind what head coach Tammy Weir called its best defensive performance of the season, the Gilman girls basketball team blew out its neighborhood rivals from Thorp 72-40 on Tuesday to improve to 4-2 overall.
The Pirates set the tone in the first half, building a 15-point lead by the break and then kept adding on in the second half.
"The girls all played so hard," Weir said. "We had the best defense yet this year. We still had 16 turnovers but fortunately we were able to force Thorp into 20 turnovers that we took advantage of and made good plays off of. Thorp tried to full-court press us, but our ball handling was too much for them. Our defense shut down their top scorers and our rebounding was off the charts."
Surpassing their Friday total by one point, Gilman set a season-high scoring total and put four girls in double digits. One of those players, Emma Warner notched a double-double with 14 points and 10 rebounds, while two more came up a rebound short. Aubrey Syryczuk scored 13 points and had nine rebounds, while Emma Grunseth had 10 points and nine rebounds.
Freshman Tatum Weir had a breakout performance with a team-high 16 points and eight rebounds.
Those efforts helped Gilman easily pick up the slack for Grace Grunseth, who was held to five points on just six field goal attempts. But she had six rebounds, four steals and two assists.
"They worked to shut Grace down, but luckily everyone else stepped up," Weir said.
Senior guard Lydia Syryczuk had one of her best outings with seven points, seven assists, three rebounds and just one turnover. Madisyn James hit a 3-pointer and finished with five points. Mikayla Waichulis added a hoop and Katelynn Schmitt reeled in a couple of rebounds.
Aubrey Syryczuk had four of Gilman's 15 steals, while Warner and Emma Grunseth had two apiece. Hannah Vick had two assists as did Warner.
Thorp, who is coached by Medford native Keith Wicks, fell to 2-3 with the nonconference loss.
The Pirates gained some ground this week in the crowded Eastern Cloverbelt Conference title chase thanks to Loyal's 57-52 win over Colby on Friday. Colby still leads the way at 4-1, while Loyal, Neillsville and Columbus Catholic are 3-1 and Gilman is just a game behind Colby at 3-2.
The Pirates wrap up the pre-holiday portion of their schedule tonight, Thurs- day, with a key game at Columbus Catholic. At the same time, Neillsville is at Colby in another game that could shake up the standings heading into the break.
"The girls all played great," Weir said. "We need to keep this intensity up for Columbus on Thursday."
Gilman 71, Granton 21
The Pirates jumped out to a 32-8 halftime lead Friday and was able to allow everyone to get a piece of the court action in a 71-21 win over host Granton.
Gilman tore through Granton's defense to shoot 50% overall from the field (30 of 60), including 28 of 53 on two-point shots. They also forced 15 steals against the offensively-challenged Bulldogs.
Grace Grunseth hit eight of 13 shots overall and finished with a game-high 16 points. She had six steals, four assists and three rebounds in the win. Aubrey Syryczuk added a career-high 14 points, including both of Gilman's made 3-pointers, and had three assists and two steals.
Warner hit double digits with 11 points while making five of 10 shots from the field and grabbed seven rebounds. Emma Grunseth had eight points and eight rebounds.
From there, the numbers were spread out. Tatum Weir had seven points, seven rebounds and two blocked shots. Kya Dietzler scored her first four varsity points and had a rebound and an assist. Lydia Syryczuk scored three points and had five rebounds, four assists and three steals.
Schmitt, James, Waichulis and Vick scored two points each. Those were Vick's first varsity points. Waichulis had three assists. Schmitt had two rebounds.