Posted on
Four finalists for Medford at North; Raiders rout Hodags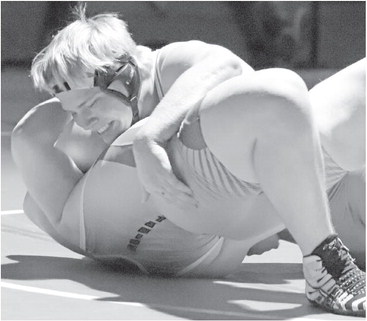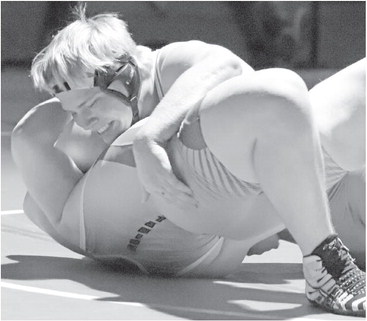 MEDFORD WRESTLING
Paced by 220-pound champion Jake Rau and second-place finishers Zeke Sigmund, Dane Higgins and Clay Bowe, the Medford wrestlers earned a third-place finish at Saturday's 27-team Eau Claire North Husky Invitational.
Emett Grunwald also was a semifinalist at 152 pounds and Thaddeus Sigmund and Jake Brunner made undefeated runs through the consolation bracket after losing their first matches and finishing ninth.
The results helped the Raiders earn their second consecutive third-place finish at this meet, which was again won by Ellsworth. In fact, the top four teams repeated their finish from a year ago as Ellsworth scored 407 points, followed by St. Croix Falls (365), Medford (347) and Baldwin-Woodville (340.5). Phillips (281) and the Neillsville Co-op (232), who Medford faces in a dual meet tonight, Thursday, were fifth and sixth.
Rau, ranked number-one in the state in the 220-pound weight class, remained undefeated on the young season by posting four wins on Saturday, three of which came against potential regional and/or sectional foes.
Rau (11-0) opened with a 51-second pin of Hudson Goodwin from the Nekoosa Co-op and then stuck Kyle Anschutz of Ellsworth in 1:05. In the semifinals, Rau took care of Stanley-Boyd/Owen-Withee's Tyler Krizan in 3:10. That set up a championship match against Prescott's Joe Schulte, a 2019 state qualifier who came into the match 9-0. Rau beat him 4-1.
Zeke Sigmund is 10-1 for the season after reaching Saturday's 145-pound final. He breezed through the first three rounds, pinning Spring Valley-Elmwood's Riley Merth in 1:17, Nekoosa's Klayton Havlovic in 30 seconds and Hunter Bruhn of Phillips in 2:30.
But in an outstanding championship battle of early-season unbeatens, defending Division 3 138-pound state champion Kole Marko (9-0) of St. Croix Falls got an overtime takedown to beat Sigmund 3-1.
At 138 pounds, Higgins won three matches before running into a familiar foe in the final. He pinned Carter Bratina of Blair-Taylor in 12 seconds, beat Hunter Gartman of Baldwin-Woodville 9-6 and held off Zack Clark of St. Croix Falls 5-1 in the semifinals.
In the final, Higgins drew unbeaten Charlie Stuhl of Ellsworth (10-0), the Division 2 third-place finisher at state at 132 pounds last season who beat Higgins twice in post-season competition. Stuhl got him again, this time by a score of 8-1.
Bowe's run Saturday at 182 pounds started with a pin in 3:06 over Arrowhead's Tanner Thiesen in a preliminary round. He stuck Austin Smith of Chippewa Falls in 2:31 and Calan Leahy of St. Croix Falls in 1:08 before pinning Blaine Guthrie of Baldwin-Woodville, who is 8-2, in 3:31 in the semifinals.
Bowe (10-2) was unable to hand Blair-Taylor's Logan Shramek his first loss of the season in the final. Shramek, last year's fifth-place state finisher in Division 3 at 170 pounds, pinned Bowe in 4:35.
Grunwald got to the 152-pound semifinals with a pin in 2:42 over Stanley-Boyd/ Owen-Withee's Joseph McDermond and a 15-5 major decision over Garret Deleasky of Phillips. Arrowhead's Jack Ganos, the fifth-place Division 1 finisher at 138 pounds last year and Saturday's eventual champion, pinned Grunwald in 1:01 in their semifinal match and Bowen Rothbauer of Bloomer-Colfax (9-1) shut out Grunwald 7-0 in the third-place match.
Dalton Krug had a strong day at 195 pounds, taking fifth place with a 3-1 record. He shut out Nekoosa's Hunter Boudreau 6-0 in his first match but then lost 7-1 to Ellsworth's Ian Matzek in the quarterfi nals. Krug finished with a 23-second pin of Neillsville's Joe Polzin and a pin in 5:26 over Auburndale's Brice Thiel in the fifth-place bout.
Senior Eric Rehbein reached the quarterfi nals at 126 pounds with a first-round pin in 3:20 over Auburndale's Hunter Godard. Losses to Abbotsford-Colby's River Halopka (8-0), Ellsworth's Jack Voelker (pin 4:58) and New Richmond's Noah Henning (pin 3:42) dropped him to eighth place.
At 160 pounds, Brunner was pinned by Stanley-Boyd/Owen-Withee senior Preston Potaczek in 1:30 to start his day, but he responded with three straight wins. He was an 8-2 winner over Whitehall's Eric Kleinhans, pinned Ellsworth's Eli Rohl in 1:38 and, in the ninth-place match, pinned Spring Valley-Elmwood's Bradyen Wolf in 3:42.
Thaddeus Sigmund had a similar day at 106 pounds. The freshman was upset 8-7 by Kaden Clark of St. Croix Falls in the first round, but bounced back with a 9-7 overtime win over Justin McManus of Stanley-Boyd/Owen-Withee, a 9-0 major decision over Eau Claire Memorial's Christian Franchuk and a 6-2 win over Baldwin-Woodville's Haydon Langer in the ninth-place match.
Hayden Johnson went 2-2 at 170 pounds and wound up 11th. His wins were a pin in 4:43 over Eau Claire Memorial's Ethan Mitra and a 6-4 decision over Ladysmith's Grant Rydlund in the 11thplace bout. Kayden Dassow also took 11th by going 2-2 at 132 pounds. The sophomore beat Trystan Christoph of Stanley-Boyd/Owen-Withee 7-4 and pinned Arrowhead's Tyler Pederson in 1:00 for his wins.
Tonight's dual meet in Neillsville starts in 7 p.m. The teams will see each other again in WIAA Division 2 regional competition at Eau Claire Regis Feb. 15.
Medford is then off to the Bi-State Classic in La Crosse Dec. 27-28.
Raiders 51, Hodags 30
The Raiders quickly took care of Rhinelander 51-30 Thursday at Raider Hall in the teams' first Great Northern Conference dual meet of the season.
Only one match went the distance and only one other one made it into the second period. The rest were either decided by first-period pins or forfeits.
"We like the short duals. Short and sweet," head coach Brandon Marcis said.
"There were a lot of pins. Our guys with experience have gotten a lot of pins. They know what to do. Our younger guys are taking their lumps a little bit. They're figuring out what varsity wrestling is about. So a focus of ours going forward is total team effort. We have to have our young guys performing, our old guys performing. Everyone has to come out there and give it 100%. We definitely have a purpose to work on."
Medford put this one away early, jumping out to a 33-0 lead in the first six matches.
Rehbein took a forfeit at 126 pounds to get it started, then Dassow got a key win at 132 pounds. Filling in for Carson Church, Dassow got the first takedown in the opening period and then broke it open in the second period with a takedown and near fall combination to beat Cole Lehman 8-3.
"That was a good match," Marcis said. "Carson's got a little knee injury, so it's nice to have a little depth to be able to bring somebody up. Kayden did what he had to do to get the job done. That was great. We were proud of him. He made a few little rookie mistakes, but it's his first varsity match of the year so you have to expect that."
Higgins needed just 39 seconds to pin Josh Gardner at 138 pounds and Zeke Sigmund pinned Cayden Neri in 1:34 at 145 pounds. Grunwald and Brunner took forfeits at 152 and 160 pounds before one of the Hodags' top wrestlers, Walker Hartman, got his team on the board at 170 pounds with a pin in 1:52 over Johnson.
One of the best matchups of the night, on paper, came at 182 pounds in a battle between seniors Bowe and Connor Lund. Bowe took charge with two first-period takedowns for a 4-1 lead, then he rode Lund and pinned him at 2:42 in the second to give Medford a 39-6 lead.
Another of Rhinelander's top guns, Ben Sinclair, pinned Krug in 1:42 at 195 pounds, but that was answered by Rau, who pinned rival Trevor Knapp in 1:43. Medford forfeited the 285-pound match to Conner Jensen, then 106-pounder Thaddeus Sigmund quickly got Tanner Schmidt's shoulders to the mat and pinned him in 1:29 for a 51-18 lead.
"Knapp is a good kid," Marcis said. "Jake Rau did good, got in a shot, worked his stuff right away and that was it. The win for Thaddeus was a big match. He's just so little. He's giving up 12 pounds to every kid he wrestles. But he's got that Sigmund strength and he's using it to his advantage. I don't know if it's an advantage when you're 12-15 pounds light in the weight class, but it definitely equalizes the match a little bit. We're proud of him for doing that."
The Hodags closed out the meet by getting a pin in 50 seconds from Tim Fox in his 113-pound match with Ty Sova and a pin in 1:42 from Hugh Wiese in his 120-pound match with Blake Schilling.
"We're always hungry for more," Marcis said. "We want a total team effort. We only lost four or five matches, but every loss was a pin so we can't have that. If we want to achieve our goals we can't give up pins. We can lose, but we can't give up pins."
Medford went 4-1 in JV matches. Matthew Gebert, Wyatt Johnson and Zack Mottle all earned pins. Oscar Hinderliter split his matches, getting an 8-6 win and losing by pin.