Posted on
Ethan Person places 3rd in season-opening Barron Invite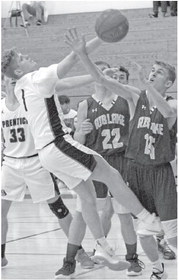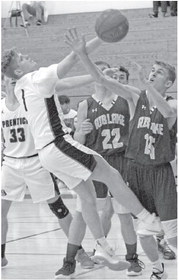 WOLFPACK WRESTLING
Senior Ethan Person went 3-1 and placed third to lead the Cornell-Gilman Wolfpack Saturday at the season-opening Barron Invitational.
Carrying just five wrestlers, the Wolfpack placed 13th in the 14-team tournament with 39 points, 18 more than Bruce. River Falls scored 323 points to win the team title ahead of runner-up West Salem-Bangor (287), Ashland (252) and Osceola (243).
Wrestling at 120 pounds, Person secured his spot in the quarterfinals by pinning Brady Abb of Lakeland in 3:27 in pool competition. A pin in 2:45 over Hayward- Northwood's Drake Marks put him in the semifinals, where he was defeated by pin in 1:48 by West Salem-Bangor's Carlyle Lyga. Lyga went on to beat Abb 6-3 in the final.
Person, meanwhile, won the thirdplace match 7-2 over Lakeland's Ben Nemcek.
Sophomore Julian Krizan took ninth out of 12 wrestlers at 160 pounds with a 3-2 day.
He started the day with two losses in his pool to miss out on being among the quarterfinalists in the weight class. He was pinned in 3:19 by Ashland's Garrett Nelis and in 2:39 by Ashland's Aaron Diamond.
But Krizan dominated the consolation pool, beating Roberto Domingues of the Luck Co-op 12-3, pinning Bruce's James Shrewsberry in 45 seconds and pinning Ray Schmock of Hayward-Northwood in 51 seconds.
Freshman Braeden Person got his first two varsity wins during a 2-2 day and took 10th out of 16 wrestlers at 138 pounds.
Person was pinned in the first round by West Salem-Bangor's Zach Servais in 4:46, but he bounced back with two straight wins, pinning Osceola's Carter Hinze in 1:18 and Osceola's Kaleb Woodley in 5:48. That got Person to the ninthplace match, where he lost a 13-7 decision to Lakeland's Jose Retana.
Ali Blodgett lost two matches to place 13th at 152 pounds. She was pinned in 31 seconds by Clear Lake's Lukas Paulson and pinnned in 46 seconds by Caleb Mielke of River Falls.
Kalley Krizan was 0-4 at 138 pounds, forfeiting to eventual runner-up Matt Anderson of Clear Lake and getting pinned by Retana (44 seconds), Flambeau's Nathan Rymarkiewicz (21 seconds) and Hinze (1:39).
The Luck Co-op finished fifth in the team standings with 198.5 points, followed by Barron (187), Clear Lake (175), Lakeland (156), Hayward-Northwood (137), Unity (71), Flambeau (69) and Turtle Lake-Clayton (54).
Cornell-Gilman opens Lakeland Conference competition today, Thursday, with a 7 p.m. dual meet at Shell Lake. The Wolfpack will be at the Auburndale Invitational on Saturday. Wrestling begins at 10 a.m.