Posted on
Tigers search for consistency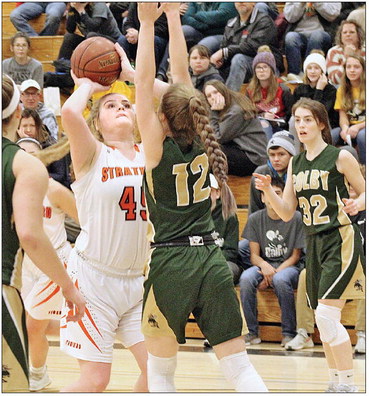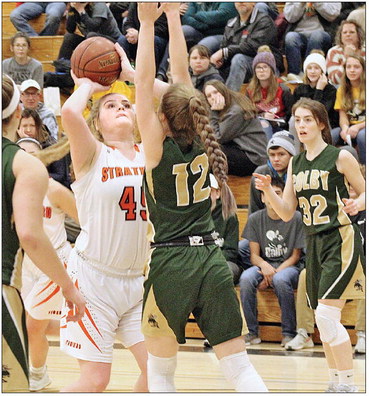 Cold shooting, lack of focus dooms Tigers
Perhaps it was the cold weather outside, or perhaps it was a case of bad luck, but for whatever reason, the Stratford Tigers couldn't beg, buy or steal a basket in their non-conference home game with the Colby Hornets on Monday.
The Tigers, despite a superior size advantage, struggled all night long to generate any type of consistent offense attack as they fell to Colby 46-39.
"Offensively we have to find a rhythm we can't rely on one offense," Tigers head coach Tammie Christopherson said. "We have to be able to switch in and out of different offenses. We have some work to do, and . . . we hurt ourselves a lot of times tonight."
Those self-inflicted wounds were on display for much of the game. Cold shooting in the first half, and fouls and turnovers in the second half, gave Colby too many opportunities to score.
Neither team played at a high level, with Colby struggling to get their shots to fall, and Stratford suffering from the same problem. After one half of basketball it was a slim 16-14 Colby lead.
The Tigers found a spark in the second half, finding Emily Hughes, a 6'2" junior and center, in the post for three straight baskets that gave the Tigers a 28-24 lead midway through the second half.
Hughes scored a team high 11 points, but was the only Tiger in double digits. Tanaya Schillinger scored nine points and Breanna Ackley added seven points.
"I like to go get in there and try and finish my shot as much as I can down low," Hughe said, describing her style of play.
The Hornets' finally found a winning formula, choosing to attack the paint and draw contact to finish at the line. Colby converted 21 of 28 free throw attempts, and a pair of corner threes from Colby's Emma Peavey and Olivia Vollrath allowed Colby to pull away from the Tigers The Tigers have the talent to battle with any team, and for Christopherson, it's not a matter of personnel but of focus that Stratford needs going forward.
"We have to have a level of intensity the entire game," Christopherson lamented. "You have to bring that every game for 18 minutes every half, and this team has a ton of potential, and when they figure it out people are going to be in trouble."
Danen poured in 21 points, while his senior teammate Ben Barten acheived a double double with 16 points and 10 rebounds. Senior Chandler Schmidt contributed 11 points and five assists, and senior Teddy Redman added 10 points.
Stratford suffered from cold shooting in the first half, which led to Marathon taking a 13-point lead at halftime. The Red Raiders knocked down five three pointers in the first half. Brock Warren and Matt Vande Boom scored eight points apiece in Marathon's hot shooting first half.
The Tigers' 1-3-1 zone defense gave the Red Raiders fits in the second half. Stratford players stole the ball many times which led to fastbreak points and the Tigers eventually taking the lead.
Stratford remains tied with Auburndale atop the Marawood South Conference at 3-0 this season. Stratford is ranked third in this week's wissports. com Division 4 coaches poll, while Auburndale is ranked eighth.
Marathon falls to 2-2 in the Marawood South and 2-3 overall, after suffering back-to-back road losses against Auburndale on Friday and Stratford on Tuesday.
Auburndale improves to 6-0 this season after its 66-51 road win against Edgar on Tuesday. Edgar falls to 1-2 in the Marawood South and 2-2 overall.
Straford blasted Wausau Newman, 76-54, on the road Friday as Redman paced four Tigers in double digit scoring with 20 points.
Schmidt contributed 18 points and Barten obtained a double double with 13 points and 15 rebounds in the win. Danen added 12 points.
Wildcat boys upend Royals
Edgar beat Wisconsin Rapids Assumpion, 46-31, on the road Friday. Junior Konnor Wolf led the Wildcats with nine points, while fellow junior s Drew Guden and Brayden Baumgartner paced the team with seven rebounds apiece. Guden also led Edgar with five assists in the win.
Senior Dawson Danen led four Stratford boys basketball players in doublefi gures scoring in a 63-51 home win against Marathon on Tuesday.
STAFF PHOTO/ROSS PATTERMANN