Posted on
Loyal upends defending ECC champ for key early win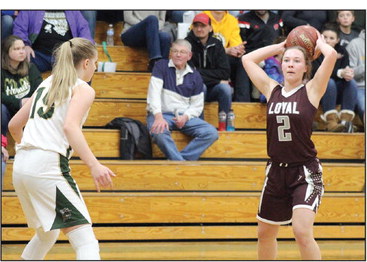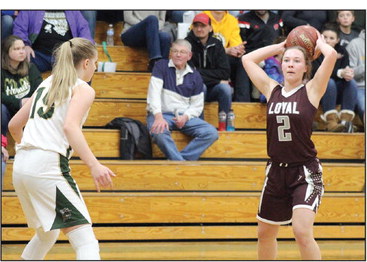 If the Loyal girls basketball team finds a way by mid-February to win the Eastern Cloverbelt Conference championship, it may well look back to Dec. 13 as a key factor in making it happen. Trailing by as many as 15 points in the first half and again by seven points with only four minutes left in the game -- on Colby's home floor, to boot -- the Greyhounds fought back for a 57-52 win that keeps it in the thick of the ECC hunt as teams wind down for the holiday break.
Loyal improved its ECC mark to 3-1 and its overall record to 5-1 with the improbable win over a Colby team that reached the WIAA Division 4 state tournament last year. The Hornets were sporting a 4-0 ECC record coming into the game, and looked to make it 5-0 as they took a 32-17 lead with three minutes left to play in the first half.
Loyal completely erased that deficit with a 15-0 scoring run over the remainder of the half and the first three minutes of the second half. Senior Bailey Bravener canned a 3-pointer with 2:13 left in the first half to help along Loyal's 6-point spurt prior to intermission, and then hit another one from behind the arc early in the second half to cut the gap to 32-28. Kaila Bremmer's field goal a short while later got Loyal within two, and Remi Geiger tied the game with 15:34 to play.
Another Geiger 3-pointer at the 11:03 mark kept the game tied at 37-37, but Colby managed to regroup from there to begin pulling away again. The Hornets pushed the lead to 50-41 with 6:37 left on the clock and still led 52-45 on a free throw with 4:13 left to play. It would be Colby's last point of the night.
Katlyn Lindner sparked a 12-0 Loyal closing run with a 3-pointer. Geiger made one of two free throws at the 3:12 mark, then hit two straight at 2:34 to pull the Hounds within 52-51.
Loyal pulled ahead for good when reserve Natasha Tellock was fouled with 2:25 to play and sank both free throws for her only points of the game. Abrial Kubista added a score at the 58-second mark to extend the lead to three, and Colby was unable to hit its shots down the stretch. The Hornets fouled Geiger with 19 seconds to go, and she put the game away with a pair of free throws. As was the score, the game statistics were very close. Loyal shot 42 percent (14-33) from the floor and hit five of 19 3-point attempts, while Colby shot 44 percent (19-43) overall and was an identical 5-19 from long range. Loyal won it from the free-throw line, sinking 24 of 34 attempts. Colby got only nine points at the line, on 19 attempts. Colby was called for 26 personal fouls while Loyal was whistled 16 times. Geiger paced Loyal with 19 points and was 8-11 on free throws. Lindner scored 13 points and was 10-12 at the line.
Bravener and Bremmer each added nine points and Bremmer snared seven rebounds.
Emma Peavey scored 17 points for Colby and Lexi Underwood added 13.
ROSS PATTERMANN/STAFF PHOTO