Posted on
Granton Cheer Squad brings excitement to Bulldog games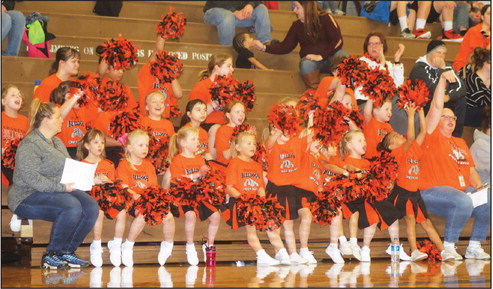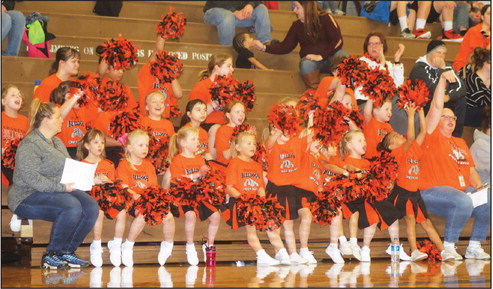 At one point or another during one of the basketball games the Granton girls and boys played against Gilman on Dec. 13, a basket would go through the net accompanied by cheers and a "Whoop, there it is," call from the home team stands. When the Granton defense would be having a hard time against their opponent under the net, cries encouraging the defense would come from the same spot in the stands. During timeouts, those individuals who have been cheering for their team so passionately would come out of the stands — dressed in black and orange attire and carrying pom-pons — and call on any Bulldog fans to "Stand up and clap your hands."
This group of individuals aren't your typical group of fans, nor are they your typical group of cheerleaders. They are the Granton Cheer Squad, a group of 24 kids under the age of 14 who come to cheer on the Bulldogs at some of the girls and boys home games during the basketball season. Operated under the direction of volunteers Sheryl Young and Annette Woller, the Cheer Squad has been present at games in its current form for about five years.
"Me and Theresa (Mc-Conkey) started the Spirit Squad," said Young about the Squad's origins. "We did Spirit Squad for 1-2 years. I would have to say we have done this as Cheer squad for at least five or six years."
In the years since the group's original formation as Spirit Squad, Young and Woller said there have been some changes. When the group started, it was more diverse, having both boys and girls and a larger age range. As time went on though, the demographics of the group began to change into a group of predominately younger females. The name was changed to reflect those changes. "When she (McConkey) started Spirit Squad, boys were on it, doing routines with the girls. She first started with a lot of boys and we had some high school kids," said Young. "With the new people we changed it to Cheer Squad." Ever since the changes, Woller and Young said the number of participants has grown to what it is today: 24 girls from preschool age through eighth grade. A majority of the kids are of elementary age, but that doesn't stop them from memorizing the approximately 25 cheers the Squad uses during a basketball season.
"We do have a couple cheers, with yelling and motion to go with some of the cheers. We want to look like it's put together," said Woller. "It's repetitive, they pick up on it. We have a list of cheers, 20 to 25 different cheers, some are small, others are routines like what we do at halftime."
To memorize everything they need to as a member of the Cheer Squad, Young and Woller said the girls participate in a once-a-week practice during the month of November using the repetition technique. By the time November ends, they said, the girls already have gotten used to the routines and only need a refresher that's held in the half hour before games.
"It's always good," said Woller. "They show up to practice, do the cheers. Beyond that, the elementary has no real requirements. The middle school has to have all their assignments in in order to participate." Even though the kids are very good about memorizing the cheers, Woller and Young said they do encounter some challenges in trying to keep a large group of young kids under control. Full of enthusiastic energy, they said sometimes it takes a bit to get certain kids — especially the younger ones — to calm down enough to listen to instructions. The younger ones too, struggle with understanding more complex cheers that involve using specific hands. They have had to adapt their program to meet those challenges.
"Getting them to listen," Woller said with a laugh on the challenges they face with the kids. "But really, the hardest thing is getting them to remember their left from their right, the younger kids don't know that, they haven't been taught yet. So sometimes when you put your own right hand up while facing them, they'll put up their left hand instead."
"We improvise a little bit," added Young.
In total, Young said the Cheer Squad will attend about six games held at the Granton High School this season. These games, she said, are later in the week, most often Friday, to make sure the young kids are not being deprived of sleep.
"We will be at five or six games this year. They only really like to cheer on Friday night games, and there's not a lot of Friday night games on the schedule," she
"No matter what happens, we still back our Bulldogs. We have come to appreciate they don't always have to win to be winners and be good at something." -- Granton Cheer Squad Volunteer Adviser Annette Woller
CHEYENNE THOMAS/STAFF PHOTO said. "On Thursdays we can stay until half time, it's not too late of a bedtime. The combined games are even better, you can stay for a whole boys game and until halftime of the girls game."
There are several ways the Cheer Squad has had an impact. At games, Woller said the girls try to bring a positive feel to the games and give the Granton players their own little group of confidence boosters to help them even in their most difficult games.
"Jason Strey (the Granton girls basketball coach) thanked us for being there, keeping the tempo up. I think it helps," she said. "The kids (on the team) see us in the hallways the next day and say how cute everyone was. I hope we're not distracting them and hope it brings them excitement."
The Cheer Squad's presence at games also brings in other Granton fans in the form of the children's parents. Since the kids on the Cheer Squad are mostly elementary students, Young and Woller said they are getting a different demographic group to the games: young parents.
"More parents are at the games," said Young. "They stay for the game, get involved with the game too."
"More elementary parents are coming to games," added Woller. "They don't have kids involved in sports, but their kids are in Cheer Squad. It brings back some of our alumni."
Finally, the girls in Cheer Squad learn many lessons from their participation with the group. Cheering at basketball games where the Granton team more often than not, loses the match, Woller and Young said the kids have learned that despite the losses they see, they should respect their opponents and show support for their own team for the effort put in to each game.
"I think that one thing they have learned is that we show the opponents kindness, even if they're better than we are," said Woller. "No matter what happens, we still back our Bulldogs. We have come to appreciate they don't always have to win to be winners and be good at something."
In the future, Young and Woller said they have high hopes for the Cheer Squad. As members of the group get older and reach high school age, they said they want to see if they can bring back high school cheerleading, which Granton had back in the 1980s. They also want the young girls at the district to continue to join and participate so they can continue to support the Granton basketball teams.
"I would have it continue with participation from the girls," said Young. "Even if we have just five girls, it's still a Cheer Squad."