Posted on
Falcons capture first victory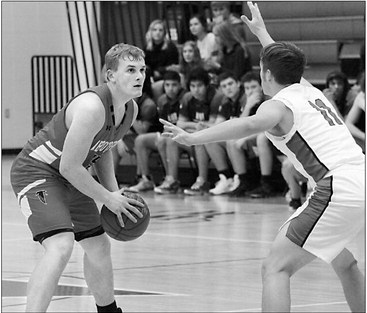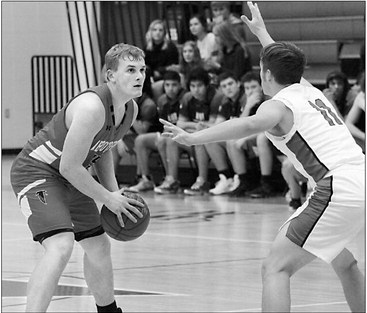 The Abbotsford Falcons began the season 0-4, but broke out of their four game losing streak in big fashion, doubling their scoring average with a 86-72 win over Chequamegon in Marawood Conference action on Friday. The win showcased a three-pronged scoring attack that proved to be too much for the Screaming Eagles, as Blake Draper, Hunter Soyk and Cade Faber each topped the 20 point mark in the game.
Draper took charge in guiding the Falcons to an early 17-3 lead, draining a trio of three pointers that had Chequamegon on their heels. The senior netted 19 points in the first half, including draining four from long range.
Soyk did his part in the Falcons' first half scoring outburst, draining three shots from beyond the arc, and had 22 points for the game.
Abbotsford took a 46-30 lead into the break, nearly matching their seasonhigh output of 51, a loss to Spencer. Draper shared it was a good feeling to see the Falcons' offense come to life.
"It's awesome to hit shots. It hasn't really been a strong suit of ours this season to shoot so well," the senior forward explained. "It felt great to see the ball go into the hoop like that."
The Screaming Eagles fought back in the second half, connecting on five three pointers, and Faber shared that the Falcons knew their defense had to step up.
"We knew we had to close out on their shooters as they were hitting on threes," Faber said. "We also had to block out better and not let them get second chance points."
As Chequamegon battled back in the second half, it turned out to be the Falcons' defensive pressure that slowed the visitors down, and it was a dazzling play from Faber that wowed the crowd and ignited Abbotsford the rest of the way.
Faber intercepted a pass near half court, took off and had the Falcons' faithful anticipating what came next. Faber soared into the air to deliver a rim rattling dunk - his steal and dunk were part of a big defensive night from the springy junior. Faber finished with 19 rebounds, and he is currently ranked third in the state with 15.8 rebounds a game.
Faber's thundering dunk also ignited his offensive eye from three point territory, as he added a pair of three pointers down the stretch to hold off Chequamegon's late run. Draper led all scorers with 31 points, including six three pointers. He said it was Abbotsford's energy that made the difference in the win.
"Our defense let them in the game in the second half." Draped shared. "In my opinion, it's the energy we brought to the game and our confidence that led us to the win."
STAFF PHOTO/ROSS PATTERMANN