Posted on
With big second-half comeback, Raiders win double OT thriller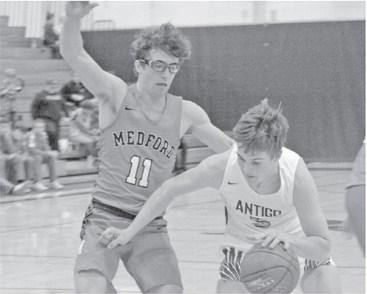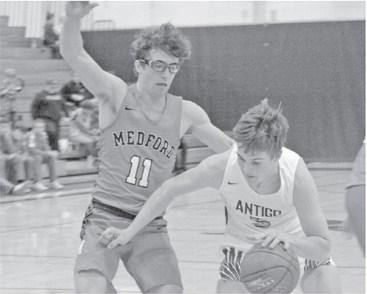 MEDFORD BOYS BASKETBALL
The Medford Raiders rallied from a 15-point deficit with nine minutes to go and stunned the host Marathon Red Raiders 66-62 in double overtime Tuesday in a non-conference boys basketball thriller.
Struggling to find a rhythm against Marathon's 2-3 zone for most of the night and trailing 43-28, the Raiders got three big 3-pointers from Logan Baumgartner, got some key buckets in the paint from guards Peyton Kuhn and Justin Sullivan and turned up their defense just enough to get Marathon out of the comfort zone it had enjoyed for 27 minutes.
Just like that, a 26-8 run actually had Medford up 54-51 on Baumgartner's third triple of the half with 35 seconds left. Marathon's Kole Kaldunski sank a rightwing 3-pointer with 10 seconds left –– his only points of the game –– to force overtime. From there, it was tight until the final possessions of the second overtime.
Kuhn, Medford's leading scorer who had been slowed down until the Raiders moved him into the post, scored a reverse layup off a perfect pass from Onyi Ekwueme to start the scoring in the first overtime, but that was answered by two Matt Vande Boom free throws for Marathon. Sullivan, who finished with a season-high 18 points, banked in a shot off a hustling offensive rebound with 40 seconds, but he was answered by Vande Boom's floater in the lane that tied the game again at 58-58.
The Raiders had two good looks on the final possession of the four-minute overtime. Kuhn's 3-pointer came up just short and Baumgartner's 10-foot shot off the offensive rebounds glanced off the back iron.
Mike Hahn's free throw 26 seconds into the second overtime put Marathon up 59-58, but Baumgartner came up big again, drilling his fourth 3-pointer of the night to put the Raiders ahead to stay. Kuhn's free throws with 1:30 left gave Medford a four-point lead, but Marathon's Brock Warren converted a threepoint play with 57.6 seconds to go, cutting the lead to 63-62.
A carrying violation gave Marathon the ball back and Nathan Hanke was fouled with 21.5 seconds left, but he missed both free throws. Baumgartner, a freshman, calmly swished two free throws and, after Marathon's Clarke Mouw missed a potential tying 3-pointer, Brady Hupf put it away by making one of two free throws with 3.7 seconds left.
Baumgartner finished with a gamehigh 20 points. Kuhn also hit double digits for Medford with 14.
Until the end of regulation, Medford's only lead was 2-0 on a game-opening drive by Kuhn. Ty Baker's 3-pointer tied it at 5-5, then Marathon busted out with 14-2 run that put it ahead 19-7. The Raiders clawed back within five at 24-19 on a Doug Way bucket off a Cooper Wild assist, but Hanke scored four consecutive points ahead of a Sullivan score to give Marathon a 28-21 halftime lead.
Marathon opened the second half on a 15-7 surge that seemingly gave the Red Raiders a comfortable lead. A missed 3-pointer that might've been the knockout punch led to Way getting a gift bucket underneath when a bad Medford pass found its way to him. Baumgartner hit a corner 3-pointer and suddenly the Raiders had life and before long, four straight bonus free throws by Sullivan tied it at 51-51 with 2:15 left.
Way scored five points for Medford, Baker finished with four, while John Mc-Murry and Ekwueme scored two points each. Hupf's late free throw was his only point.
Vande Boom led Marathon (2-1) with 16 points, while Mouw had 14 points, 13 rebounds and seven assists.
The Raiders (2-1) will carry a modest two-game winning streak into Friday's Great Northern Conference home game with Tomahawk. They'll head to Rhinelander Tuesday for another GNC game and then go to Wausau East Dec. 19 for a tough non-conference game against the Lumberjacks, who are currently 4-1.
All three games tip at 7:15 p.m.
Medford 70, Antigo 46
The Raiders knew after their gameone loss to D.C. Everest that they had to be better defensively and they made the necessary improvements in a 70-46 win at Antigo Friday in the Great Northern Conference opener for both teams.
The Raiders forced 24 Red Robin turnovers and scored 26 points off of them, got 14 steals, limited the Robins to 37.8% shooting overall and held Antigo to just nine offensive rebounds in their first win of the new season. Offensively it took the Raiders to get rolling, but as ball movement improved, they were able to beat Antigo's 1-3-1 zone and they were able to beat the Robins' press for some transition points as well. The game turned late in the first half after Antigo's top player, Nevin Cornelius, went to the bench with three fouls. The Raiders trailed 14-12 at the time. Antigo still led 17-15 when Medford went on a 19-4 tear to end the half with a 34-21. Sullivan started the run with a free throw after Robin Elliott Oregman also drew his third foul. Baumgartner sank a 3-pointer, Sullivan drove and scored and Baumgartner's offensive rebound led to his second trey of the run, giving the Raiders a 24-17 lead.
Kuhn answered an Alec Hotchkiss hoop with a corner 3-pointer and he answered another Hotchkiss bucket with a tough hoop and harm that beat Antigo's press. Kuhn later saved a ball from going out of bounds on the baseline and wound up getting a return pass from Hupf for a layup and Sullivan closed the half by picking up an errant inbound pass and laying it in just before the buzzer.
Cornelius hit the first shot of the second half to make it 34-23 but Antigo got no closer than that as the Raiders gradually built on their lead. The key surge came after Antigo's Conner Kolz sank a 3-pointer to make it 40-28. Baumgartner swished a trey of his own and Sullivan made a free throw. Kolz hit another triple, but a cutting Baker scored off a Way assist, Baumgartner sank two technical foul shots when Antigo was caught with six players on the floor and Baker hit a short shot in the lane to widen the gap to 50-31. The lead got as high as 26 in the final moments.
Kuhn hit eight of 18 shots from the field to lead all scorers with 23 points and he had four rebounds and two steals. Baumgartner hit three of four long-range shots and finished with 15 points, six rebounds, including three key offensive boards, two assists and two steals. Sullivan finished with 14 points, three steals and two assists.
Hupf was a key contributor with 10 points, five rebounds, two blocked shots, two steals and five deflections. He and Way limited Antigo's 6-3 forward Tanner Resch to just five points on two-of-10 shooting. Baker had seven points, four rebounds, three assists and two steals. McMurry had a point. Ekwueme had five rebounds and three assists. Wild had two assists.
Cornelius led Antigo with 19 points, while Hotchkiss added 10.